March 30th, 2021 by Gerard Iribe
The magical kingdom of Lucis is home to the sacred Crystal, and the menacing empire of Niflheim is determined to steal it. King Regis of Lucis (Sean Bean) commands an elite force of soldiers called the Kingsglaive. Wielding their king's magic, Nyx (Aaron Paul) and his fellow soldiers fight to protect Lucis. As the overwhelming military might of the empire bears down, King Regis is faced with an impossible ultimatum – to marry his son, Prince Noctis to Princess Lunafreya of Tenebrae (Lena Headey), captive of Niflheim, and surrender his lands to the empire's rule. Although the king concedes, it becomes clear that the empire will stop at nothing to achieve their devious goals, with only the Kingsglaive standing between them and world domination. Kingsglaive: Final Fantasy XV is now available on 4K UHD Blu-ray!
Film 
Kingsglaive: Final Fantasy XV is the computer animated – motion capture film based upon the hugely successful franchise of Final Fantasy. In this installment, you have the kingdom of Lucis, which is home to a sacred Crystal and home to the empire of Niflheim. Sean Bean voices King Regis of Lucis, who also commands an elite group of soldiers known as the Kingsglaive. Aaron Paul voices Nyx. The Kingsglaive guard also wield magic in addition to some nice weaponry. Lena Headey voices Princess Lunafreya of Tenebrae, who is also a captive of Niflheim. In addition to being played as a pawn, she will have an important role to play in all of this.
As I mentioned before, Kingsglaive: Final Fantasy XV is a computer-generated film that utilizes motion capture technology. On a purely technical level, this is the one thing it gets right. The world building, characters, set-pieces, etc., are massive. I understand this is a companion piece to the video game. I have not played the game myself. In fact, the last Final Fantasy game I played was last year's Final Fantasy remake, with Cloud and the gang. I am not familiar with this iteration at all.
What it does not get right, in my opinion, is that of it being easily accessible to a general audience. The material is extremely dense and confusing in parts. Also, I thing due to that, it drags the overall film down a bit. During the beginning of the film there's an awesome action sequence involving many characters, human and not human, but when the action finishes, it would be almost an hour before we get to the second action piece. There's one hour of exposition leading up to the next battle, which is not good for the narrative.
Now as you can see, I played devil's advocate on the film rating, mainly because die-hard fans will eat the material up. Who knows, maybe this was made for them and not so much for everyone else. Also, the CGI is pretty awesome. Some of the action sequences involving Nyx using his magic to "dissolve" and reappear is badass. I should also point out that after the end credits, there's an additional scene that acts as a potential lead-in to the next film or to the next game. Again, the franchise experts definitely know more about this universe than I do.
Video
Encoding: HEVC / H.265
Resolution: 2160p
Dolby Vision: No
HDR: HDR10
WCG: Yes
Size: BD-66
Aspect Ratio: 2.39:1
Clarity/Detail: Contrast and sharpness levels are spot on. In certain scenes there are instance of slight haze. I can only assume it's part of the seasonal behavior within the film and the detail in the world-building.
Depth: There are several instances that do pull you in and they're mainly when the action starts. Certain non-action scenes also pull you in due to the scale of the world these characters live in.
Black Levels: I did not notice any crush. Black levels were nicely balanced – deep and inky.
Color Reproduction: The color palette is a weird one on this release. Early on, with the battle with the Daemon and Cerberus, the reds and oranges really look terrific. Once the action there stops and we move into these grand palaces and steely cool environments, the color palette shifts. Even in 4K definition, there's just no "pop" in some of these neutral scenes.
Flesh Tones: CGI flesh tones look as good as they can. Some characters have a pasty sheen to them, but that's most likely due to environmental factors within the world they inhabit.
Noise/Artifacts: Clean.
Audio
Audio Format(s): English DTS-HD MA 5.1, French DTS-HD MA 5.1, Spanish Dolby Digital 5.1
Subtitles: English, English SDH, French, Spanish
Dynamics: I was looking forward to some immersive audio but we just get the lossless DTS-HD MA 5.1 that was on the previous Blu-ray release. Now with that out of the way, holy crap, what an amazing soundtrack! It's a clean and aggressive soundtrack pulls you in to these hazardous environments.
Height: N/A
Low Frequency Extension: The LFE subwoofer channel will demolish you with some fantastic low-end rumble, while not rattling or creaking with distortion. The LFE bass management on this release is incredible.
Surround Sound Presentation: Again, we might not be getting height channels on this one, but make no mistake, you would be hard pressed to tell the difference. The surround sound channels are extremely busy with activity in the back. Voices, bullets, fireballs, etc., will zoom all over the place in startlingly 3-D realism.
Dialogue Reproduction: Dialogue levels are clean, crisp, and clear.
Extras 
The Kingsglaive 4K UHD disc does not have special features. The Blu-ray disc contains four previously published featurettes. They were on the original Blu-ray release from 2016. This 4K UHD package contains a copy of the Blu-ray from 2016 and a digital copy of the film.
A Way with Words: Epic and Intimate Vocals: Aaron Paul, Lena Headey, Sean Bean –along with the filmmakers—reveal the process of creating the vocals for this film.

Fit for the Kingsglaive:Building the World: An in-depth exploration of imagining and designing the one-of-a-kind world of this film.
To Capture the Kingsglaive:The Process: Explore the intricate process of capturing the physical performances at the heart of this computer-generated film.
Emotive Music: Scoring the Kingsglaive: Learn about the creation of the truly innovative and impactful score.
Blu-ray
Digital Copy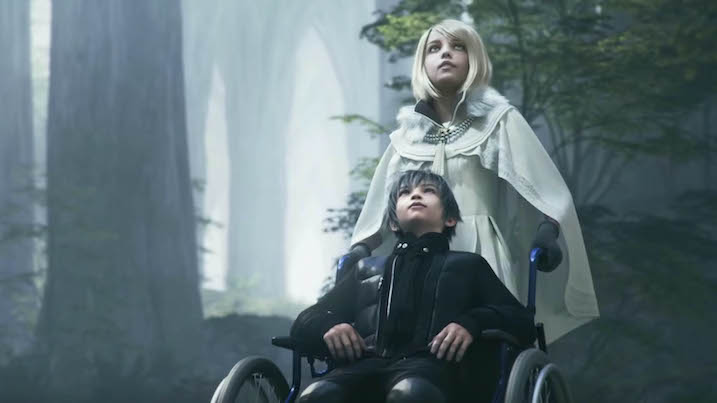 Summary
Kingsglaive: Final Fantasy XV on 4K disc is certainly a pretty looking film, but it's not really made for the casual viewer since it sort of weaves elements from the games into this one, with the material not always hitting its stride. The video quality in HDR is above average but has many scenes that do not "pop" how they should. The audio quality is phenomenal and we have no new special features other than those included on the Blu-ray disc. I'd say this is for 4K UHD Blu-ray enthusiasts and die-hard fans of the franchise only.
DISCLAIMER: Kingsglaive: Final Fantasy XV 4K UHD Blu-ray was judged and graded using the following 4K certified Ultra HD Premium television set found HERE , 4K UHD Blu-ray player HERE, and Dolby Atmos 7.2 AVR HERE.  Make sure to check out all our 4K Ultra HD Blu-ray reviews archived HERE.  The images used above within the review are not actual 4K screenshots. They are for illustrative purposes only.  
is released on 4K UHD Blu-ray March 30, 2021!