December 12th, 2018 by Brandon Peters
Based on a short story by Phillip K. Dick, the science-fiction thrillerScreamers will make its Blu-ray debut January 29th, 2019 from Scream Factory. Starring Peter Weller(Robocop) and Jennifer Rubin (A Nightmare on Elm Street 3, Bad Dreams, The Crush) and featuring a screenplay by Dan O'Bannon,Screamers also includes a number of new bonus features, including new interviews with director Christian Duguay, producer Tom Berry, co-writer Miguel Tejada-Flores and actress Jennifer Rubin. Fans can pre-order their copies now by visiting ShoutFactory.com.
.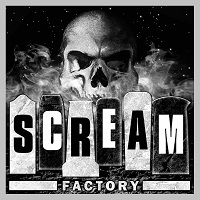 "An Apocalyptic Science Fiction Epic" – Bruce Williamson, Playboy
Screamers
Sci-Fi Thriller Makes Its Blu-ray Debut January 29th, 2019
from Scream Factory
The year is 2078. The man is rebel Alliance Commander Col. Joseph Hendrickson (Peter Weller), assigned to protect the Sirius 6B outpost from ravage and plunder at the hands of the New Economic Bloc. His state-of-the-art weaponry are known as Screamers; manmade killing devices programmed to eliminate all enemy life forms. Screamers travel underground; their intent to kill announced by piercing shrieks. They dissect their victims with precision, then eradicate all traces of the carnage. They are lethal. Effective. Tidy. And somehow, they are mutating … self-replicating into human form … and slaughtering every beating heart on the planet.
Screamers Bonus Features
NEW Northern Frights – an interview with director Christian Duguay
NEW Orchestrating the Future – an interview with producer Tom Berry
 NEW More Screamer Than Human – an interview with co-writer Miguel Tejada-Flores
NEW From Runaway to Space – an interview with actress Jennifer Rubin
Theatrical Trailer