January 28th, 2020 by Brian White
While it feels a lot longer to me than just a mere 10 years Shutter Island has always held a warm spot in my heart.  Both the book and movie adaptation brought to us by Martin Scorsese managed to thrill and excite me.  Truth be told I just revisited the film on 4K Ultra HD Blu-ray this past summer by acquiring an Australian import of it.  I don't know why, but I didn't think Paramount would ever deliver a U.S. release.  Obviously I was so wrong.  If I would have just had a little patience, I could have saved myself some bones last year.  However, I digress.  Shutter Island is officially on 4K Ultra HD Blu-ray in the U.S. and I couldn't be happier!  Let's discuss the film and pertinent specifics down below.
Film 
We are here to celebrate the 10th anniversary of director Martin Scorsese's atmospheric thriller Shutter Island, which is arriving for the first time on 4K Ultra HD Blu-ray February 11th courtesy of Paramount Home Entertainment.  It's a week early though as the film's original release date was February 19th a whole decade ago.  The routine crime investigation here turned sinister psychological thriller is riddled with unbridled suspense and available in a Limited Collector's Edition Steelbook.  Does it get any better than this?  I know!
I remember immediately after seeing Shutter Island I was asked how the movie was.  I uttered the following words that I never thought I would ever say in my life, "I'm not sure if I am really talking to you now or if I am still at the movie theater."  Wow!  Did this movie ever mess with my mind, but in a very good way.  I saw the movie before I ever read the novel so needless to say I had many questions and what an incredible way to study this one than by seeing it all over again.  What I mean by that is when you see Shutter Island for a second time you watch it from a completely different point of view and it makes you scratch your head in wonder how you overlooked everything so obvious the first time.
On paper, Shutter Island is a psychological thriller film directed by Martin Scorsese and reunites the dream team of him and Leonardo DiCaprio.  The paring's success in The Departed was advertisement alone for me to want to check this one out (The Wolf of Wall Street came after this).  The movie is based on the 2003 novel of the same name by Dennis Lehane.  The feature also stars everyone's favorite Mark Ruffalo (back then I still couldn't get over his hilarious potty mouth performance In The Cut), the sinister Ben Kingsley, easy on the eyes Michelle Williams and even Freddy Krueger himself, Jackie Earle Haley.  The Paramount film was originally scheduled to be released in October 2009, but there are so many rumors speculating as to why that did not happen I have chosen to completely dismiss hearsay and just let the brilliant movie speak for itself.
Despite the perplex nature of the feature, the setup of the film is really quite simple.  The movie takes place in the 1950's (with minor flashbacks to World War II) when two U.S. Marshals (DiCaprio and Ruffalo) are called upon to investigate the disappearance of a mental patient from a hospital for the criminally insane.  However, this isn't just any ordinary mental hospital.  This particular hospital just so happens to be isolated on an island off of Massachusetts.  The two law men immediately run into trouble when they are not only lied to by the hospital's uncooperative chief medical administrators, but also a freak hurricane strikes the island and strands them there.  Things only get worse as they uncover the horrible experiments being conducted on the unsuspecting patients and then the electricity is suddenly lost, allowing the patients to freely roam the hospital grounds.  Danger and panic lurks around every corner.  And that my friends, is all I can tell you about Shutter Island.  To divulge anymore of the plot would be like ruining a surprise birthday party and I refuse to do that to my readers who have never seen this one.
Riddle me this.  With the lone exception of The Irishman how can you possibly lose with a Martin Scorsese production?  With such legendary films in his repertoire as The Wolf of Wall Street, The Departed, Taxi Driver, Raging Bull, Gangs of New York, Casino, Cape Fear and the grand daddy of them all, Goodfellas, the answer is quite simple.  You can't!  The Scorsese legacy lives on in this visionary thrilling masterpiece of mystery and suspense that will leave you thinking until the very end and hopefully afterwards too.  All of the answers are really right there in front of you.  You just have to look for them and most importantly, pay attention.  Scorsese masterfully portrays how the mind can play tricks on us all and how one must be resilient and strong-willed to cognitively be able to separate fact from fiction.  Take the ferry ride over to Shutter Island and I guarantee by the movie's conclusion, you will not want to leave (or will you?).
Video 
The below video score and related critique of things here are based solely upon my viewing of the 4K Ultra HD Blu-ray presentation of Paramount's Shutter Island.
Encoding: HEVC / H.265
Resolution: 4K (2160p)
Aspect Ratio: 2.35:1
Dolby Vision: Yes
Clarity/Detail: Shutter Island arrives on 4K Ultra HD Blu-ray Disc courtesy of an upscaled 2K DI and for the most part it looks great.  Everything that you want from a 4K movie is present like fine lines in wrinkles, visible pores and textures that look so real you can reach out and touch them.  I especially noticed the latter in the clothing.  However that's not to say things are perfect about this one.  It's not always a sunny day scenario as there are moments of blurriness and the dream laden effects don't really lend themselves well to the upscaled environment here, most notably the flames.  That being said though I still really enjoyed the looks of this presentation.  It may only be a minor uptick from the 1080p Blu-ray one, but I feel its a worthwhile one nonetheless.
Depth: There are many great examples of how depth of field creates vast shots that go on forever here.  However, one scene in particular stands out from the rest and when I watched it yesterday I was like holy wow.  In the beginning when they first drive into the hospital environment and go through a few gates.  You follow the vehicle as gate after gate is opened and closed for them.  It felt ultra three-dimensional just how that particular scene played out onscreen.  Don't get me wrong though there are many other moments of spacial pleasure around the island, within the confinement of rooms and more.
Black Levels: Black levels are consistently dark and natural throughout.

 HDR prevents the nighttime and dark asylum sequences from consuming the characters completely.  However, it's the inkiness of the deep blacks that make this one stunning at times.  It sucks you in and consumes you just like Venom the symbiote.

Color Reproduction: The colors are mostly natural, organic and very earthy throughout, but it's the contrast that really jazzes things up here despite the film's dark noir-style imagery.  The star of this video presentation for me is the infused HDR/Dolby Vision coloring.  Things look like a million dollars here.  The colors are just much fuller and wider than they look in the 1080p Blu-ray presentation.
Flesh Tones: The skin tones all look natural and authentic throughout this 4K presentation here.  Everyone looks very healthy here despite the subject matter of course.
Noise/Artifacts: In my viewing there was a very light veneer of grain accompanied with some minor banding in the background to deal with, but nothing that knocks this one severely down.  All in all I'm very happy with this 2K DI upscale.
Audio 
Like I mentioned up above in the video section, the below audio score and critical comments of such are based solely upon my viewing of Paramount's 4K Ultra HD Blu-ray presentation of Shutter Island.  
Audio Format(s): English 5.1 DTS-HD Master Audio, French 5.1 Dolby Digital, Portuguese 5.1 Dolby Digital, Spanish 5.1 Dolby Digital, English Audio Description
Subtitles: English SDH, Spanish, French, Portuguese
Dynamics: This one I am told features the same audio surround track as the original Blu-ray release did some ten years ago.  That's okay though as it sounds spectacular still.  What I love about this surround track is the soundstage is wide open with many atmospherics to balance at play here.  The wind howls and the rain slams, but underneath it all nothing really gets lost in the shuffle.  However, this is one of those loud ones too so while there may be ten minutes of dialogue you're focused on the atmospherics will kick in and rock you with the sheer volume of it all.  Nothing though is more harmonious than the thematic score here.  It literally moves me each and every time I see this one as it builds up the tension and emotions of it all.
Height: Okay so there's not Atmos or officially dubbed height channels here.  That's alright.  If you're lucky enough to be able to do some DTS: Neural:X up-mixing, then you're in for a treat as the moments of wind, slamming rain, dripping water and more are pushed all above you.
Low Frequency Extension: The LFE channel handles itself well with aggressive bass moments regarding some of the onscreen scuffles, menacing rain and thunder, holing wind, haunting score and more.  It's not the strongest bass track you've ever heard, but it gets the job done.
Surround Sound Presentation: The rear channels are engaged throughout with prioritization to lots of background atmospherics engulfing you in this creepy and haunting tale.  It puts you in the middle of thriller and it just makes the movie that much sweeter.
Dialogue Reproduction: The dialog levels are all clear and intelligent throughout.  As I already mentioned up above in the dynamics it's one of those tracks where things do get a little loud when you have this one turned up for the dialog alone.
Extras 
The Shutter Island 4K Ultra HD/Blu-ray Combo in a Limited Collector's Edition Steelbook here includes the previously released featurettes "Behind the Shutters" and "Into the Lighthouse" on the Blu-ray Disc, which also contains the feature film in 1080p.  Sadly there's no digital copy at all to be had here.  The front and rear of the steelbook housing can be seen at the bottom of this review for your viewing pleasure.  So without further ado let's just concentrate on those two mere extras down below here.
Behind the Shutters (HD, 17:10) – This one follows the film from its inception as an acclaimed novel through the production process and to the big screen.  It also includes interviews with cast and crew.
Into the Lighthouse (HD, 21:11) – Here we learn about the historical landscape of psychiatric therapies during the 1950s through interviews with cast and crew.  Sounds interesting, huh?!  Absolutely!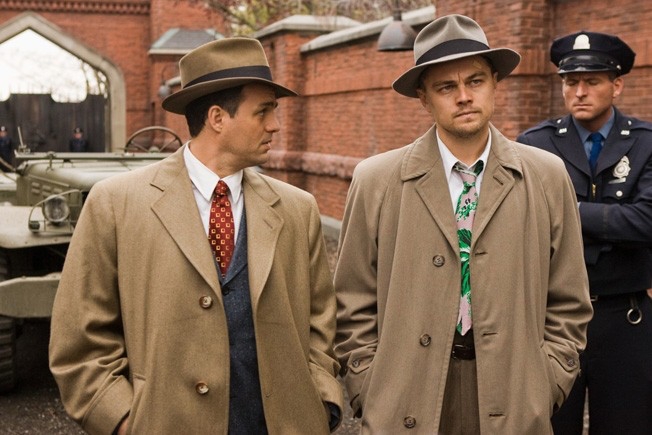 Summary
There you have it folks. With the exception of 1981's Cape Fear it feels like this is Martin Scorsese's first experiment in this genre in a long, long time and he hits a home run his first time up to bat here with me.  There's so much to love about this one and like Fight Club the second viewing is so much sweeter as you know its secret and now you're seeing it through a whole new lens.  While Shutter Island doesn't offer anything new here other than the fancy tin can it comes in the winner for me is the HDR/Dolby Vision infused visuals.  The colors are just beautiful.  Those alone would warrant a purchase from me.  Otherwise you're getting much of the same with the original Blu-ray release, including the surround audio track.  Since I am such a huge fan of this one it's not even a relevant argument.  It's a MUST-BUY for me.  Enjoy and thanks for reading!
*
Shutter Island
Gets You Soaking Wet
on 4K Ultra HD Blu-ray
*
Paid Link
We earn commissions on qualifying purchases.
And re-invest them into the site to keep it humming!
*