November 14th, 2020 by Brian White
Yours truly has now covered the first season of HBO's Westworld, also known as The Maze, on 4K Ultra HD Blu-ray over HERE, and the second season, also known as The Door, HERE.  Therefore, it only makes sense to have me lock down the third season, which wears the moniker The New World.  I think Warner Bros. says it best in their press release. Since the award-winning drama series' debut, Westworld has captivated audiences by exploring the dawn of artificial consciousness and the evolution of sin with the latest season delving into the questions surrounding free will.  That's a good setup, but what I am most looking forward to is seeing life outside the park in a future world with some familiar faces here like Evan Rachel Wood.  Truth be told this review of Westworld Season 3 is my first experience with the third season.  So what you'll read down below will very much be my first impressions.  Ready or not here I come!  
Film 
I said it last year and I'll say it again Westworld is a battle of the eyelids.  It has wild payoffs, but it moves at a snail's pace at times.  However, despite all its flaws Westworld wildly exceeds when it comes to accolades and Season 3 ups the ante with unbelievable action (is this the same Westworld that once used to put me to sleep?). The first two seasons of Westworld received a combined 43 Emmy nominations.  The second season's 20 Emmy nominations resulted in three wins, including: Outstanding Supporting Actress in a Drama Series (Thandie Newton), Outstanding Makeup for a Single-Camera Series (Non-Prosthetic) and Outstanding Hairstyling for a Single-Camera Series.  That's not too shabby for a show I literally just called "a battle of the eyelids." Perhaps I just have a short attention span, but I digress.  There's been more than enough eye candy the last two seasons to not only keep my eyelids open, but also invested.
Westworld Season Three: The New World features returning cast members including Evan Rachel Wood as Dolores Abernathy, Thandie Newton as Maeve Millay, Ed Harris as the Man in Black, Jeffrey Wright as Bernard Lowe, Tessa Thompson as Charlotte Hale, Luke Hemsworth as Ashley Stubbs and Simon Quarterman as Lee Sizemore.  Joining the cast this season are two big names, Aaron Paul (Breaking Bad) and Vincent Cassel (Black Swan), alongside recurring guest stars Lena Waithe (Twenties, Queen & Slim), Scott Mescudi (We Are Who We Are), Marshawn Lynch (Brooklyn Nine-Nine), John Gallagher Jr. (The Newsroom and Olive Kitteridge), Michael Ealy (Stumptown) and Tommy Flanagan (Sons of Anarchy).  And unlike the second season that kind of jumps through time all over the place this one's pretty much a straight forward narrative in the new world.  And this new world, as stated before, is what I'm very excited about!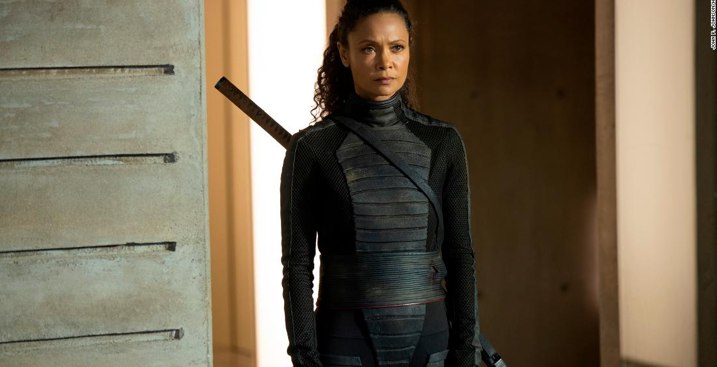 The third season follows the aftermath of the Westworld massacre where we last saw Dolores and Bernard (so to speak) escape the park and take residence in Los Angeles 2058.  Therefore, for simple timeline deductions Season 3 takes place three months later after the second.  The third season sees basically a heist playing out.  Each character has their own endgame, but the essence of Season 3 allows us to see just who they will become in the wake of their liberation given the "free will" they kind of all have now.  There's also a brand new realm never seen before in the previous seasons.  However, the crux of the story focuses around Dolores' seemingly hellbent rage as she sets in motion to wage war on humanity.  And boy does she ever!  It's glorious!  She is my absolute favorite part of this third season as we see a whole new side of the character of Dolores here.  The only problem is the world outside is full of just as much deception and predetermination as the one they always known inside the park.  You know the kind of  the grass is always greener on the other side kind of sentiment.
What blew me away in Season 3, other than Evan Rachel Wood (second only now to Margot Robbie's Harley Quinn), is the action.  Season 3 is action packed!  It's riveting, breathtaking and because of the future landscapes/environments it's absolutely gorgeous to behold.  Of course beauty is in the eye of the beholder, but as we get down to the A/V sections below you'll come to understand this one's a stunner.  Now I have always been sappy when it comes to futuristic sci-fi environments.  So this was a recipe for me that really couldn't fail.  Take what was good from the park (including the sultry Thandie Newton) and put them in a stunning looking futuristic world blended with a little Breaking Bad (Paul) and the husband (Cassel) of the real-life walking piece of art (Monica Bellucci) and you have all the right ingredients (in my opinion of course).  There's still some lag and I'm going to admit it right now…a lot of complexities and confusion, but the futuristic action sequences more makes up for it.
Like the previous two seasons no expense is spared in this one.  It's like you're watching a feature film rather than a television show (think production standards HBO is known for like Game of Thrones).  Innovative ways of shooting real city landscapes and exotic locations around the world are captured here.  Best of all Ramin Djawadi returned as the series composer with new surprises and treats for your ears.  I did not expect to be blown away and gushing like this, but Season 3 wowed me.  I'm so glad I didn't offer this one up to my other reviewers and kept it for myself to tackle.  The science fiction of it all probably outweighs the heist/crime thriller aspect to me, but I'll take what I can get as the acting is paramount too.  And now I want so much more of it!  Thank you HBO!  You have a fan whet with desire now.  Can I have another helping of Dolores too?  Bring it!
Opposed to last season where there were ten episodes there are only eight here.  Each one is approximately an hour each and are broken down across 3 4K UHD discs as follows:
Parce Domine (UHD Disc 1)
The Winter Line (UHD Disc 1)
The Absence of Field (UHD Disc 1)
The Mother of Exiles (UHD Disc 2)
Genre (UHD Disc 2)
Decoherence (UHD Disc 2)
Passed Pawn (UHD Disc 3)
Crisis Theory (UHD Disc 3)
Video 
The below video score and related critique of things here are based solely upon my viewing of the 4K Ultra HD Blu-ray presentation of HBO's Westworld Season 3: The New World.
Encoding: HEVC / H.265
Resolution: 4K (2160p)
Dolby Vision: Yes
Aspect Ratio: 1.78:1, 2.35:1
Size: 3 BD-100s, 3 BD-50s
Clarity/Detail: I think things look impeccable and beautiful throughout here.  Westworld Season 3 is presented for the most part in in 1.78:1, but some shift into a 2.35:1 aspect ratio.  I remember watching it for the first time when I noticed the shift and I was like wow.  The futuristic environments are stunning to behold, but I already rubbed that in your face up above.  Sure there are some hazy western looking shots, but closeups reveal many fine details that rival modern day films on the 4K Ultra HD Blu-ray format.  The presentation here gets its film like appearance thanks in part to being captured on 35mm, but some of it was also captured digitally due to its many night sequences.  Human specs such as pores, stubble, moles, wrinkles, hairs and whatnot look incredible (yes even ugly moles can look incredible in 4K resolution).  However, equally stellar looking are the textures in costumes and clothing such as Dolores' amazing outfits and surfaces in objects containing wood, stone (bricks), plastic, paint, metal and even grains of sand.  The World War II sequences really look amazing in the textures department.
Depth: Depth of field is what it's all about here.  Futuristic landscapes galore are vast, wide and so dreamy.  Even in tight interiors with host bodies stacked in rows or office constraints things just have an amazing amount of depth.  The cinematography for the win here again this season.  It's still a character in its own right.  Everything has that three-dimensional pop to it.
Black Levels: The black levels are where things get a bit wonky here.  One minute they're spot on perfect being dark and natural with nothing getting lost within and the next such as nighttime sequences they are extremely deep…maybe even too deep and there are moments of small crush.  Season 2 had the same issues, but nothing really concerning here or that would cause you to have issues with your overall enjoyment.
Color Reproduction: For the most part here the colors are both pleasant and natural.  However, thanks to the HDR and Dolby Vision t's a very in check looking presentation with bright whites and bold primaries such as the many sequences in the futuristic Los Angeles setting with bright neon lit architecture.
Flesh Tones: The good thing about all the skin found within here is the fact that the skin tones all look natural and authentic throughout.  There's never a moment really where I wasn't happy with them.  However, truth be told, there wasn't a lot of nudity in this season compared to the previous two.  I know who cares, right?  Well I just wanted to call it out for those who watch this show for its gratuitous nature.  Sickos!  Ha!
Noise/Artifacts: Things look outstanding here with no nasty artifacts to ruin your viewing enjoyment of the presentation here.  Zero qualms from me here!  There's a cinematic feel to it all with a light veneer of grain tightly packed in that's just exquisite to behold and gaze upon.
Audio 
Like I mentioned up above in the video section, the below audio score and critical comments of such are based solely upon my viewing of HBO's 4K Ultra HD Blu-ray presentation of Westworld Season 3: The New World.  It should be noted the Blu-ray 1080P discs contain a DTS-HD Master Audio 5.1 surround audio track while the 4K UHD Discs boast an Atmos upgrade.
Audio Format(s): English Dolby Atmos (Dolby TrueHD 7.1), English 5.1 Dolby Digital, French  5.1 Dolby Digital, Spanish  5.1 Dolby Digital, German Dolby Digital 5.1
Subtitles: English SDH, French, German, Spanish, Danish, Dutch, Finnish, Korean, Norwegian, Swedish
Dynamics: Westworld used to not be the most action packed presentations on 4K disc, but that all changes here with Season 3.  The sound and spacial effects plus bombastic action sequences more than puts you in the mood here throughout the different character storylines that unfold onscreen before you.  Not a single thing gets lost in the shuffle here.  The score never sounded better too as it's always deep, full and completely hypnotic.  Just like the cinematography the score is another character in itself.  It's literally a wall put up here.  It's that amazing and in your face!  There is some terrific sound work at play here not to mention an incredible production value to it all.  The presentation is wide, loud and open and most importantly discrete and prioritized.  It's perfection just like the robot bodies produced within the show.
Height: The Atmos height channels were pretty much engaged throughout  the entire eight episodes and it surprised me just to hear how much of this killer Ramin Djawadi score bleeds through them too.  Atmos moments can easily be heard in scenarios like the following, but not limited to: ears ringing from gunshots, system alarms, vocals overhead, rain/lightning, gunshots, birds, explosions, drones and various flying vehicles, airplanes and copters and so much more.  The Atmos channels are all about enhancing the sound effects and atmosphere throughout this 4K presentation and its presence is clearly heard and appreciated.
Low Frequency Extension: The amazing score and many action sequences throughout are what stand out most here.  You have shootout sequences galore and so much more to allow the LFE channel to flex its authoritative dominance over things here not to mention explosions that will rock your viewing room.  The gigantic robots also present a sense of heft in this one.
Surround Sound Presentation: For a television show the rear channels are still what impress me the most about this Atmos mix.  It's the little things that do it for me, but at the same time noticeable examples like sirens, vehicles entering from behind and running things over, ambiance, gun fire and spray and of course all the other non-stop action that completely sell me on this mix.
Dialogue Reproduction: While there are lots of quiet moments here and whispering going as well as many loud moments like gunfire and explosions, the dialogue is always directional, crystal clear and intelligible throughout, which makes this fan very happy.
Extras 
Westworld Season 3: The New World can be found on both the 4K Ultra HD and Blu-ray Discs within this set.  That chronicles all 8 episodes clocking in around 480 minutes worth of content plus 106 additional minutes in the way of extras.  And oh yes these extras are also housed on the 4K Ultra HD Blu-ray Discs too!  In fact there are three extras that are exclusive to the Disc based releases.  There's also a Digital Copy redemption code to take Westworld Season 3 with you anywhere you go.   Like the last season's home media release there are no audio commentaries, but we do still have a lot of ground to cover.  So follow me down below and I'll show you around as to what extras are what, where they are housed and much more.
So before we dive into the details of each extra the photo down below here showcases everything you get.  Each of the 6 discs is on its own separate spindle (that is nice) and both the 1080p Blu-rays and the 4K UHD Discs have the same extras on them.  The 3 panel guide is nice for easy reference as to what you'll find on each of the discs.
We Live in a Technocracy (HD, 13:44, Disc 3) – This one is all about constructing the algorithms and data mining in regards to how things are predicated in our future, etc (I don't want to dive too deep here due to spoiler territory) and features show runners Jonathan Nolan and Lisa Joy.  (Exclusive to 4K UHD Combo Pack, Blu-ray and DVD)
Rico: Crime and The Gig Economy (HD, 7:07, Disc 3) – I won't talk about this too much due to spoilers, but let's just say this one is about a phone app shown in the season. (Exclusive to 4K UHD Combo Pack, Blu-ray and DVD)
A Vision for the Future (HD, 14:09, Disc 3) – I loved this one as it's all about the production design of everything I find so fascinating in this season in regards to building out that future Los Angeles we see onscreen. (Exclusive to 4K UHD Combo Pack, Blu-ray and DVD)
Westworld on Location (HD, 11:20, Disc 3) – This Home Entertainment Exclusive showcases the beautiful shots seen from both Spain and Singapore as the cast and crew shoot abroad there.
Escape from Westworld (HD, 1:53, Disc 1) – Here's a brief recap of Season 2 and what it took to bring Season 3 to life.
Exploring WarWorld (HD, 3:56, Disc 1) – Remember how I mentioned the World War 2 sequences up above?  Well here's a quick look at it all.
Creating Westworld's Reality – There are a total of 7 segments here, which are listed in detail below.  They are basically behind-the-scenes featurettes of the episodes, but for reason the fourth one, "The Mother of Exiles," does not have one.  Weird!

Parce Domine (HD, 6:36, Disc 1)
The Winter Line (HD, 7:18, Disc 1)
The Absence of Field (HD, 6:05, Disc 1)
Genre (HD, 3:54, Disc 2)
Decoherence (HD, 4:48, Disc 2)
Passed Pawn (HD, 4:09, Disc 3)
Crisis Theory (HD, 9:03, Disc 3)

Welcome to Westworld (Disc 3) – The following are conversations between pairs of actors.

Evan Rachel Wood & Aaron Paul – Analysis (HD, 3:46)
Evan Rachel Wood & Aaron Paul – Who Said It? (HD, 3:43)
Thandie Newton & Tessa Thompson – Analysis (HD, 3:22)
Thandie Newton & Tessa Thompson – Who Said It? (HD, 2:57)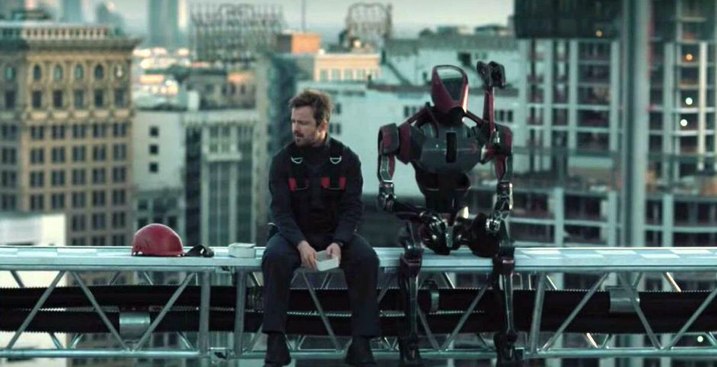 Summary 
So there you have it folks.  I have completed my 385th So as I wrap up my 383rd professional 4K/Blu-ray review of my career here on Why So Blu and I'm going to confidently leave you here in much the same fashion as I did with my 4K reviews of the first two seasons.  In summary there really is no better way to enjoy and/or take in for the very first time the now third season of HBO's Westworld: The New World than this 4K Ultra HD Blu-ray package.  I can't imagine this looking or sounding any better than it all does here in this 6-disc package.  So what are you waiting for?  Get out your most futuristic garb you have and hit that order button down below to bring the exciting, eclectic third season of Westworld home today on the 4K Ultra HD Blu-ray format.  Thanks for reading!  – HIGHLY RECOMMENDED 
*
DISCLAIMER: This 4K Ultra HD Blu-ray review was judged and graded using the following 4K certified Ultra HD Premium television set found HERE and player HERE.  Make sure to check out all our 4K Ultra HD Blu-ray reviews archived HERE.
*
Westworld Season 3: The New World
AI Gets Free Will on
4K Ultra HD Blu-ray
Releases November 17th
*
*