July 9th, 2018 by Brandon Peters
The zombies have returned! Writer/director Ken Wiederhorn (Dark Tower, A House in the Hills) churns a fun-and-gory spin on the zombie apocalypse movie in cult classic RETURN OF THE LIVING DEAD Part II, starring James Karen (The Return of the Living Dead, Poltergeist), Thom Matthews (Jason Lives: Friday, the 13th Part VI), Dana Ashbrook (Twin Peaks), Marsha Dietlein (Little Children), Philip Bruns (Flash Dance), and Michael Kenworthy (The Blob). On August 14, 2018, SCREAM FACTORY™ is proud to present RETURN OF THE LIVING DEAD Part II Collector's Edition Blu-ray, which includes new 2K scan of the film, new interviews with cast and crew, and much more!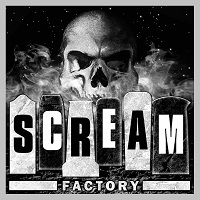 SCREAM FACTORY PRESENTS
RETURN OF THE LIVING DEAD Part II
COLLECTOR'S EDITION BLU-RAY™
RISING ON AUGUST 14, 2018
FROM SCREAM FACTORY™
This definitive set includes a collectible slipcover featuring newly rendered artwork and a reversible cover wrap featuring original theatrical key art. A must-have for movie collectors, zombie horror enthusiasts and loyal fans,RETURN OF THE LIVING DEAD Part II Collector's Edition Blu-ray is available for pre-order now at ShoutFactory.com.
***Special Offer: Order from ShoutFactory.com and get a FREE 18″ X 24″ ROLLED POSTER featuring brand new artwork, available while supplies last! Also get it shipped TWO WEEKS EARLY! ***
RETURN OF THE LIVING DEAD Part II Collector's Edition Special Features:
NEW 2K scans from the interpositive
NEW Audio Commentary with actress Suzanne Snyder
NEW Audio Commentary with Gary Smart (co-author of The Complete History of the Return of the Living Dead) and filmmaker Christopher Griffiths
NEW Back to the Dead: The Effects of "Return of the Living Dead Part II" – including interviews with Special Make-up Effects creator Kenny Myers and Special Make-up Effects artists Andy Schoneberg and Mike Smithson
NEW The Laughing Dead – a new interview with writer/director Ken Wiederhorn
NEW Undead Melodies – an interview with composer J. Peter Robinson
NEW interview with actor Troy Fromin
Audio Commentary with writer/director Ken Wiederhorn and co-star Thor Van Lingen
They Won't Stay Dead: A Look at RETURN OF THE LIVING DEAD II including interviews with James Karen, Thom Matthews, Brian Peck, Kenny Myers, Susan Snyder, Michael Kenworthy and more…
Archival Featurette – Live from the Set
Archival interviews with Ken Wiederhorn, James Karen, Thom Matthews and Kenny Myers
Behind the Scenes footage
Theatrical Trailer and Teaser Trailer
TV Spots
Still Gallery of posters and stills
Still Gallery of Behind-the-Scenes stills from Makeup Effects artists Kenny Myers and Mike Smithson
Synopsis
The horror begins again as mysterious barrels bounce off an Army transport as it passes through a new housing development and land near an abandoned cemetery. Mischievous neighborhood boys discover the barrels and open them, unaware of the evil contained within. A deadly green vapor escapes and turns the living into flesh-eating zombies and causes the dead to rise from their graves. As these hideous living dead hunt down the fresh human brains they need, man is pitted against man, and the living against the dead. It is a macabre struggle for survival!