May 13th, 2020 by Brian White
Birds of Prey: And the Fantabulous Emancipation of One Harley Quinn is a movie title I have loved saying over and over for some time now.  It rolls off the tip of my tongue like a youth's belly skin does over a wet Wham-O Slip 'N Slide.  It's also my number one most favorite film of 2020 and NOTHING can top it.  I was looking forward to this one for over 3 years since I authored this insightful 4K Review of 2016's Suicide Squad HERE.  If you really do think about it, one might even say I was born to write this Blu-ray review like some fateful, divine intervention, deity kind of crap.  Needless to say if I never see another movie in 2020 due to COVID-19, I'd be perfectly content as I have my just about near perfect as you can get, Harley Quinn movie, and all the endless merchandise I was lucky enough to get my grubby hands on in bulk (from the UK too).  And I do mean in BULK, but I digress.  The time has finally come down below to intelligently construct a fair, honest review of why I feel Birds of Prey: And the Fantabulous Emancipation of One Harley Quinn is so hotdog, damn good. 
Film
Birds of Prey: And the Fantabulous Emancipation of One Harley Quinn or simply Birds of Prey as I'll refer to it here on out in this review is officially the eighth film in the DC Extended Universe.  It's based on the DC Comics Birds of Prey property and is sort of a follow-up from 2016's Suicide Squad.  The film is directed by Cathy Yan from a screenplay written by Christina Hodson.  It was originally Margot Robbie herself that pitched Warner Bros. this idea several years ago.  She's even a producer here too.  I guess you can say she's the brilliant mastermind responsible for all of this.  Best of all this one's rated R by the MPAA.  Hell yeah!  Now in addition to marvelous Margot the feature also stars Mary Elizabeth Winstead, Jurnee Smollett-Bell, Rosie Perez, Chris Messina, Ella Jay Basco, Ali Wong and one of my personal favorites, Ewan McGregor.  That's one diverse cast!  Even John Wick's stunt coordinator Jonathan Eusebio and fight coordinator Jon Valera have joined the crew to maximize the action in Birds of Prey.  This superhero flick follows one Harley Quinn as she ditches her Puddin' and ultimately joins forces with her Birds of Prey teammates Black Canary, Helena Bertinelli (AKA the Huntress) and Renee Montoya to save Cassandra Cain from Gotham City crime lord Black Mask.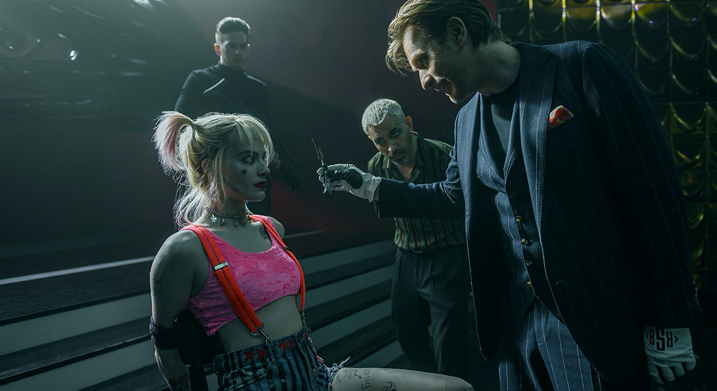 What's remarkable about Birds of Prey for me is with the exception of Wonder Woman, which was green lit way before Batman v Superman even came out us DCEU fans finally won.  We actually got something we wanted.  Yes 2016's Suicide Squad may have been a huge hot, stinking mess, but if there was a silver lining to it all, that is the one Harley Quinn as portrayed by Margot Robbie.  She kept that ship from completely sinking and thankfully Birds of Prey won't be the last we see of one Harley Quinn on the big screen.  Margot's character is going to be in the upcoming James Gunn Suicide Squad movie too (rocking the red and black hair and all).  Hell yeah!  I for "one" can't wait (don't know what impact COVID-19 will have on it time-wise).  However, his one seemed like an eternity to come, but alas the day is finally here now on 4K Ultra HD and Blu-ray (notice I give NO LOVE to DVD).  And while I'd rather have a movie any day where Harley's the sole property in the story (or a Harley and Ivy tale) I'll take what I can get here with the eccentric cast.  So for now that is Birds of Prey and I want to chat all about it.
Simply put Birds of Prey is essentially a twisted tale (non-linear at times) told by the character of Harley Quinn as only she can tell it.  Our story takes place in Batman's world of Gotham and revolves around the insanity of the narcissistic villain, Roman Sionis (McGregor), and his right-hand henchman the equally evil Victor Zsasz (Messina).  Truth be told I think there's a thing between those two, but look at me I'm putting the cart in front of the horse.  Apologies.  So these two evil guys place a target on the head of a young girl named Cass (newcomer to film Basco) and leave no stone (pun intended) unturned in their search for her.  Ultimately (as rehashed from above) Harley, Huntress (Winstead), Black Canary (Smollett-Bell) and Renee Montoya's (Perez) paths collide as they form an unlikely girl gang to not only save Cass, but also plot to take Roman down.  This is where I want to pause real quick to revisit something I said in the paragraph up above.  I mentioned I wanted a movie solely about Harley, but an interview I read that Robbie did reminded me of something that is pretty solidified in all the Harley Quinn comics I have ate up over the years.  It goes a little something like this:
"I pitched the idea of an R-rated girl gang film including Harley, because I was like, 'Harley needs friends.' Harley loves interacting with people, so don't ever make her do a standalone film," Robbie said.  "She's got to be with other people, it should be a girl gang. I wasn't seeing enough girl gangs on screen, especially in the action space.  So that was always a big part of it."
There you go.  Margot Robbie is so right about that and I like usual am so wrong.  No one deserves a solo Harley Quinn movie.  She shines when she interacts in the zany world that other citizens, villains and thugs of Gotham inhabit.  So why deny us of that?  I'm sorry for even misleading you there.  Moving along though I do want to tell y'all something.  I freakin' LOVE Birds of Prey!  I quote it and think about the movie constantly.  I have seen it a total now of 19 times (7 theatrically, 11 digitally and once on Blu-ray Disc for this review).  Despite my unnerving obsession for one Harley Quinn I do want to put my vulnerability out there and briefly deep dive (free fallin' and ballin') into why I feel Birds of Prey is actually a near perfect film as challenged by fellow writer Adam Byrne when he originally asked me that question back in February and since then countless others.  After all my reputation is on the line.
What separates Birds of Prey from most films is that it kind of defies your traditional 3-Act formulaic structure.  Yes Margot Robbie (AKA Harley) narrates throughout (and even breaks the fourth wall on multiple occasions), but this one jumps around like crazy to get you caught up (reminiscent of a Tarantino device or Guy Ritchie's recent The Gentlemen).  They do so in a way that truly works, albeit still very zany, chaotic and playful all at once.  It's those latter three elements that work perfect and harmoniously together here, which results in Birds of Prey being a lot of…if I do say so myself, F-U-N!   The action sequences as you would expect with the John Wick crew on hand are spectacular.  Harley can do absolutely miraculous things with a bat (made me gasp more than a few times).  Don't mess with her (and yes I get it in regards to the critics that complain about the unrealistic nature of said fight scenes).  And Ewan McGregor, what more can I say?  The guy is an absolute laugh riot here.  He's a very fun, albeit goofy villain and many laughs will be had with his off-the-wall quips and remarks.  This Gotham is a very colorful one (as seen through Harley's eccentric eyes) and while you could kind of expect Batman to show up at any minute you're also not disappointed if he doesn't either.  And we see so many different sides of Harley from drunk and gullible to innocent and malicious.  She's the perfect blend of spunky chaos, which I fell in love with all these years within the comics.  Also true to the comics she loves her food too ( I dare any actor to top the way she looks at her breakfast sandwich here).  Did I mention there are glitter filled bullets and she has a pet Hyena named Bruce too?
Glenn Weldon of NPR says it perfectly in the following quote I lifted.  "Birds of Prey may be a manic circus, but it proves to be the best kind of circus – one without a clown."  That's because Harley truly shines with the spotlight on her here flexing not only her girl power and toned muscles, but proving without any doubt she can stand on her own without any male dominance.  I never once thought about the inclusion of the Joker in the 19 times I have seen this.  Sure she has her moments of weaknesses and self doubt throughout, but that's part of the journey here with our anti-hero.  She's freshly emancipated and I for "one" again can't wait to see what's next for her (please God let there be a Yan directed Harley and Ivy movie).  There's so much more to explore (I could spend endless hours in this Margot created universe), but I'll have to leave that to the home media consumers out there to show with their wallets that they also want more Harley Quinn shenanigans as they definitely didn't show up in masses for the initial theatrical outing.
Rest assured I didn't forget about the rest of Robbie's supporting cast either.  While none of them ever come close to the mad charisma that Robbie and McGregor exude onscreen, Winstead comes the nearest.  However, it's the playful writing and careful yet deliberate delivery of lines that make her moments truly shine over the others.  You'll see what I mean.  However, that doesn't mean the rest of the gang is crap.  That couldn't be further from the truth.  Black Canary owns her role just as well as Harley and Ewan do.  In fact here's what I was getting at up above…the diversity of this amazing cast.  This, along with the long movie title sad to say, is where I think Warner Bros. ultimately failed with the marketing.  Sure I get it there's the stigma of the R-rating (and how it could work sans), but for just once if Warner Bros. would have highlighted the diversity of this film, I think they would have had a bonafide winner.  I mean they check all the boxes here from race and ethnicity to gay and lesbian. Harley herself is bi!  This is the world as we know it today.  Why Warner Bros. oh why didn't you promote that fact I'll never know.  We even have an all female soundtrack.  Female producer.  Female director.  Argh!  Need I say more?  Where were you women moviegoers?  This is the movie y'all been asking for…isn't it?
I could as you know go on and on, but I won't.  Margot absolutely loses herself in this role and comic book movie or not she's the Best Actress of 2020 in my diary.  Whether it's verbally conveyed or the brilliant way she communicates and expresses emotions non-verbally Robbie never falters.  Then there's the direction under Catherine Yan.  Well I may have had my reservations at first, but they were all for naught.  I encourage you to check out all the extras below to find out why she was the perfect choice for the chair.  Lastly, despite the erratic, non-linear nature of it all it's ultimately the simplistic story that does me in here.  This movie never outstays its welcome and I can't deny part of the charm outside of Margot's magic is the film's music.  I say music because rarely do I go on record saying this, but both the score and the soundtrack are equally amazing.  In fact these two albums are the first CD purchases I made in well over a decade.  I just had to have the best presentations of both.  If the mesmerizing soundtrack selections don't get you (every one's a hit across a "diversity" of genres), the underlying core of the film that I affectionately call the score (by Daniel Pemberton) will completely infest you.  After five or so views under your belt you'll have the ability to visualize the scene just by hearing a certain musical cue.  And that ladies and gentlemen is the everlasting power that is Birds of Prey (and I didn't even have to play off my love of Bruce the hyena either).  Oh and by the way regardless of what people tell you (there's a lot of trolls out there) Birds of Prey still has a very favorable Rotten Tomatoes score even to this day.  Mic drop.  Boom!
Video –
4K UHD
Blu-ray
The below video score and related critique of things here are based upon both my viewing of the 4K Ultra HD and 1080p Blu-ray  Disc presentations of Warner Bros. Birds of Prey.  For simplicity sake I'll keep the technical Disc details below relative to the 4K UHD one, but I'll also call out observations about the 1080p Blu-ray one.
Encoding: HEVC / H.265
Resolution: 2160p (ARRIRAW 3.4K source format)
Digital Intermediate: 4K
Aspect Ratio: 2:39:1
HDR: Yes (HDR10+)
Dolby Vision: Yes
Aspect Ratio: 2.39:1
Clarity/Detail: As you'll read down below I have a lot of thoughts on how Birds of Prey sounds here, but if there's one thing you can't fault the 4K UHD presentation for its the video because it's truly fantabulous looking.  I was on the prowl and hunting for things to nitpick in it, but nevertheless I was left grasping at straws because nothing stood out.  It's a slightly different story on the Blu-ray as one would expect with some minor banding.  However, with the 4K disc all the minor blemishes the 1080P presentation exhibit are completely gone.  Detail rains supreme from everything in effects like glitter bombs and explosions to textures in wood surfaces, dirt on apartment walls down to the lone light freckle on Margot's left quadricep.  Closeups on actors reveal the usual cosmetic items like stubble, wrinkles and my favorite…pores!  I'm a pore whore.  LOL.  The animation sequence at the beginning, however, shows a little jaggedness in the lines around the artwork due to the resolution.
Depth: There's absolutely no shortage of depth in the picture anywhere you look here.  Remarkable moments that come to mind include the pet store where she's picking out Bruce, inside the Black Mask night club, the restaurant where Huntress takes her revenge and the kill scene study that follows, the dock with the "Face Off" moment, the funhouse and so much more.  The picture on both formats just has an abundance of fun, three-dimensional pop to it with nothing to hamper the lunacy of it all jumping off the screen.
Black Levels: The black levels are natural and pleasing.  They are not overly inky or artificial looking.  Nothing gets lost in the shadows here either.  This feature is notorious from jumping one moment from a brightly lit exterior shot to a dungy interior in a prison cell or evidence room for example.  Some of the finest moments in the shadows also includes where Harley gets interrogated, strapped to a chair, in the Black Mask Club.  The vivaciousness that follows that scene is worth the price of admission alone because we all know that diamonds are a girl's bets friend!
Color Reproduction: The colors throughout are bold and vivacious.  Obviously the 4K disc is a smidge more accurate, but overall I'm happy with the saturation in both these presentations.  The reds absolutely do me in every time I see them employed and illuminated in the Black Mask Club.  This is obviously a very bright feature because after all we're seeing this world through Harley's eyes.
Flesh Tones: The skin tones were almost always natural looking and authentic throughout.  They do get a little hot in Roman's apartment when he is showing Black Canary around, but that's about it.
Noise/Artifacts: There was zero to scrutinize over here in regards to any nasty artifacts littering the presentation.  Overall I'm very pleased with everything here in both these video presentations.  I wish I could say that with the utmost of satisfaction in the next section I am about to walk you through…the audio.  Ugh.
Audio
The below audio score and critical comments of such are based solely upon my viewing of the 4K Ultra HD Blu-ray presentation of Birds of Prey.  However, it should be noted that the Dolby Atmos track appears on both the 4K UHD and 1080p Blu-ray Discs.
Audio Format(s): English Dolby Atmos, English Dolby Digital 5.1, English Descriptive Audio, French Dolby Digital 5.1, Spanish Dolby Digital 5.1
Subtitles: English SDH, French, Spanish
Dynamics: Alright so let me apologize in advance.  This is going to be a very long winded rant I'm afraid.  Having seen this one in the theater seven times I consider myself pretty keen on knowing exactly how this one should optimally sound.  I feel terrible about even thinking this way, but I can't help like feeling Warner Bros. took a page from Disney's 4K release playbook with this "Atmouse" track.  If you want to hear Birds of Prey soar, you're going to have to turn this one way the hell up.  It's definitely not as bad as Thor: Ragnarok by any means, but you're going to have to work to enjoy this one.  And in the end it's nowhere near perfect either.  Don't worry I have examples to backup everything I'm dropping on you.  This also reinforces my disdain for Dolby Atmos at times.  Give me a good, bright, in-your-face DTS:X surround track any day of the week.  I also can't believe I'm going to say this, but give me the Birds of Prey VUDU Roku Dolby Atmos digital experience any day over what we have to work with here.  There's a lot of good to be found here, albeit when cranked to levels you would never normally put your receiver's volume to, but it could be so much better.  With all this being said though I will praise this Atmos track for its wide soundstage, channel separation and discretion of said channel prioritization in relation to onscreen events.  Despite all the explosions, thuds and more you'll never not hear any spoken word.  Of course you're going to have to turn it up to ensure that, but rest assured understanding the dialogue was never a concern here.  What is concerning is the fact that for me the majority of Birds of Prey's driving force, besides the inevitable Margot Robbie, was the film's score and soundtrack.  Sadly it all takes a back seat here.  It's evident from the first frame where Harley is narrating the introduction of her story over a musical a cappella of voices and tiny musical sounds.  The latter part is inaudible.  You're hesitant to turn up the volume as Harley's voice may become blaring, but the dichotomy you will wrestle with is you inevitably have to.  Overall, this Atmos track works when properly cranked hence why the score is not as severe as the drama I am making it out to be.
Height: I'll say this that once you turn up the volume of this Atmos track you'll realize this one is a wet dream for height channel enthusiasts.  It truly excels here with many examples including but not limited to the score/soundtrack, the fireworks as a result of Acme Chemical blowing up, action moments, glitter bullets, Black Canary's shrieking voice in the night club, glass exploding, voices, gunshots, bombs, cocaine (yes I said cocaine) and my favorite the sprinklers raining down.
Low Frequency Extension: The LFE channel is wishy washy here.  One moment it can be quite effective and the next sadly pretty weak.  The usual culprits of bass producing moments include the music selections, explosions, gunfire, bone breaks, punches, kicks, thuds and so much more.  However, let me highlight some of the ways in which the bass here fails to provide me that strong punch to the gut I know it should have.  The KeSha song "Woman" at the end of the film should absolutely just be rocking it out and it was flat.  The bass on the drums during "Danger, Danger" when Harley first invades the prison taking out the cops is almost non-existent.  And don't even get me started about that monstrous guitar riff in Halsey's "Experiment on Me" when the bad guys enter the police evidence room.  It was literally flat line and not even Kevin Bacon could necessitate this track back.  Then it flips head over heels and the bass breathes as soon as "Hit Me With Your Best Shot" starts playing and Huntress' bike roars down the dark and wet Gotham streets.  There's like no consistency here.
Surround Sound Presentation: The rear channels as they should be are ultimately an extension of the onscreen action and part of the overall ambiance/experience of the journey here.  I don't have any qualms with or nor will you hear me singing any heavenly songs of praise for them.  They effectively do their jobs and you have that loose sense of immersion as that prioritization I spoke about up above continues within the rears as action sequences take place in front of you, around you and crossing through you to reach the rear channels.  The finest example of this occurs during the prison cell fight sequence when Harley battles all the realized cellmates and the sprinklers are pouring down.  There are many slick choreography moments where the water swishes as Harley advances through the puddles and like an effective tidal wave it starts with the front speakers and works its way rearward.  Other than the aforementioned you pretty much have your usual basics happening behind you like action, atmosphere, score, soundtrack and more.
Dialogue Reproduction: Dialogue and spoken word are intelligible and clear throughout.  This is important too because this is a very heavy dialogue driven film especially due to the narration throughout.  Due to my many theater experiences with this film there were two lines in the theater that were always troublesome.  The first is where Harley remarks to Cass that she named her hyena after that hunky Bruce guy.  The second one involves one of the random henchmen that show up and exclaims to Harley "Look at my face!"  Thankfully these two troublesome areas are crystal clear in this Atmos surround track.  Thank goodness for that!
Extras 
With Birds of Prey I had the pleasure of enjoying all the below mentioned extras prior to this review thanks to COVID-19 and the film's early digital release this past March.  In the 4K UHD Disc release all of these extras are housed on the included Blu-ray Disc.  None of these extras whatsoever appear on the 4K UHD Disc.  If memory serves me correct, there's also an extra rollerball supplemental features in the iTunes Digital Copy version (a Movies Anywhere compatible code is provided within the case).  I'll also go on record saying I'm a very huge fan of both the 4K UHD and Blu-ray Disc slipcover releases.  You can see for yourself down below that they are both very different in design, but the one thing they do have in common is glitter.  As a big fan of Harley's "Fun Gun" I'm also a big fan of glitter.  These slip covers make me happy.  Hopefully the image down below (click on it to maximize) does what I am talking about here justice.
Additionally Best Buy has an amazing 4K steelbook available HERE.  Special thanks to Gregg Senko for the below photos of the cover as well as the biggest selling point to me, the money shot of Bruce and Harley playfully sharing a Twizzler.  Sexy, sexy!  Click on the images down below for maximum viewing pleasure.
Birds Eye View Mode (HD, 1:48:51) – It's very rare in this day and age that you get a home media release with a Picture-in-Picture feature length track.  I would say it's semi P-I-P and not the real thing, but I'll let you make the ultimate determination there.  I was ecstatic to watch it with the digital release this past March and learn all I could about this fantabulous film.  While the main feature plays this one takes little breaks and splashes up trivia, factoids and short video clips exploring a lot of the topics we do down below like the costumes, special effects and interviews with key talent like Margot!
Birds of Prey: Birds of a Feather (HD, 8:28) – Margot Robbie, director Cathy Yen, producer Sue Kroll and writer Christina Hodson all talk about how this movie came to be, the R-rating, casting, the writing of, action, stunts and more.
Grime and Crime (HD, 10:37) – This one covers all the colorful sets and locations of a Gotham we've never seen before.  It visualizes what's inside Harley's head so what we see is true to Harley.  You get it!  I loved learning about the Fun House location too as it used to be a hotel.
Wild Nerds (HD, 6:01) – This one briefly explores one of my favorite subjects here, Bruce, and how he's not a real hyena but a German Shepherd.  He was designed by Weta.  This one also tackles other VFX like Gotham City and Black Canary's cry.
Romanesque (HD, 4:55) – Margot Robbie, director Cathy Yen, producer Sue Kroll and writer Christina Hodson join Ewan McGregor and Mary Elizabeth Winstead here and talk about Roman's character, what he brings out of the comics, his violent personality and more.  It really shows off the dynamics of Ewan as an actor here.
Sanity is Sooo Last Season (HD, 7:37) – This one explores the fashion of Harley Quinn as we kind of see her onscreen wearing DIY styles and how it all was created.  We go through pretty much all the character costumes here.
A Love/Skate Relationship (HD, 4:27) – This one is all about something this movie had to have…a roller derby sequence. We get a lesson here about the sport itself and how it was worked in here and we even get to see our own Margot performing the stunts and training.  Love it!
Gag Reel (HD, 2:02)
Summary 
So in recap with Birds of Prey you have one Harley Quinn (hotness and all), exploding glitter bullets, incredible action and bone breaking fight sequences, fun mayhem and mischief, a hyena named Bruce (don't ask me why there's not a second one) and a stuffed beaver, F-bombs, comedy and laughs, animation, explosions, a booming soundtrack  with a complimentary underlying score and so much MORE.  Okay so yeah while the audio presentation leaves something to be desired (reason for only a 4-Harley score overall) you're still getting a pristine 4K Digital Intermediate and some really fantabulous extras.  Worst case scenario you take my stance.  The Dolby Atmos through VUDU on Roku is crowd pleasing enough for me.  However, it's about owning the complete package and when it comes to that philosophy there ain't nothing like it.  It's your civic duty.  Pick Birds of Prey up today!  And DON'T listen to the trolls.  They're everywhere out there.  This really is a great movie with something for all to love…even you B!
*
DISCLAIMER: This 4K Ultra HD Blu-ray review was judged and graded using the following 4K certified Ultra HD Premium television set found here and player here.  Make sure to check out all our 4K Ultra HD Blu-ray reviews archived here.
*
Birds of Prey
Looks Really Pretty, BUT
Doesn't Sound All That Great
on 4K UHD & Blu-ray
May 12th
*
Paid Link
We earn commissions on qualifying purchases.
And re-invest them into the site to keep it humming!
*
Paid Link
We earn commissions on qualifying purchases.
And re-invest them into the site to keep it humming!