February 6th, 2020 by Brian White
Birds of Prey: And the Fantabulous Emancipation of One Harley Quinn is a movie title I like saying over and over.  It rolls off the tip of my tongue like belly skin does over a wet Wham-O Slip 'N Slide.  It's also my number one most anticipated film of 2020.  I've been looking forward to this one for over 3 years since I penned this insightful 4K Review of 2016's Suicide Squad HERE.  One might even say I was born to write this review like some fateful, divine intervention shushing any naysayers from spewing any negative comments.  So if I never see another movie in 2020, I'd be perfectly content as I have my brand spanking new Harley Quinn movie and all the endless merchandise I can get my grubby hands on.  And let me tell you I got a lot!  However, it's time to lay all my biases on the table and intelligently deconstruct a fair, honest review of what you can expect from Birds of Prey: And the Fantabulous Emancipation of One Harley Quinn.  Oh wow!  It truly never gets old saying that one, but I feel I just have to digress.
Birds of Prey: And the Fantabulous Emancipation of One Harley Quinn or simply Birds of Prey as I'll refer to it here on out in this review is officially the eighth film in the DC Extended Universe.  It's based on the DC Comics Birds of Prey property and is sort of a follow-up from 2016's Suicide Squad.  The film is directed by Cathy Yan from a screenplay written by Christina Hodson, but it was originally Margot Robbie herself that pitched Warner Bros. this idea several years ago.  You go girl!  She's even a producer here too.  Best of all this one's rated R by the MPAA.  Hell yeah!  Now in addition to marvelous Margot the feature also stars Mary Elizabeth Winstead, Jurnee Smollett-Bell, Rosie Perez, Chris Messina, Ella Jay Basco, Ali Wong and one of my personal favorites, Ewan McGregor.  Even John Wick's stunt coordinator Jonathan Eusebio and fight coordinator Jon Valera have joined the crew to maximize the action in Birds of Prey.  This superhero flick follows one Harley Quinn as she ditches her Puddin' and ultimately joins forces with her Birds of Prey teammates Black Canary, Helena Bertinelli (AKA the Huntress) and Renee Montoya to save Cassandra Cain from Gotham City crime lord Black Mask.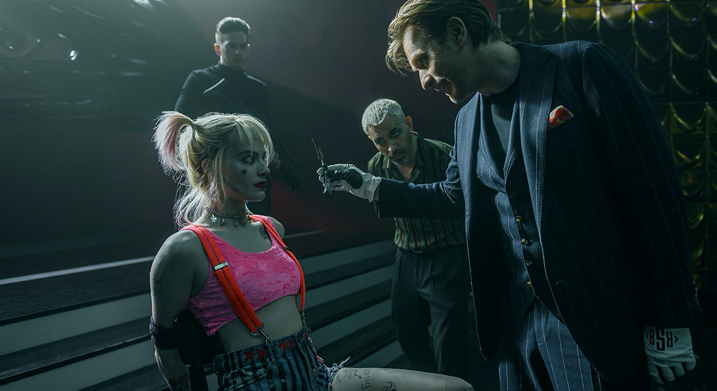 What's remarkable about Birds of Prey for me is with the exception of Wonder Woman, which was green lit way before Batman v Superman even came out us DCEU fans finally won.  We got something we wanted.  Yes 2016's Suicide Squad may have been a huge hot mess, but if there was a silver lining to it all, that is the one Harley Quinn as portrayed by Margot Robbie.  She kept that ship from completely sinking and thankfully Birds of Prey won't be the last we see of one Harley Quinn on the big screen.  Margot's character is going to be in the upcoming James Gunn Suicide Squad movie too.  Hell yeah!  I for "one" can't wait.  This one seemed like an eternity to come, but alas the day is finally here.  And while I'd rather have a movie any day where she's the sole property I'll take what I can get.  For now that is Birds of Prey so let's chat all about it.
Simply put Birds of Prey is a essentially a twisted tale told by Harley Quinn as only she can tell it.  Our story takes place in Batman's world of Gotham and revolves around the insanity of the narcissistic villain, Roman Sionis (McGregor), and his right-hand henchman the equally evil Victor Zsasz (Messina).  They place a target on and seek a young girl named Cass (newcomer to film Basco) and leave no stone (pun intended) unturned in their search for her.  Ultimately (as rehashed from above) Harley, Huntress (Winstead), Black Canary (Smollett-Bell) and Renee Montoya's (Perez) paths collide as they form an unlikely girl gang to not only save Cass, but also plot to take Roman down.  This is where I want to pause real quick to revisit something I said in the paragraph up above.  I mentioned I wanted a movie solely about Harley, but an interview I read that Robbie did reminded me of something that is pretty solidified in all the Harley Quinn comics I have ate up over the years.  It goes a little something like this:
"I pitched the idea of an R-rated girl gang film including Harley, because I was like, 'Harley needs friends.' Harley loves interacting with people, so don't ever make her do a standalone film," Robbie said.  "She's got to be with other people, it should be a girl gang. I wasn't seeing enough girl gangs on screen, especially in the action space.  So that was always a big part of it."
There you go.  Margot Robbie is so right about that and I am so wrong.  No one deserves a solo Harley Quinn movie.  She shines when she interacts in the zany world that other citizens, villains and thugs of Gotham inhabit.  So why deny us of that?  I'm sorry for even misleading you there.  Moving along though I do want to tell y'all something.  I freakin' LOVED Birds of Prey!  I thought about it constantly since seeing it and I'm salivating at the thought of my second screening this weekend.  Saturday literally can't come fast enough.  Here's to wishing my life away.  But seriously despite my unnerving obsession for one Harley Quinn I do want to put my vulnerability out there and briefly deep dive (free fallin' and ballin') into why I feel Birds of Prey is actually a really great film as challenged by fellow writer Adam Byrne when he questioned me today.
What separates Birds of Prey from most films is that it kind of defies your traditional 3-Act formulaic structure.  Yes Margot Robbie (AKA Harley) narrates throughout, but this one jumps around like crazy to get you caught up.  However, they do so in a way that truly works, albeit still very zany, chaotic and playful.  It's those latter three elements that work perfect and harmoniously together here, which results in Birds of Prey being a lot of…if I do say so myself, F-U-N!   The action sequences as you would expect with the John Wick crew on hand are spectacular.  Harley can do absolutely miraculous things with a bat (made me gasp more than a few times).  Don't mess with her.  And Ewan McGregor, what more can I say?  The guy is an absolute laugh riot here.  He's a very fun villain and many laughs will be had with his off-the-wall quips and remarks.  This Gotham is a very colorful one and while you could kind of expect Batman to show up at any minute you're also not disappointed if he doesn't either.  And we see so many different sides of Harley from drunk and gullible to innocent and malicious.  She's the perfect blend of spunky chaos, which I fell in love with all these years within the comics.  Also true to the comics she loves her food too.  Did I mention there are glitter filled bullets and she has a pet Hyena named Bruce too?
Glenn Weldon of NPR says it perfectly in the following quote I lifted.  "Birds of Prey may be a manic circus, but it proves to be the best kind of circus – one without a clown."  That's because Harley truly shines with the spotlight on her here flexing not only her girl power and toned muscles, but proving without any doubt she can stand on her own without any male dominance.  I never once thought about the Joker.  Sure she has her moments of weaknesses throughout, but that's part of the journey here with our anti-hero.  She's freshly emancipated and I for "one" again can't wait to see what's next for her.  There's so much more to explore, but I'll have to leave that to the movie goers out there to show with their wallets that they also want more Harley Quinn shenanigans.  I didn't forget about the rest of Robbie's supporting cast either.  It's just that none of them ever come close to the charisma of Robbie and McGregor exude onscreen, but Winstead comes the nearest.  However, it's the playful writing and delivery of lines that make her moments shine over the others.  You'll see what I mean.  So in recap you have one Harley Quinn (hotness and all), exploding glitter bullets, incredible action and bone breaking fight sequences, fun mayhem and mischief, a hyena named Bruce (don't ask me why there's not a second one) and a stuffed beaver, F-bombs, comedy and laughs, animation, explosions, a booming soundtrack and so much dot…dot…dot.  Come on!  Do I really need to say more?  Go freakin' see this already!