September 14th, 2020 by Gerard Iribe
The indigenous people in the isolated reserve of Red Crow are immune to the zombie plague that has taken over the nation, but that doesn't mean their lives aren't at risk. It's up to Traylor (Michael Greyeyes, "Fear the Walking Dead"), the tribal sheriff, to protect the families residing on the reserve and a flood of desperate refugees from the hordes of bloodthirsty, walking white corpses that are closing in.  BLOOD QUANTUM is directed and written by Jeff Barnaby (Rhymes for Young Ghouls). The horror film stars Michael Greyeyes ("Fear the Walking Dead" , True Detective ), Forrest Goodluck (The Revenant), Kiowa Gordon (Twilight franchise),  and Elle-Máijá Tailfeathers (The Body Remembers When the World Broke Open). RLJE Films releases BLOOD QUANTUM on DVD for $27.97 and on Blu-ray for $28.97. 
Film
From IMDB: The term "blood quantum" refers to a colonial blood measurement system that is used to determine an individual's Indigenous status, and is criticized as a tool of control and erasure of Indigenous peoples.
Blood Quantum starts out as an unassuming picture taking place on the Mi'kmaq reserve of Red Crow. All of sudden dead animals start to come back from the dead and eventually some of the outside population start to come back from the dead.
The main gist of it being that the Mi'kmaq people are immune from the flesh eating virus that is turning anyone not Mi'kmaq into zombies. Mind blown! Blood Quantum has a terrific concept and is written, directed, produced, edited, and composed by Jeff Barnaby. He definitely pulled a Robert Rodriguez by wearing different hats getting this film made.
The final product does have style to spare, with only a few things that I had issues with. I think some of the actors used for the film looked great but had limited range. I think Joss (Elle-Maijai Tailfeathers) was the character that I gravitated towards the most along with the badass samurai sword wielding Gisigu (Stonehorse Lone Goeman). The other issue was that of origins. There's no clear origin to what is causing white people to be the only group to get infected. Whether it was budgetary concerns or a potential sequel, it's a quirk that annoys me.
The world created in Blood Quantum is steeped in tradition, community, and resilience. I loved that part of it and for a low budget production, they went all out on the scenes involving animated scene transitions and the awesome gore levels. Experimental or not, Blood Quantum is an above average zombie thriller, with a sociocultural edge.
Video
Encoding: MPEG-4 AVC
Resolution: 1080p
Aspect Ratio: 2.35:1
Clarity/Detail: Blood Quantum starts out as a warm looking film but gets muted as it goes along. The transfer illustrates these differences perfectly.
Depth: The film has some scale to it – and the transfer handles everything it gets thrown, including the segments of animation that preface certain scenes.
Black Levels: I did not notice any crush. Black levels are deep and inky.
Color Reproduction: The color palette, again, starts out nice and warm before muting. Some of animation segments do have brighter palettes but I figure they're for stylistic purposes.
Flesh Tones: Flesh tones are quite stable and unless someone was explicitly bitten, you would never know they would turn into a zombie.
Noise/Artifacts: Clean.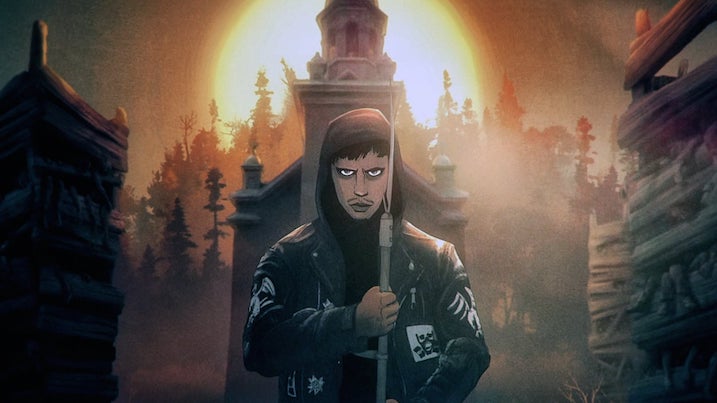 Audio
Audio Format(s): English DTS HD MA-5.1
Subtitles: English SDH
Dynamics: The lossless 5.1 DTS HD MA track sounds epic on this Blu-ray. Blood Quantum is an action-packed flick and comes a jam-packed audio track.
Low-Frequency Extension: The LFE subwoofer channel handles the rumble of explosions and shotguns all the way through without unnecessary rattle.
Surround Sound Presentation: The surround sound channels handle ambience and miscellaneous action flawlessly. It's a very active rear sound field and is handled beautifully.
Dialogue Reproduction: Dialogue levels were fantastic on this release.
Extras
N/A
Summary
Blood Quantum was a breath of fresh air in the zombie genre. The video and audio specs are stellar, but I am really disappointed in the lack of special features. This is one of those films that deserve a hefty supplements package. That aside, Blood Quantum is recommended!
The images used above within the review are not actual Blu-ray screenshots. They are for illustrative purposes only.
Blood Quantum is available on Blu-ray & DVD!