September 4th, 2020 by Aaron Neuwirth
Coming at audiences with a one-two punch this month from The Criterion Collection is a double-dose films from famed and once-blacklisted director Jules Dassin. Both The Naked City and Brute Force have finally been given the Blu-ray upgrade, and what fantastic work it is to see these 70+-year-old films get proper treatment in their restorations. Speaking to 1947's Brute Force specifically, this prison-set crime drama stars Burt Lancaster in a movie that may feel somewhat standard these days. However, the intensity for its time makes for a good watch and a still-relevant critique of the American incarceration system. This new Blu-ray presentation features the film, complete with a terrific restoration and more.
–
Film: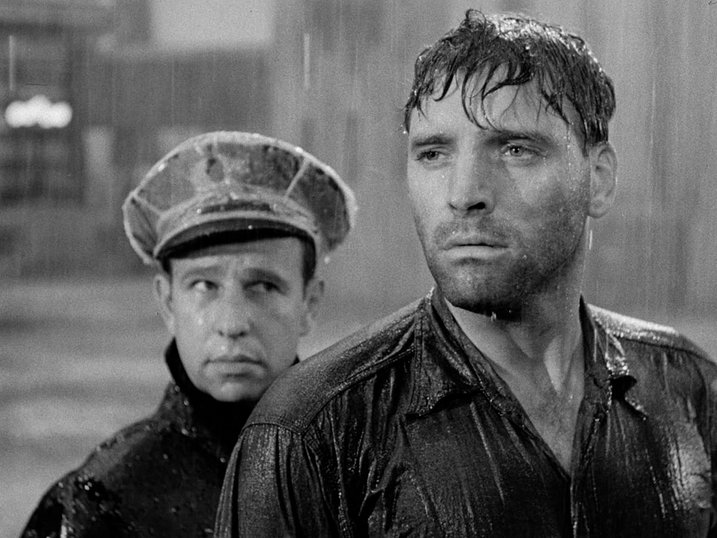 Inspired by the "Battle of Alcatraz" in 1946, Brute Force is set at the overcrowded Westgate Prison. Lancaster plays Joe, an inmate recently released from solitary confinement. He rejoins the other prisoners he shares a small cell with, with eyes on escape to reunite with his dying wife (Ann Blyth). Serving as the most painful of thorns in the sides of all prisoners is Capt. Munsey (Hume Cronyn), a sadistic man who uses torture and manipulation tactics to make prisoners inform on one another. Along with the other prisoners, Joe works on a plan to not only escape, but ideally take down the over-ambitious Munsey as well.
This was an early film for Lancaster, and along with Robert Siodmak's The Killers, it was one that established him as a star to watch. It's understandable as to why. Lancaster has so much screen presence, with his brooding charm, confidence, and leading man looks. You can't help but want to see what this guy is up to. At the same time, he knows how to back off and let the other character actors shine as well.
Cronyn is excellent and worthy of more consideration when it comes to the great cinematic villains, but he only shares so many scenes with Lancaster. That said, you have people like Charles Bickford from 1954's A Star is Born doing plenty as an older inmate with an interesting arc to follow, among others.
Adding onto Brute Force is the direction from Dassin, who builds an effective atmosphere by treating this prison drama as if it were a noir. Later being responsible for The Naked City and one of my all-time favorite films, Rififi, it is interesting to see just how far he goes with a movie from 1947. While the prison architecture makes for some visually arresting and claustrophobic scenes, Dassin also doesn't shy away from extreme violence for the time, let alone a sense of cynicism and distrust to better compliment a noir mood.
At 100 minutes, the story is stretched a little thin, relying on multiple flashbacks to show how infatuation with various women is the reason for the downfall of these inmates. That sends interesting messaging, to say the least. However, what the film may lack in more in-depth characterization, it makes up for in its key performances, Dassin's direction, and the level of entertainment that ends up coming out of this gritty story.

Video:
Encoding: MPEG-4 AVC 
Resolution: 1080p
Aspect Ratio: 1.37:1
Details: This new 4K digital restoration was undertaken by TLEFilms Film Restoration & Preservation Services in Berlin using footage from four separate elements – primarily a 35 mm nitrate fine-grain master positive and a safety duplicate negative – transferred via two scanners.
Clarity/Detail: Overall, the black and white image is about as terrific as it can be, given the age of the film. I was thoroughly impressed with the clarity I could see, given the range on display. Look at scenes taking place in the mess hall and kitchen, for example, and notice the detail level on the plates and other areas. It looks fantastic.
Depth: A suitable handle on spacing keeps the image from ever feeling flat. The intricate work done with this restoration does such a fine job of showing the distance between characters, which feels even more emphasized when looking at the cramped spaces at various points.
Black Levels: The black levels are excellent. Minor fading in some instances
Color Reproduction: N/A
Flesh Tones: The detail level seen in the characters is impressive,
Noise/Artifacts: With so much effort to deliver a strong new transfer of this film, there is little to complain about. There is a consistent level of grain that is to be expected, but this film is basically spotless, as all the dirt, damage, stains, etc. has been cleaned up.
Audio:
Audio Format(s): English LPCM 1.0
Subtitles: English SDH
Details: The soundtrack was mastered from the 35 mm composite fine-grain optical track print using Avid's Pro Tools and iZotope RX.
Dynamics: The audio is clear and stable throughout. As always, there's only so much to do to create the best audio track possible for older films such as this, but the dramatic intensity of the score, among other aspects, holds solid.
Low-Frequency Extension: N/A
Surround Sound Presentation: N/A
Dialogue Reproduction: You can hear everyone loud and clear.
Extras:
Brute Force arrives on Blu-ray with a few quality extras, though nothing all that new and substantial. That said, the extended booklet included is actually quite interesting.
Features Include:
Commentary – Recorded in 2007 and featuring film noir specialists Alain Silver and James Ursini.
Paul Mason (SD, 15:55) – Criminologist at Cardiff University and editor of Captured by the Media: Prison Discourse in Popular Culture, Paul Mason discusses prison films, Dassin's film, and more.
The Actor's Tool Kit (HD, 13:07) – Filmed in 2017, this archival episode of the Criterion Channel's Observations of Film Art features film scholar David Bordwell discussing the acting methods seen in the film.
Stills Gallery (HD)
Trailer (HD, 3:00)
PLUS – An essay by film critic Michael Atkinson, a 1947 profile of producer Mark Hellinger, and rare correspondence between Hellinger and Production Code administrator Joseph Breen over the film's content.
Summary:
Brute Force is an unglamorous depiction of violence in prison, featuring a young Lancaster showing plenty of promise he would deliver on down the line. The superb 4K restoration does wonders for the film, as it looks and sounds fantastic. A small collection of extras help round out the package, making it a solid release for fans of prison films, Dassin, and cinema of this kind.
Order Your Copy Here: