May 16th, 2022 by Gerard Iribe
Tormented by his past life, garbage man Clean (Adrien Brody) attempts a life of quiet redemption. But when his good intentions mark him a target of a local crime boss (Glenn Fleshler), Clean is forced to reconcile with the violence of his past. CLEAN is now available on Blu-ray! CLEAN was directed by Paul Solet (Tread, Mars) who co-wrote the film with Adrien Brody (The French Dispatch, Succession). Along with Brody, the film stars Glenn Fleshler (Joker, Billions), Richie Merritt (White Boy Rick, "Euphoria") Chandler Ari DuPont (Charm City Kings), Mykelti Williamson (Forrest Gump, The Purge: Election Year), RZA (The Man With Irons Fists), Michelle Wilson (Amazing Stories, A Shot Through The Wall), and John Bianco (The Sopranos). 
Film 
Adrien Brody stars as man named Clean. He's a garbage man by day and chills by night. In between his daily pick-ups he likes to tinker with gadgetry that finds on his routes. He fixes them and resells them at the local pawnshop owned by The RZA. Everything is on the up and up until a disagreement with the local kingpin puts him in the crosshairs. Clean will have to put his special set of skills to use if he wants to make out alive. Oh, and Clean drives a matte black Buick Grand National — one of my favorite cars of all time.
The way Clean is played by Brody, there's an underlined intensity to him. You he's dangerous without actually seeing that he's dangerous. He's a garbage man. How dangerous could he be, right? Well, when it's time to do that work of his he pulls no punches and distributes painful and deadly violence against his enemies. I found myself wincing a few times, because some of the hits are brutal as hell.
Clean was film I had no idea about. Adrien Brody and he pretty much "Robert Rodriguez'd" the whole thing. He stars, co-wrote, produced, scored, and appeared on the soundtrack. It's an obvious passion project and it shows. In reading about what went down when the film was being made, some things did stick out, but it has been in the can for almost four years according to the copyright date at the end of the credits. COVID also threw a monkey wrench in the whole thing, as well.
Clean was entertaining and I was a fan of what Brody brought to the role and picture. It is reminiscent of John Wick and Nobody but on a lower budget scale. With that said, the film does not look cheap or play like a knock-off. It's its own thing and I was very happy throughout the picture. There's a lot symbolism, even themes that have some possible religious overtones.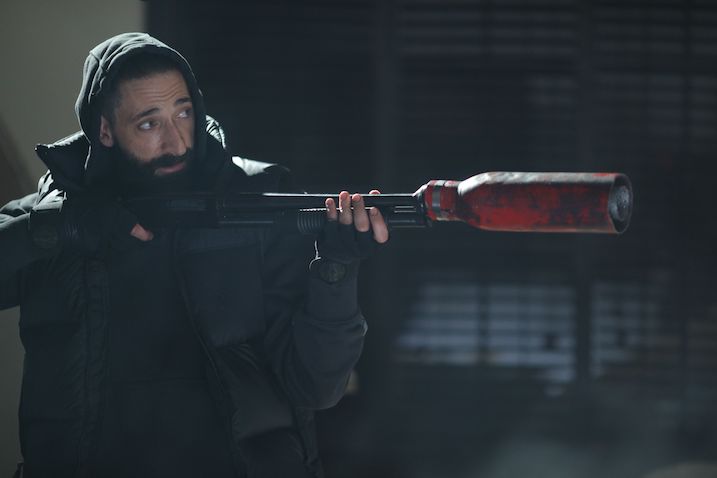 Video  
Resolution: 1080p
Aspect Ratio: 2.40:1
Clarity/Detail: Contrast and sharpness levels are stellar. I didn't notice anything out of the ordinary during the scenes in the heavy snow exteriors.
Depth: Clean on Blu-ray looks terrific. Even for a lower budgeted film, there is a sense of scale and lived in quality that the transfer brings out.
Black Levels: Black levels are deep and inky. Crush was not a problem.
Color Reproduction: The palette is muted since the film takes place in the winter months. Interior scenes involving colors like the pawn shop with RZA, do pop.
Flesh Tones: Flesh tones look nice and natural.
Noise/Artifacts: Noise and artifacts were not a problem and the film did retain a nice layer of grain.
Audio 
Audio Format(s): English DTS-HD MA 5.1, English Descriptive Audio DTS-HD MA 2.0
Subtitles: English SDH, Spanish, French
Dynamics: Clean seems like a low-key film on the surface but when the soundtrack kicks in it takes no prisoners. The film is not a typical shoot 'em up since it relies mostly on close quartered hand-to-hand combat. The audio in these scenes really bring out the subtle nuances of the action.
Low Frequency Extension: Clean has a lot of blunt force trauma induced violence and the LFE channel really makes you feel the hits. In addition to wrenches mangling people's heads the film has a music heavy soundtrack featuring music with some serious low-end bass. The homemade blunderbuss-type of weapon featured also gets some love from the low-end bass Gods.
Surround Sound Presentation: The surround sound channels handled the bullets and ambience nicely.
Dialogue Reproduction: Adrien Brody is a man of few words in Clean, but dialogue levels always remained nice and intelligible
Extras 
There are no extras.
Summary 
I had no idea what to expect when I screened Clean but thought it was awesome in the end. The Blu-ray has great video and audio specifications but zero extras. If you're into films like John Wick and Nobody then Clean will be right up your alley. Highly recommended!
Clean is now available on Blu-ray!
Paid Advertising Link