April 15th, 2020 by Gerard Iribe
Illicit passion, greed, robbery, and murder collide in Criss Cross, a classic film noir suspense tale from a true master of the genre, Robert Siodmak (The Killers).  Steve Thompson (Burt Lancaster Novecento, Birdman of Alcatraz) is a hardworking armoured car driver with a fatal attraction to his ex-wife Anna (Yvonne DeCarlo The Munsters), who's now married to notorious hoodlum Slim Dundee (Dan Duryea Winchester 73). Unable to stay away from her, Steve has a secret tryst with Anna … only to be discovered by Dundee. To cover up their affair, Steve convinces Dundee that he only met with Anna to get Dundee's help in robbing an upcoming payroll shipment he will be driving. The hood falls for the ruse, which triggers a series of harrowing events that ultimately lead to violence and death.  From a new 4K restoration, The Masters of Cinema Series is proud to present this essential film noir in its UK debut on Blu-ray.
A new 4K restoration of a true film noir masterpiece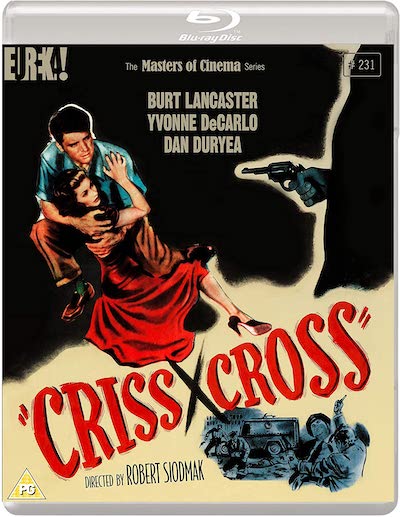 BLU-RAY SPECIAL FEATURES
New 4K digital restoration from the original camera negative
Uncompressed LPCM monaural audio
Optional English SDH subtitles for the main feature
New audio commentary by film author Lee Gambin and actress Rutanya Alda
New audio commentary by film scholar Adrian Martin
Screen Director's Playhouse radio adaptation from 1949, featuring Burt Lancaster
Isolated music & effects track
Theatrical trailer
A collector s booklet featuring new writing by film historian Kat Ellinger; an essay by Adam Batty; archival writing and imagery
DETAILS:
Label: Eureka!
Title| CRISS CROSS (Masters of Cinema) Blu-ray
Starring| BURT LANCASTER | YVONNE DeCARLO | DAN DURYEA
Director| ROBERT SIODMAK
Blu-ray Cat. No.| EKA70386
Blu-ray Barcode| 5060000703863
Blu-ray RRP| £19.99
Release Date| 22 June 2020
Certificate| PG
Run Time| 88 minutes
OAR| 1.37:1
Picture| B&W
Genre| Crime / Film-Noir
Year| 1949
Country| USA
Language| English
Subtitles| ENGLISH SDH (Optional)
Criss Cross on Blu-ray in the UK June 22, 2020!