September 19th, 2021 by Aaron Neuwirth
Over the past few years, Oscar-winning director Francis Ford Coppola has been keeping himself together by putting together remastered director's cuts of some of his earlier films. We've gotten a restored version of The Cotton Club, another look at Tucker, a Final Cut of Apocalypse Now, and The Death of Michael Corleone. On the heels of the announcement that Coppola is about to make another dream project, Megalopolis, we now have his digitally restored director's cut of his first mainstream film, Dementia 13. It is presented as part of the Vestron Video Collector's Series. This twisted, gothic Hitchcock riff may not rival one of Coppola's several masterpieces, but it's a fun cult flick nonetheless.
Film:
The story focuses on a widow's plot to secure her inheritance following his untimely death. Louise (Launa Anders) schemes to fool her late husband's family into thinking he's still alive. She heads to their family's castle in Ireland to be a part of a yearly memorial to a drowned relative (the sister of her dead husband and his brothers). However, things take a turn when it turns out an axe-wielding murder is also roaming the grounds with their own motives.
Co-starring Patrick Magee and William Campbell, a B-movie regular when it came to Roger Corman productions, it's clear this movie was made relatively cheaply and with certain intentions in mind. Originally opening in 1963, I quickly determined Corman wanted Coppola to deliver a Psycho knock-off, given that films' massive popularity at the time. The gothic atmosphere is an addition that feels like an homage to The Spiral Staircase, given the mysterious killer plotting. All of this is to say that Coppola knew how to tap into some great examples for his big chance to direct a legitimate motion picture.
Many filmmakers and performers were raised on Corman's ways of doing things on the cheap. It's a credit to the prolific producer that many greats truly learned something about putting together elaborate films while relying on concepts rooted in the idea that less can still be more. With Dementia 13, it's pretty clear there isn't much to this story that's meant to reflect society in the deepest of ways. It's simply an exercise in craft. Still, Coppola makes the most of what's given to him.
Of course, this is the "director's cut" of the film, which restores what Coppola intended. So yes, while Corman gave Coppola the chance to do what he wanted, there were clashes, which ultimately led to additional sequences shot by Jack Hill. As a part of a double feature, Corman wanted more violence to keep things "exciting," which ultimately led to a comic relief character who gets beheaded. This version of the film removes that element, among other cosmetic choices, to better serve as Coppola intended.
What's the appeal? Well, it is a Coppola feature, and the man knows how to get what he wants from a scene. This film is far less complex than what was to come, but there is fun in seeing Coppola making this low-budget horror flick that relies on arch performances, an axe murderer, and hints at something supernatural. Ultimately, Dementia 13 is more of a fun experiment than a quintessential look at who the director is. However, he still has enough respect to give it justice in preserving it as he sees fit. Fortunately, it's great for audiences who want to collect the proper visions of master filmmakers.
Video:
Encoding: MPEG -4 AVC
Resolution: 1080p
Aspect Ratio: 1.67:1
Clarity/Detail: As I understand it, there was one less-than-stellar release of this film's theatrical cut years ago (which Why So Blu's Brandon Peters' reviewed), so this was always going to be better than that, at least. Coppola likes making his films look as good, so there's a lot to admire about this new transfer that's said to be a 4K restoration. It still has moments of scratchiness, making it clear that there was a resistance to truly pushing DNR or other digital processes all over this movie. There's a good amount of clarity presented throughout. Many scenes take place outdoors, during the day and night, and the level of detail available to see is impressive enough.
Depth: Depth is fine here, as evidenced by some of the murder sequences that force a level of perspective to add to the tension. The character spacing registers as well as it needs to.
Black Levels: Black levels do enough to add to the atmosphere, though there are some noticeable moments of crushing in some of the outdoor sequences set at night.
Color Reproduction: N/A
Flesh Tones: While not the flashiest production, the medium shots do enough to show a good level of facial detail.
Noise/Artifacts: While there are issues related to the age and budget of the film, this Blu-ray is delivering about as much as it can as far as the video presentation.
Audio: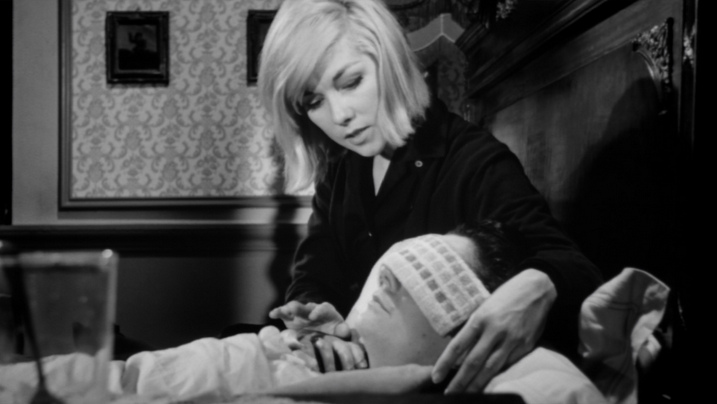 Audio Format(s): English DTS-HD MA 5.1, English Mono DTS-HD Master Audio
Subtitles: English SDH, Spanish
Dynamics: Equipped with both the original mono track and a lossless 5.1 track, one gets what they need out of this film's auditory aspects without being overly great. The mono track provides exactly what is required, while the surround track is interesting in opening the film up more in places, but not enough to make a major difference.
Low-Frequency Extension: As the film was not designed with this in mind, there's not much to cover here.
Surround Sound Presentation: Areas set outdoors allow more of the film's audio elements and its score to take over, but the rear channels are never fully engaged.
Dialogue Reproduction: Everyone is heard loud and clear.
Extras:
As I expected, there's not much in the way of bonus features, but what is here is worthwhile. First, Coppola is an excellent speaker, so his commentary is always going to be worthwhile. Also, this set includes the original prologue (not made by Coppola), which played with the film in theaters to establish the title's meaning.
Features Include:
Introduction by Francis Ford Coppola, (HD, 1:00) – A quick intro to the film and why Coppola chose to revisit it.
Audio Commentary by Director Francis Ford Coppola – Coppola discusses the making of the film, various issues, stories from the time, and more.
Prologue (Dementia 13 Test), (HD, 6:44) – An odd few minutes where a doctor explains medical hypnosis. It's a strange piece of work and wild to think about this being the opening for a film.
HD Digital Copy – Haven't redeemed yet, but I'm also aware there's a 4K version available on digital-only.
Summary:
I was pleased to finally catch up on Coppola's first film, let alone the version he would prefer people see. As a fan of his early output (and other movies throughout his career) let alone one who enjoys the conversations and more that he has brought to cinema, there's a lot to take away from this little cult movie. Plus, it's a fun film with some neat beats, a solid score, and more. This Blu-ray is not packed with extras, but it has a certainly worthwhile commentary. The video and audio presentation is also strong enough. Completionists and gothic horror fans should be happy to pick this one up.
Order Your Copy Here:
Paid Advertising Link