February 3rd, 2021 by Adam Toroni-Byrne
Spike Lee's Do The Right Thing came out at just the right time.  Released in 1989 with a new wave of social commentary on the injustices of racism in America, the groundbreaking classic breathed new life into an old, ever relevant topic.  Now, 32 years later, the film still feels as fresh and timely in 2021 and is making its 4K Blu-ray review too! Find out my thoughts on this brilliant film below, and be sure to click the paid link at the end to get your copy!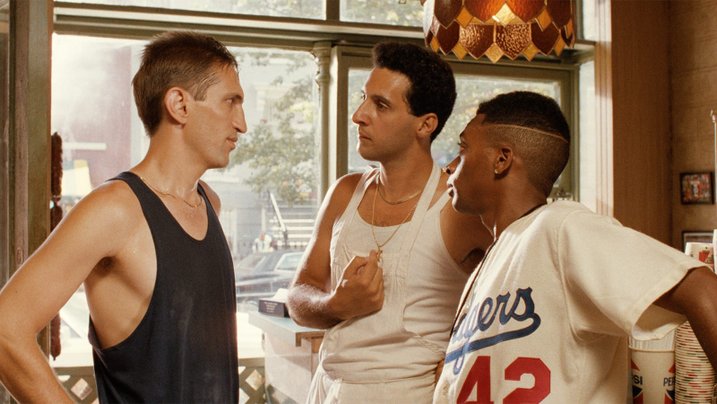 Film:
Mookie (Lee) lives in the Bedford-Stuyversant neighborhood of Brooklyn. Bed-Stuy is a place where black lives were once the epicenter of the community.  In the summer of 1989 things are changing. Gentrification and poverty are on the rise and black families are often at the center of struggle just to survive.  Nobody outside of the neighborhood is even willing to help things improve.
Mookie delivers pizza from Sal's owned by Sal (obviously) (Danny Aiello) who shares the business with his sons Pino and Vito (John Turturro and Richard Edson). Pino hates the place and would rather not work there.  He's angry, openly racist despite loving black music, actors and black athletes, and wants out of the neighborhood.  Pino also bullies his brother despite them both being grown. The environment of the pizza parlor isn't the greatest. Sal wants to keep the place there because he feels he's helping "these people" by serving them food. He is still problematic because he refuses to acknowledge the customer base he serves and tries to act as if he's the white savior of the neighborhood.
Mookie has a son and a sometimes relationship with Tina (Rosie Perez), a no-nonsense woman with a lot on her mind.  Mookie shares a home with his sister Jade (Joie Lee) and they get on one another's nerves a lot.  Around the neighborhood there is also Buggin' Out (Giancarlo Esposito), Smiley (Richard Guenveur Smith), Mother Sister (Ruby Dee), Da Mayor (Ossie Davis), Radio Raheem (Bill Nunn), and Senor Love Daddy (Samuel L. Jackson) among others that add to the neighborhood's colorful makeup. There are also the "three streetwise men" (Robin Harris, Paul Benjamin and Frankie Faison) that inject comedy and social commentary in their scenes throughout the film.
As with all films of this nature, things always come to a head.  Tensions rise with the temperature and by nightfall, anger and hatred rear their ugly heads causing a crazy commotion felt deep in the neighborhood. Spike Lee works his magic leading up to these more somber moments by bringing real life drama, lively comedy and unexpected romance to light.  We see a vulnerability in Mookie. For some he's a nuisance, and for others, Mookie is a voice of reason and reality.  He loves Tina and his son, and has moments of absenteeism, but truly wants to provide for them.  Mookie's sister Jade is another voice of reason.  She sees through the madness and just hopes for something better.
Sal and his sons are a whole other story.  Sal has his heart in the right place until he can no longer hide his racism.  Pino hates the neighborhood and the business and when things go sour near the end of the film, he feels like he was always right in his racist thoughts.  Vito is the most conflicted because he's the one in the trio who isn't a racist.  They represent all the sides of the white experience in that neighborhood.
Mother Sister and Da Mayor are also representative of different ideals.  Mother Sister has a rage in her, despite her sweetness. Da Mayor is essentially a rambling drunk, but also very kind and wise, wanting to bring everyone together peacefully.  Senor Love Daddy not only plays amazing music but brings out the best in the artistic black culture we see and hear on screen.  Radio Raheem though, at least for me, steals the show with his incredible interpretation of hate beating love in a battle.  His big scene is one that is truly unforgettable here.

Video:
Encoding: HEVC / H.265
Resolution: 4K (2160p)
Aspect Ratio: 1.85:1
Layers: BD-100
Clarity/Detail: Do The Right Thing was the subject of a 4K Remaster when it was released by Criterion in 2019.  I'm not sure if Universal sourced this disc from that new master or not, but the film is a real stunner in 4K. Opening with an iconic dance scene from Rosie Perez, we are immediately shown brilliant colors, deep blacks, and a nice clear image overall.  The look is not showroom new, but the image is sharp and gorgeous all the same.
Depth: Interiors and exteriors have a nice pop to them.  Outdoor scenes in the hot summer setting look the best, with a lot going on everywhere.  The artistic intent of the film was to make viewers feel like they too were stuck in a heatwave and none of that is lost to the new encode.  Note perfect.
Black Levels: Blacks look perfect. Deep, not grey. Just right, as Goldilocks would say.
Color Reproduction: This would be the standout point for this release. Great looking colors are everywhere in this presentation.  Reds, greens, browns, and blues all look beautiful here. The color tone for a lot of the film is hot, intentionally of course, and those tones translate beautiful here.  The red brick wall in the film is gorgeous.  The same can be said for an amazing and hilarious scene where the neighborhood has a water fight using a fire hydrant.  Colors are insanely bright and beautiful here.  And those are just two examples.
Flesh Tones: I needn't say much more than this…. Gorgeous… Plain and simple.
Noise/Artifacts: None
Audio:
Audio Format(s): English DTS-X, French and Spanish DTS 5.1
Subtitles: English SDH, French, Spanish
Dynamics: Immersion is key for the new mix of Do The Right Thing. Dialogue still sounds perfect, while ambience brings you right into Bed-Stuy.  The sound design has always been busy, with music coming in loud in moments of dialogue, and sound effects and cityscapes being heard everywhere. Now imagine that capitalized by the modern sound design that's been made for this disc… So great!
Height: The city comes alive in the height speakers.  This is a subtle mix, but sounds up top are there to move around the sound space and envelope you in the hot neighborhood in the film.
Low Frequency Extension: Music is where the subwoofer shines. Public Enemy makes the case from the first frames. Deep bass comes hard, and almost any music cue not coming from radios (Radio Raheem's massive box being an exception…), sounds full and engages the sub.
Surround Sound Presentation: Score and sound effects come to the lower surrounds too, providing a natural city ambience that has a light echo to it.
Dialogue Reproduction:  Dialogue is perfectly clear and crisp.
Extras:
Do The Right Thing hits 4K Blu-ray with a nice slipcover of the original poster, a bundled standard Blu-ray and digital copy.  Target carries a nice steelbook edition as well.  Besides a short video intro from Spike Lee, all features are carried over from Universal's previous Blu-ray release from 2009. (I stole these descriptions from Aaron… Thanks Aaron!!)
Audio commentary with director/writer Spike Lee, Cinematographer Ernest Dickerson, Production Designer Wynn Thomas, and actor Joie Lee– Originally recorded in 1995, this is an excellent track that covers all aspects of the film enough to not have me surprised Lee wouldn't have much more to add in a new track.
Audio Commentary with director Spike Lee
Behind the Scenes (SD, 57:59) – A vintage look at the production of the film, tracking the making of the feature from pre-production up to the block party after shooting had finished. It opens with an intro filmed in 2000.
Deleted and Extended Scenes (SD, 14:14) – A collection of rough-looking scenes.
The Riot Sequence (HD, 16:59) – Along with an introduction by Lee, this feature presents storyboards from the climactic riot sequence.
Trailers and TV Spots (HD)
Making Do the Right Thing (1988) (HD, 1:01:02) – Another archival documentary covering the production history of the film. This one also features an intro by Lee.
Cannes Press Conference (SD, 42:06) – Footage from the 1989 post-screening press conference, featuring Lee, along with Ossie Davis, Ruby Dee, Joie Lee, and Richard Edson.
Barry Alexander Brown (SD, 10:00) – An archival interview from 2000 with editor Barry Alexander Brown. He provides plenty of observations regarding the structure of the narrative and more.
Twenty Years Later (SD, 35:46) – This program was recorded in 2009, following a 20th anniversary screening of the film in New York City. Lee interviews cast and crew members, including Ernest Dickerson, Jon Kilik, actors Frankie Faison, Rosie Perez, Steve Park, and John Turturro, and Public Enemy's Chuck D.
Summary:
Do The Right Thing will always be challenging, frustrating, immensely entertaining and wonderfully made for all time.  This is a film that I would recommend to anyone, and one that remains relevant, telling and special even now, over 30 years since its first release.  If you're going to start with Spike Lee films, this one is a great starting point, and this new 4K UHD Blu-ray package is wonderful too.  My colleague, the brilliant Aaron Neuwirth provided an exceptional review of the stellar Criterion release and his thoughts are absolutely worth a read too.  The review can be found here: https://whysoblu.com/right-thing-criterion-collection-blu-ray-review/  
(Once again, Aaron, I can't thank you enough for the inspiration to write a good review and for your photos, extras description, and an amazing piece of writing I hope my own article can at the very least compliment…)