August 22nd, 2019 by Aaron Neuwirth
This year, Academy Award-winning writer-director Spike Lee's 1989 modern classic, Do the Right Thing celebrated its 30th anniversary. With all the acclaim received by the prolific filmmaker just recently for his Oscar-winning film BlacKkKlansman, it's incredible to look back at one of his earliest films and not only see how far Lee has come but to what degree things have changed. Having previously been released by the Criterion Collection on LaserDisc and DVD, the film has finally received its Blu-ray upgrade. This fantastic package features both a stunning technical presentation, as well as a great film diving into racial tension on a hot summer day.
Film: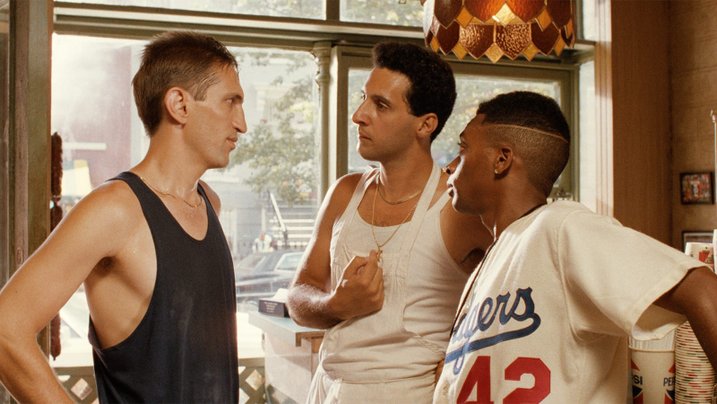 Set in the Bed-Stuy neighborhood of Brooklyn, New York, this is an ensemble story featuring many colorful characters interacting with one another during the sort of hot summer day where everyone is a bit looser with how they address one another. Lee stars as Mookie, a pizza delivery man, who lives with his sister Jade (Joi Lee), and has a son with his girlfriend Tina (Rosie Perez). Mookie works for Sal (Danny Aiello), who runs Sal's Pizzeria with his sons Pino (John Turturro) and Vito (Richard Edson).
We meet many more members of the neighborhood as well, including Da Mayor (Ossie Davis), a friendly drunk who wanders the streets. There's also Mother Sister (Ruby Dee), who watches the neighborhood from her brownstone. Radio Raheem (Bill Nunn) struts up and down the street, blasting the film's theme song (Public Enemy's "Fight the Power") on his boombox as loud as he can. Then you have others like Buggin' Out (Giancarlo Esposito), Smiley (Roger Guenveur Smith), DJ Mister Senor Love Daddy (Samuel L. Jackson), and even a Greek chorus portrayed by Robin Harris, Paul Benjamin, and Frankie Faison.
That's a lot of personalities to contend with, and a crucial part of the film's success relies on embedding us with these characters, rather than force a story upon them. There's a loose amount of plot providing forward momentum, but as much as I look back at this film for its themes regarding race relations, Do the Right Thing is also a very entertaining hangout movie. There's fun to be had in watching Mookie deal with Buggin' Out or Sal. I get a kick out of a music battle between Radio Raheem and some others he passes on a stoop. Even watching Da Mayor's attempts to pontificate to others has its own tone to fit in a film like this.
Of course, the film is also apart of the National Film Registry for a good reason. Do the Right Thing was an evolution point for Lee. While School Daze was an ambitious jump from She's Gotta Have It, here was a movie showing what a master filmmaker he could be. While there are no musical numbers as seen in Daze, a series of heightened scenes allow characters to express themselves in ways rubbing against how you'd generally hear characters speak in mainstream film.
It's not just a matter of seeing contemporary people of color use colorful language. There's a greater sense of exploration going on. It allows a day to play out in a stylized way, yet the roots of specific issues can be explored in ways that are comedically and dramatically tense. It's funny to watch Buggin' Out argue with Sal about having pictures of notable black figures on the wall of his pizza store. It's intriguing to watch Mookie contend with Pino's racist attitudes towards the neighborhood he works in. And it's downright sad to get to the climax of this film, where everyone's had enough of the day, leading to an explosion of anger from multiple sides.
Regardless of just how relatable aspects of this film still remain today, Do the Right Thing gets by on not only being ambitious but staying true to itself. There's a confidence in Lee's filmmaking, allowing the writing to truly shine, the actors to all standout, and the themes to hit as hard as they need to. The movie has many highlights including a montage of characters expressing anger laced with racial epithets, a smoothly-stated monologue by Jackson giving credit to a series of black musicians, and a whole ramble pitting John Savage against Buggin' Out and others, as the film explores the role gentrification plays in the neighborhood.
This is just a few of the many memorable scenes, but another vital element of this film is the cinematography. Not only do you have a highly quotable movie designed to make you think and keep discussing it, but the imagery is also so distinct. Thanks to work by Ernest Dickerson and the crew, not only can one see how rich with color the buildings of Bed-Stuy are, but the characters also stand out. Again, here's a time when contemporary films about people of color were not being mass-produced by major studios, but Lee took the opportunity to keep faces from fading into the background, allowing for a much more vibrant feature.
None of this would make much of a difference, however, if the film had nothing beyond style and spirited performances. Fortunately, Do the Right Thing is the kind of smart and urgent film that puts a spotlight on certain types of attitudes, yet never feels like a cinematic lecture. Instead, here's a movie that is frequently funny, packed with great moments, illuminating in what it has to say, and made with plenty of skill for a young filmmaker. Do the Right Thing is held in high regard for good reason, as it most certainly gives you a reason to think about what the right thing is when you look at the world around you.

Video:
Encoding: MPEG-4 AVC
Resolution: 1080p
Aspect Ratio: 1.85:1
Details: The new digital transfer was supervised by cinematographer Ernest Dickerson and was created in 16-bit 4k resolution on a film scanner from the 35mm original camera negatives.
Clarity/Detail: Fight the power! The new remaster for this film is spectacular. For a movie so rich with life thanks to the striking cinematography, you have a new transfer that does incredible justice to the film. While filmed on location, there's tremendous care taken to show off all the different environments, and provide a rich palette to work with. The clarity found in the costumes, buildings, and everything in between stands out in all the right ways. Even for Criterion, this is very impressive all around.
Depth: A proper handle on character spacing goes a long way to show the variety of people we follow along with. A terrific example is any scene focused on the streets, with the various kids playing on either side of the road, as others watch from their stoops. There's no flatness here.
Black Levels: Black levels are deep. Many scenes take place in the daytime or indoors, but lighting allows for excellent use of shadow, which always registers well.
Color Reproduction: Do the Right Thing is full of color, but I was most impressed with how well the reds stood out. Such power in seeing bricks, cloths, and lighting really be pushed as far as it can for this presentation.
Flesh Tones: The actors all look great with this presentation. Between the close-ups and wider shots, there's always a good sense of texture to observe with these characters.
Noise/Artifacts: Nothing to note. This film is spotless.
Audio:
Audio Format(s): English DTS-HD Master Audio 5.1
Subtitles: English SDH
Details: The 5.1 surround soundtrack was remastered in 2009 form the original 35 mm four-track stems. It was supervised by sound designer Skip Lievsay and approved by Spike Lee.
Dynamics: Even as a dialogue-heavy movie, there's still plenty to take in with regards to sound design here. It all sounds great. The level of clarity and overall audio fidelity speaks well to work done in bringing the sounds of the Bed-Stuy to life.
Low-Frequency Extension: Bass! How low can you go? Thanks to Public Enemy's frequent appearance on this disc, you have a lot to work with for the LFE channel.
Surround Sound Presentation: There's a proper balance here to really show off the various sounds we here in the film. The dialogue all comes upfront, but the rear channels have a chance to shine as well, given how busy the neighborhood is. It's a fine use of separation to help bring everything together.
Dialogue Reproduction: Everyone sounds clean and clear.
Extras:
Because it's not the first time Do the Right Thing has hit Criterion, this two-disc release may not be swimming with new extras, but there are a couple new worthwhile featurettes, along with a collection of older extras that are all quite excellent. Additionally, the packaging and bonus booklet is a terrific way to round out this set. The deluxe box features splendid artwork, and any fan can get lost in all the notes Lee took, which can be found in the book.
Features Include:
Disc One
Audio commentary with director/writer Spike Lee, Cinematographer Ernest Dickerson, Production Designer Wynn Thomas, and actor Joie Lee – Originally recorded in 1995, this is an excellent track that covers all aspects of the film enough to not have me surprised Lee wouldn't have much more to add in a new track.
Behind the Scenes (SD, 57:59) – A vintage look at the production of the film, tracking the making of the feature from pre-production up to the block party after shooting had finished. It opens with an intro filmed in 2000.
Deleted and Extended Scenes (SD, 14:14) – A collection of rough-looking scenes.
The Riot Sequence (HD, 16:59) – Along with an introduction by Lee, this feature presents storyboards from the climactic riot sequence.
Trailers and TV Spots (HD)
Disc Two
NEW – The One and Only Do the Right Thing (HD, 31:46) – New York City Council member Robert Cornegy Jr., writer/director Nelson George, and filmmaker Darnell Martin discuss the themes of the film, and the impact it has had since release.
NEW – Ruth E. Carter (HD, 16:34) – The Oscar-winning costume designer recalls Lee's thoughts on how he wanted the film to look based on what the characters were wearing. It's a nice interview that helps reflect how pivotal every choice can be in making a film.
Making Do the Right Thing (1988) (HD, 1:01:02) – Another archival documentary covering the production history of the film. This one also features an intro by Lee.
Cannes Press Conference (SD, 42:06) – Footage from the 1989 post-screening press conference, featuring Lee, along with Ossie Davis, Ruby Dee, Joie Lee, and Richard Edson.
Barry Alexander Brown (SD, 10:00) – An archival interview from 2000 with editor Barry Alexander Brown. He provides plenty of observations regarding the structure of the narrative and more.
Back to Bed-Stuy (SD, 4:49) – Recorded in 2000, Lee and producer Jon Kilik return to the neighborhood where the film was shot.
Twenty Years Later (SD, 35:46) – This program was recorded in 2009, following a 20th anniversary screening of the film in New York City. Lee interviews cast and crew members, including Ernest Dickerson, Jon Kilik, actors Frankie Faison, Rosie Perez, Steve Park, and John Turturro, and Public Enemy's Chuck D.
Fight the Power (HD) – Here, you can view the original Public Enemy music video directed by Lee. There's also another introduction, as well as a gallery of behind the scenes photos.
Spike's Last Word (SD, 6:26) – A final message from Lee, originally recorded back in 2000.
PLUS – An essay by critic Vinson Cunningham and extensive excerpts from the journal Lee kept during the preparation for and production of the film.
Summary:
Spike Lee's Do the Right Thing is one of my favorite films. It also happens to be one of the more important films ever made in terms of how it chooses to address specific topics while providing a unique presentation showing what Lee was capable of as a filmmaker in the process. The latest Criterion Collection release is stellar. Everything about the technical presentation film is superb, and the collection of extras, while mostly previously available, round out a terrific package for a movie that deserves plenty of analysis. Do the Right Thing is excellent for any Blu-ray collection.
Order Your Copy Here: