March 6th, 2020 by Jason Coleman
I thought I was completely out but…never say never again!  (Especially if you're Sean Connery!)  Yup, it's trusty critic Jason Coleman back to infuse a little lesser known indie into the lives of movie fans with a crop of four film hopefuls that all contain their fair share of controversial subject matter.  (Plus I'm pitching my upcoming Friday the 13th 40th Anniversary Screening and Immersive Experience on March, Friday the 13th and 14th while I'm here – see the end of article for details!)  From gals who swallow odd objects to well behaved boys looking for their deadbeat dads (and unfortunately finding them!)  we are going to some off-the-wall places that some movies should not go…and beyond!  Check out the Encapsulated Movie Reviews of Swallow, Guns Akimbo, The Misogynists and Come To Daddy below!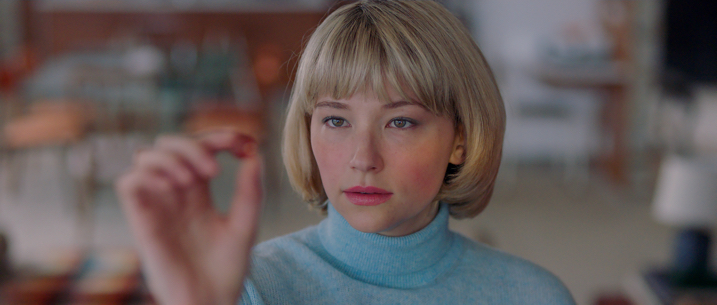 SWALLOW
(IFC Films)
While this film proposes a wild concept of people eating objects not meant for human consumption, it's strangely a film that's ultimately grounded in reality.  Meaning the films unfulfilled housewife does indeed eat things that would give Freddy Krueger pause, but what's most notable is how it's merely a façade to a tale of pain, anguish and a soul crushing existence.  As channeled through the captivating work by his magnetic and moving muse Haley Bennett, Writer/Director Carlo Mirabella-Davis and his thought provoking film go way beneath the surface stuff to create a movie that lingers at every turn.  A troubling movie mouthful for some, Swallow is nevertheless unique cinematic food for thought that should be sampled.
GUNS AKIMBO
(Saban Films)
A kind of Shoot 'Em Up for the YouTube generation, Guns Akimbo is a familiar middle of the road guns and ammo outing with mild bits of amusement.  So while there's some joy following Daniel Radcliffe's wimpy everyman who wakes up with guns surgically attached to his hands, it's frankly fleeting frivolous fun that quickly becomes devoid of any meaning despite the film wanting to have a "movie message" about society.  What does standout though is the work by Ready Or Not alum Samara Weaving as the gun-toting Nix – she's truly a badass to behold.
THE MISOGYNISTS
(Oscilloscope Laboratory/Factory 25)
Being both a huge fan of the wry and witty work by Writer/Director Onur Tukel (his 2016 flick Catfight was on my Top Ten list!) and the slimy turns by Happiness and Trick 'r Treat actor Dylan Baker, their pairing in The Misogynists should have been a match made in heaven.  Unfortunately both the helmer and his male muse put about as much subtlety into this tale of a couple of male chauvinists on the eve of Trump's presidential win as a Mack Truck driving through a monastery.  (This is no In the Company of Men!)  So on the nose, so obvious and so uninspired is their combine work here that sadly amusing eventually becomes an afterthought.
COME TO DADDY
(Saban Films)
What starts out as an interesting yarn about young man who seeks out his estranged father and gets more than he bargained for unfortunately takes some unneeded turns into left field that simply ruin the ride.  And it's a shame because the dynamic between Elijah Wood's sad sack son and Stephen McHattie's unstable papa make for some great scenes early on.  A flick that seems more interested in shocking its audience than telling a cohesive story, Come To Daddy could have used a little structural TLC.
And finally for those in the LA area looking for a little fun and escapism next weekend (folks definitely need it!) please check out my amazing Friday the 13th 40th Anniversary Screening and Immersive Experience on March, Friday the 13th and 14th at the Fine Arts Theatre in Beverly Hills – check out the poster below for details and for tickets go to www.FineArtsThearebh.com and simply select a night! (See you all there!)
AND HERE ARE THE POSTERS FOR THE FILMS REVIEWED ABOVE!