December 22nd, 2019 by Gerard Iribe
Instead of writing a proper Top-10 list like normal this year, I'm just compiling some of my favorite Blu-ray sets of 2019. I'm almost certain I left some out due to me forgetting or not actually owning them. All of the titles listed here I own. One thing for sure, upon first and possibly second glance, is that it's been a stellar year for boutique label releases. Shout Factory, Arrow Video, Criterion Collection, Eureka! Masters of Cinema, and Flicker Alley all make appearances here. I had a lot of fun putting this list together and hope that you enjoy it. Let's get on with the show!
I'm going try something a little different – instead of writing up individual releases up and ranking them in numbers, I'm going section them off by their respective labels:
Flicker Alley
It was a big year for clowns, so to speak, which makes this release of The Man Who Laughs even that more poignant and important. The Man Who Laughs was phenomenally restored by Flicker Alley and released in the spring of 2019. I promptly devoured the Blu-ray and it looked and sounded fantastic! I should also mention that silent films on Blu-ray really got some major love this year, as you will see once you continue reading down below.
Criterion Collection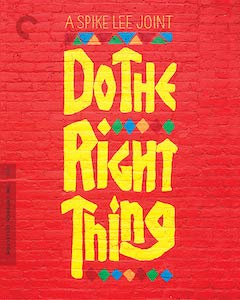 The Criterion Collection always has a stellar year in terms of their releases but the TWO that rise to the top of my physical media stash is that of Wim Wenders and Spike Lee's magnum opuses. Until the End of the World has been magically restored to its glorious 287-minute director's cut for the first time anywhere. Spike Lee's Do the Right Thing was also restored from a 4K source and the color timing has been corrected after many years of debate on all of the previous editions that were released. Both sets were loaded to the brim special features along with stellar video/audio presentations. They are my favorite Criterion Collection sets of 2019!
Eureka! Masters of Cinema
Eureka! Masters of Cinema has been rockin' n' rollin' for about as long as I have been watching Blu-rays. They're one of the main reasons I went region-free many years ago. Two of their most recent editions to hit the UK pond was the gigantic special limited edition of High Noon and the silent film masterpiece Der Golem. High Noon had already been released stateside but the UK version had brand new extras along with a deluxe box cover and book. Outside of The Man Who Laughs, I was blown away by Der Golem's video and audio presentation. Watching the restoration comparison to the origin in the Der Golem set was beyond eye-opening and made me appreciate all of that hard work put into the release. I have no doubt that Eureka! Masters of Cinema will obliterate the competition in 2020!
Lionsgate
Francis Ford Coppola has day in the sun twice in 2019 with the stellar releases of two of his films. The first was that of Apocalypse Final Cut and then that The Cotton Club Encore edition. The Apocalypse Now set, aside from some questionable packaging, has all three cuts of the film and several new features. The Cotton Club Encore edition has a new introduction to the film by Coppola along with a new interview and restores 20-minutes of footage. Both editions have great video and audio.
Shout Factory
It's always a great year in Blu-ray when John Carpenter and his films are featured – 'tis a given. This year we have the very excellent Shout Factory Blu-ray release that took me about a day to get through due to the plethora of new material included We had a brand new moderated audio commentary by Steve Johnson in addition to new interviews from most of the supporting cast. It was great to get through it all once again and it was also great to explore the new material. What was even cooler about this set was that certain outlets had special editions featuring vinyl soundtracks like the Sacred Bones set that featured the LP and steelbook edition.
Arrow Video
Arrow Video US/UK really came out in full force and conquered the marketplace with their excellent offerings. American Werewolf in London, Fear and Loathing in Las Vegas, Robocop, and Waterworld all received fantastic limited edition sets all restored from 4K sources. The coolest one, in my opinion, was the Waterworld Blu-ray that was priced much less than the U.S. version and still featured both cuts of the film including the Ulysses Cut. Arrow Video really made me feel like a kid in a candy store and these are the ones that really made the biggest impact in my collection. 2020 will offer even more surprises I hope!
Sony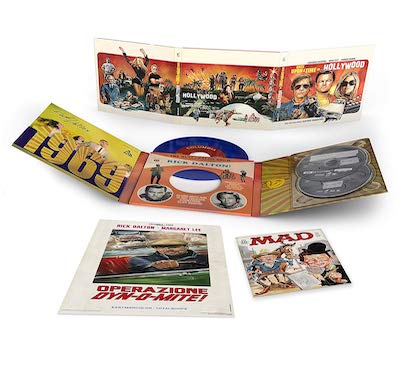 Once Upon A Time In Hollywood was a great film but once the Blu-ray set came out in this fantastic book/4K/BD/Digital Copy/LP set – there was just no comparison. Several outlets had different variations of the set containing magazine reproductions or lobby cards. All of these sets also had different price ranges. I'm a vinyl enthusiast and this set containing a 45 LP was icing on the cake in physical media collecting. It was sensory overload for the eyes and ears.
That's a wrap for my favorite Blu-rays of 2019! If any of our readers are interested in purchasing any of the sets just click on over any of the thumbnails to order. Please keep in mind that the Eureka! Masters of Cinema and Arrow Video titles may be Region B locked and you will need a region-free player for proper playback. Please stay tuned to Why So Blu? for continuing coverage of our favorite theatrical films of 2019 in the coming days and weeks. Cheers!