June 10th, 2018 by Brian White
It's no secret.  The smash hit HBO series Game of Thrones has sat atop the Iron Throne of the home entertainment charts as the best-selling TV on Blu-ray/DVD title in each of the last seven seasons.  All that time we have had you covered with our in-depth reviews of the series here on Why So Blu. If you missed any of our past coverage of these best selling Blu-ray sets, please refer to the following links to seasons 1 and 2 here, 3 here, 4 here, 5 here and 6 here and 7 over here.  The box sets are extremely popular among fans for their extensive bonus content that takes diehard viewers even further into the world of Westerns.  Read any of our aforementioned past season reviews and you'll know that's no joke at all.  They even released Steelbook collectors editions that brought a whole new dimension to the series with the addition of a Dolby Atmos soundtrack and brand new box art designed by the team that created the series' Emmy Award-winning title sequence (see those here and here).  And while we wait for Season 8's debut (whenever that is) HBO Home Entertainment has done it again!  Now you can relive the warmer days and calmer nights of Westeros as Game of Thrones: Season 1 has made its highly-anticipated debut on 4K Ultra HD Blu-ray optimized for Dolby Vision High Dynamic Range on June 5th.

So lets talk basics about this set first.  Sure it's a repackaging of everything you'll find before in Season 1 already released on Blu-ray.  I honestly lost count on how many times these Blu-ray sets have been repackaged and how many different retailer versions there have been over the years.  However, I digress.  Let's just promise to stay focus on the 4K Ultra HD sets at hand and not dwell on the past.  Okay?  Good!  Now as I mentioned up above, this 4K Ultra HD Blu-ray set is optimized for Dolby Vision High Dynamic Range.  It includes all 10 Season 1 episodes beautifully redone in 4K format to give fans the ultimate clarity and detail on their HDR TVs.  Of course it should go without saying that this set also includes hours of gripping bonus features, from behind-the-scenes, making-of sequences, audio commentaries and much more.
Season 
Game of Thrones continues to be the most successful franchise in HBO history and remains the most awarded drama series in Emmy history, with a whopping 38 Emmys to date.  And so since Season One has been covered here on the site multiple times before now I thought it relevant to pay homage to where it all started on Why So Blu with the First Season Blu-ray review authored by Sir Sean Ferguson (see all his coverage of titles over the years here).  Check it out in its entirety down below as it provides a nice little back drop to everything that goes down in Season One.
A Game of Thrones is based on the first book in A Song of Ice and Fire which is a fantasy series written by George R. R. Martin and the series is just as dense as the book it's based on.  Martin wanted the material to be treated with respect and be given the time to tell the whole story so when HBO showed interest in it a deal was struck and David Benioff and D. B. Weiss were brought on to be the show-runners and writers.  HBO wanted the events of each book to be the basis of a single  season and they impressively pulled that off.  The first season has been estimated to costing around $50-60 million and I think every penny of it is on the screen.  Filled with castles, tons of extras, and a lot of location work in Ireland and Malta, this is a gorgeous looking show that deserves all of the accolades its received.
Sean Bean leads the cast as Neddard "Ned" Stark, an honorable man who has made mistakes in the past but continues to try to do the right thing.  He is the patriarch of House Stark, and his family and their northern stronghold of Winterfell represents the first line of defense of Westeros against any attackers that can get through the massive wall of ice that separates the kingdom and the undead creatures that live on the other side.  The Wall is also manned by the Night's Watch, a group mostly made up of miscreants and outcasts conscripted into service as an alternative to a harsher sentence.  With undead creatures that can only be killed by fire, the Night's Watch and Winterfell take the threat seriously since they know once the long winter arrives (which can last decades), the creatures will make their move.  In fact House Stark's motto is "Winter is coming," but their focus on preparing for future challenges is out of step with the other royal houses who care more for having fun now.
Even Stark's old friend and liege King Robert Baratheon (Mark Addy) negects his duty as the King and instead spends his time getting drunk and enjoying women.  Robert asks Stark to be the Hand of the King and essentially run the kingdom for him, knowing full well that it would be safe hands under Stark's supervision.  Stark reluctantly agrees against his better judgement, but before he leaves for King's Landing, his wife Lady Catelyn Stark (Michelle Fairley) requests that he investigate the death of the previous Hand of the King, Lord Jon Arryn who may have been killed as part of a plot by House Lannister and Robert's wife, Queen Cersei Lannister (Lena Headey) and the rest of House Lannister.  Stark leaves control of Winterfell to his oldest son Robb (Richard Madden) while his bastard son John Snow (Kit Harington) journeys to The Wall to join the ranks of the Night's Watch.
Catelyn is suspicious of the Lannisters especially since her son Bran's (Isaac Hempstead-Wright) climbing "accident" which wasn't really an accident at all, as he was pushed out of a window for witnessing incest between Cersei and her twin brother Jaime (Nikolaj Coster-Waldau).  Realizing that her husband is in danger, Catelyn starts her own journey to King's Landing to warn him about the Lannisters.  There's good reason for distrusting House Lannister as their deceit and Machiavellian ways have already ended the life of  Aerys II, "the Mad King" and they will stop at nothing until they have capture the Iron Throne for themselves.   They don't realize that across the narrow sea, Aerys' exiled son Viserys (Harry Lloyd) and daughter Daenerys "Dany" Targaryen (Emilia Clarke) have their own plans for the throne since Visery's is assembling an army to retake the kingdom that he believes belongs to him.  In exchange for enlisting an army of barbarians known as the Dothraki to aid him in his quest, Viserys sells his sister in marriage to the Dothraki leader Khal Drogo (Jason Momoa) which will backfire later when she falls in love with Drogo.
Upon arriving at King's Land, Stark discovers that it's a nest of political intrigue and machinations.  Everyone has their own agenda and Robert is oblivious to just about all of it. The more Stark tries to investigate what happened to his predecessor, the more danger he finds himself in especially when he discovers the truth about who should be the true heir to the throne.  After warning her husband about the Lannisters, Catelyn heads for home but accidentally bumps into Tyrion Lannister (Peter Dinklage) in a tavern and takes him captive in retaliation for what happened to her son.  Tyrion tries to reason with her that he's innocent, but it falls on deaf ears and he is taken to the stronghold of Eyrie, where her sister Lady Lysa Arryn will decide his fate.  With Robert away on a hunting trip, Stark is already making people unhappy with the way he's running the kingdom, but things come to a head when he tips his hand on what he knows to the wrong people in an attempt to do the right thing.   A chain of events is started that will change everything and everyone will make their final moves in this game of thrones that will have few winners but a lot of losers.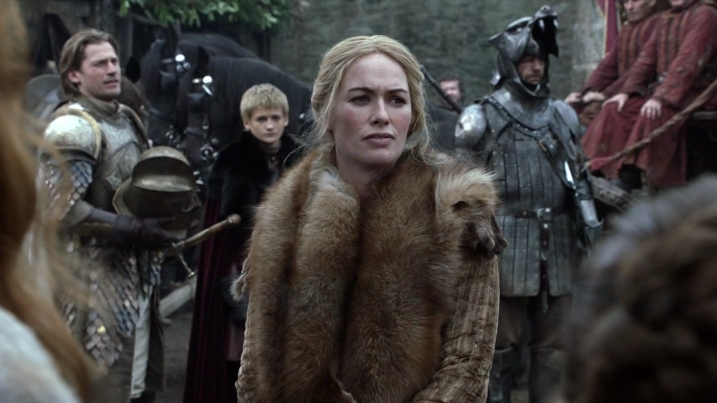 Video 
The below video score and related critique of things here are based solely upon my viewing of the 4K Ultra HD Blu-ray presentation of HBO's Game of Thrones: Season 1.
Encoding: HEVC / H.265
Resolution: 4K (2160p)
Aspect Ratio: 1.78:1
Dolby Vision: Yes
HDR: Yes
Size: UHD-100 (spread across 4 discs)
Clarity/Detail: This one is not the real deal.  When I say that I mean it's not True 4K, but upscaled.  So with that being stated there is still some grand things to be taken in here over the original Blu-ray release, which was already stellar looking in its own right.  However, the differences are sometimes minor and sometimes incredible.  Close-ups look exceptional/impeccable here from the many pores and moles to stubble and unruly hair (I never even noticed the pit scars in Jon Snow's forehead before).  I do have to clamor that fine details in the costumes are quite amazing looking here especially the furs (oh wow!) and the fine intricacies of the designs and stitchings in certain outfits/clothing accessories.  Textures in elements such as stones in walls and masonry look incredulous too.  However, a couple of things plague this presentation from being one that I would say you must run out and buy.  First off, there's a lot of moments shrouded in darkness so consider that first.  There's also a lot of visual effects used throughout that well tend to look rather soft here compared to the more blended look of the 1080p Blu-ray presentation.  In particular these are few and far between, but most noticeable on some of the wide establishing shots of monuments and landscapes in the distances.  Also, you can clearly see some of the coverup attempts of tattoos on actors' bodies.
Depth: I said it before and I'll say it again here.  Because of the many, worldly environments in Game of Thrones, some real and some CGI, the forever ranging landscapes are what really draw me in from the vast snowy mountainsides to castle interiors to outdoor battlefields and so much more.  Truth be told though, it's always the vast and breathtaking outdoor scenes that do it for me here season after season.  Huge battle scenes, although sparse in this first season, are always a bonus too.  The onscreen characters also pop throughout here with three-dimensional qualities in direct comparison from their surroundings.  Let me emphasize that when I talk bout the 3D pop of things here.  It's absolutely AMAZING how the onscreen characters pop.
Black Levels: Black levels are more natural throughout this presentation.  They are not overly deep, but not troublesome either. I  love how gorgeous fire and torches look in contrast to things here.  However, truly this one looks quite remarkable.  Look no further than the dragon birthing scene.  Oh my!
Color Reproduction: Compared to the 1080p Blu-ray Disc the colors here appear wider thanks in part to the 4K's Wide Color Gamut resulting in both more natural, lifelike colors as well as bold ones too.  There's a lot of vibrancy throughout and I absolutely love how the greens and reds really pop here.  However, for the most part while bold the colors are neutral, natural and never overblown from what I saw.  In environments like the Night Watch tower the colors are cold and sterile really putting you in the mood.  Vice versa moments in the sun make you feel hot.  You get the "picture."
Flesh Tones: The skin tones all look natural throughout this 4K presentation here.
Noise/Artifacts: There are zero nasty artifacts or noise to be found her other than what's found in the source material.  Things are crystal clean throughout.
Audio 
Like I mentioned up above in the video section, the below audio score and critical comments of such are based solely upon my viewing of HBO's 4K Ultra HD Blu-ray presentation of Game of Thrones: Season 1.  I do want you to know that the  4K UHD Discs come armed with a Dolby Atmos surround track, but when you first pop them in they default to Dolby Digital so you want to be cognizant about that.  Have your remotes handy to listen to that ear candy.  Hey that rhymes!
Audio Format(s): English Dolby Audio 5.1, English Dolby Atmos, French Dolby Audio 5.1, Latin American Spanish Dolby Audio 2.0, Castilian Dolby Audio 5.1, German Dolby Audio 5.1, Italian Dolby Audio 5.1, Brazilian Portuguese DTS Digital Surround 2.0, Czech DTS Surround 2.0, Hungarian DTS Digital Surround 2.0, Polish DTS Digital Surround 2.0, Russian DTS Digital Surround 5.1
Subtitles: English SDH, French, Latin American Spanish, Castilian, German, Italian SDH, Brazilian Portuguese, Czech, Hungarian, Polish, Russian, Dutch, Danish, Finnish, Norwegian, Swedish, Croatian, Greek, Hebrew, Portuguese, Romanian, Slovenian, Turkish, Complex Chinese, Korean, Thai
Dynamics: The audio presentation here is what really makes Game of Thrones a champion when you're speaking of doing a television show right on the Blu-ray or 4K UHD formats.  The dynamics of the Dolby Atmos track virtually puts you in the middle of everything happening onscreen and changes with each subsequent moment never sounding fake, unpolished or generic.  The dynamic range of this first season is slightly limited in breadth compared to the latter seasons, but for a television show it still sounds like a million bucks.  It doesn't sound like a mere television show, but rather the action sequences make this feel like a bombastic, summer blockbuster when fully engaged.  Despite it all though nothing ever gets lost in the translation of the mix here including the dialogue thanks to the discreteness of it all.  Let's face it dialogue is very important in this opening season to get things established so worry not.  There are moments of lulls too where just dialogue are onscreen.  I'm just being fully transparent here.
Height: Game of Thrones was one of the first television shows to employ Dolby Atmos on the Blu-ray format.  Re-live that historic release here with metal clanging overhead as well as dragons screaming, fires burning, pigeons flapping overhead, wind blowing, score, screams, a sword coming down for a beheading and so much more.  Right from the get within the show's introductory theme you'll hear the drums pounding in the Atmos channels.  However, it's very subtle use in this first season because of the lack of action sequences compared to latter seasons.  This one is all about establishing our world here.
Low Frequency Extension: The LFE channel is busy throughout thanks to the sweeping score and drums employed in the original broadcasts.  Heck right from the onset of the shows' brilliant open sequence you'll get your first dose of how aggressive things can be here when called upon.  Without the bass you'll never notice that stampede of horses coming your way or the many thuds and blows you never saw coming. Ha ha.  However, keep in mind there's a lot drama in this first season so sometimes there are many lulls to be had.
Surround Sound Presentation: This first season is all about developing the ambiance of the series and putting you in the middle of it.  However, make no mistake.  The rear channels engage you completely throughout here especially during the few moments of action in the first season.  I love the directionality of the simplest of things like the wind blowing for example.  Also, the rousing score fill the rears with sounds of delight to keep you in the middle of it all.
Dialogue Reproduction: Dialog levels are always loud, clear, intelligible and prioritized throughout the first season episodes here.
Extras 
This is a peculiar section to cover because while the majority of the extras from the previous Blu-ray releases are found here others are oddly missing.  The good news is though those that were once Easter eggs are not hidden anymore.  Also, void are the 1080p Blu-ray Discs from this package.  It's all 4K UHD programming  with the below extras spreads across the four discs in HD.  Discs 1-3 getting three 4K episodes a piece and the Disc 4 only houses one.  The packaging is relatively simple.  There's a cardboard sleeve here that holds a black UHD case with spindle holders for each of the UHD discs.  Finally there is a redemption code for the first season digitally, but beware because the episodes are in HD not 4K.  So without further ado let's tackle what recycled extras are found in this set.  Like I did up above I'm going to pay homage and stick with the verbiage once crafted on these extras by Sean Ferguson.
Audio Commentaries – There's seven commentaries with the cast, writers, and producers taking turns on the episodes with the sad exception of Sean Bean who is nowhere to be found on these commentary tracks.  Making up for his absence is the book's writer George R.R. Martin's track who not only wrote one of the episodes but who is the definitive source to go to as the man who created it all.  Here are the commentaries:

Winter is Coming (Disc 1) – Executive producers and writers David Benioff and D.B. Weiss.
The Kingsroad (Disc 1) – Lena Headey (Cersei Lannister), Mark Addy (Robert Baratheon) and Nikolaj Coster-Waldau (Jaime Lannister).
Lord Snow (Disc 1) –  Sophie Turner (Sansa Stark), Maisie Williams (Arya Stark) and Isaac Hempstead Wright (Bran Stark).
Cripples, Bastards and Broken Things (Disc 2) – Writer Bryan Cogman and Kit Harington (Jon Snow).
A Golden Crown (Disc 2) – Director Daniel Minahan, Peter Dinklage (Tyrion Lannister), Emilia Clarke (Daenerys Targaryen) and Harry Lloyd (Viserys Targaryen).
The Pointy End (Disc 3) – Co-executive producer and series author George R.R. Martin.
Fire and Blood (Disc 4) – Executive producers and writers David Benioff and D.B. Weiss and director Alan Taylor.

Cast Auditions (Disc 4, HD, 10:37) – This one used to be an Easter egg on the original Blu-ray release and features 6 different character auditions.
Character Profiles (Disc 4, HD, 30:42) – We get the profiles of the fifteen main characters (spoken by the actors themselves) including:

Ned Stark
Robb Stark
Arya Stark
Bran Stark
Sansa Stark
Catelyn Stark
Cersei Lannister
Jaime Lannister
Tyrion Lannister
Daenerys Targaryen
Viserys Targaryen
Jon Snow
Khal Drago
Petyr Baelish
Robert Baratheon
Anatomy of an Episode: A Golden Crown (Disc 4, HD, 1:00:31) – Getting down to the nitty-gritty, this episode long picture-in-picture track goes into great detail about the making of the 6th episode through the use of interviews with the cast and crew, behind the scenes footage, and more.  For as cool as this extra is, I wish they had done it for the rest of the episodes.
Making Game of Thrones (Disc 4, HD, 30:02) – This thirty minute look at the making of the show is more of the traditional kind of featurette we are used to getting.  That's not a slight against it as this was enjoyable to watch, but compared to the rest of these innovative extras, it seems dated.  This featurette has interviews with the cast and crew along with Martin and it provides a nice overview of the making of the show.
From the Book to the Screen (Disc 4, HD, 5:15) – Many of the clips in this were recycled from other extras which is never good but they are all relevant to this topic.  George R.R. Martin, David Benioff and D.B. Weiss talk about adapting the novel for the first season.
The Night's Watch (Disc 4, HD, 8:07) – A look into at the soldiers of the Night's Watch including the Wall that they protect with comments from George R.R. Martin and the cast and crew.
Creating the Show Open (Disc 4, HD, 5:07) – If you love the opening sequence of the show like I do, then you will enjoy this look at the how it was created and its development process.  The people involved also share their thoughts about this Emmy-winning title sequence.
Creating the Dothraki Language (Disc 4, HD, 5:27) – Learn how these language was created for the show.
Summary 
So here's the skinny folks.  If you're reading this, I'm willing to bet you already own this one on Blu-ray and are just curious as what you'll find within here.  The only thing you're gaining here is the upscaled, but quite remarkable HDR visuals.  I never seen a television show look this good before.  I swear!  Other than you're walking away with the same outstanding Dolby Atmos surround track, minus a few extras, but void of the Blu-ray Discs and any kind of 4K digital presentations (only reason why final Summary score is not a perfect one in case you were wondering).  However, it's the video that matters here.  For those fans of the show who want the finest presentation of it, then this is a MUST-OWN.  I know that and so do you.  You know what to do!
**
DISCLAIMER: This 4K Ultra HD Blu-ray review was judged and graded using the following 4K certified Ultra HD Premium television set found here and player here.  Make sure to check out all our 4K Ultra HD Blu-ray reviews archived here.
*
Game of Thrones: Season 1
Re-Live The First Season All Over Again
on 4K Ultra HD Blu-ray
June 5th
*
*