November 2nd, 2020 by Brian White
Game of Thrones: The Complete Collection is going to be one very unorthodox 4K Ultra HD Blu-ray Review.  You want to know why?  I hope you do as I didn't just set that up for nothing.  It's simply because this one whopping big box set that houses a total of 33 Discs (23 BD-100s, 7 BD-66s, 3 BD-50s).  Wow!  That encompasses all 8 seasons of the hit HBO show that plays across 73 episodes, which equates to roughly 75 hours.  If that's not enough, there's also 15 hours of extras packed within this set.  Now do you know why I say this isn't your average 4K Disc review?  I hope so.  And rest assured I'm going to do my best to cover everything you'll find here, but I'm only a mere mortal.  You'll have to forgive me as I'm not going to be able to go through all of this.  Thankfully I have covered every Blu-ray release of the show so there's that and I'll be providing you pertinent URL links to all the coverage so you won't miss a beat here.  On top of it all you can also bank on my unboxing photos.  I told you I have you covered!
There's absolutely no doubt about it that the #1 selling home entertainment television series of all time, and most-watched series in HBO history, Game of Thrones still remains a blockbuster hit and cultural sensation (even with that lazy eighth season that averaged a record-setting 44 million viewers in the U.S.).  Now, for the first time ever, the entire series can be owned in 4K Ultra HD courtesy of Warner Bros. Home Entertainment.  If you're a fan of the show and 4K Disc home media collector, then you'll remember that the first season (full review HERE) and eighth season (full review HERE) of the show were previously released on the preferred format we're here to talk about today.
Truth be told unless you've been living under a rock the last ten years or trapped in a basement in Cleveland (too soon?) Game of Thrones is based on the best-selling novel series by George R.R. Martin.  The HBO show has earned a total of 161 Emmy nominations and 59 wins, which are the most nominations and wins of any Comedy or Drama series in Emmy history.  Boom!  The ensemble cast includes Emmy and Golden Globe winner Peter Dinklage (Tyrion Lannister), Lena Headey (Cersei Lannister), Emilia Clarke (Daenerys Targaryen), Kit Harington (Jon Snow), Sophie Turner (Sansa Stark), Maisie Williams (Arya Stark), Nikolaj Coster-Waldau (Jaime Lannister) and Iain Glen (Jorah Mormont).  And those are just a mere sliver of the names that are attached to this behemoth of a show.  Even our favorite Mandalorian, Pedro Pascal, makes an appearance in this show, but I digress.  Let's talk about everything you'll find here, showcase off the product and then cover all the things you'll find within while out the same time showering you with a ton of URL hyperlinks to keep this review as clean and simple as possible.  This is the way!
The following is a little plug from Warner Bros., but I like it because they use the phrase "eye-popping" and who doesn't like hearing that when you're talking about entertainment media on the 4K UHD Disc format.  So here it is!  For the first time ever, loyal fans and collectors will be able to enjoy every extraordinary moment of this iconic show in eye-popping 4K Ultra HD with Dolby Vision HDR.  Packed with over 15 hours of special features spanning all 8 seasons and a digital copy of every episode, this collectable set also makes a perfect holiday gift!  Heck yeah it does!  Beyond Dolby Vision the 4K Ultra HD Discs also feature Dolby Atmos surround tracks plus the inclusion of over 15 hours of bonus features originally released on the 2019 Game of Thrones: The Complete Series and The Complete Collection (Limited Collector's Edition) Blu-ray sets.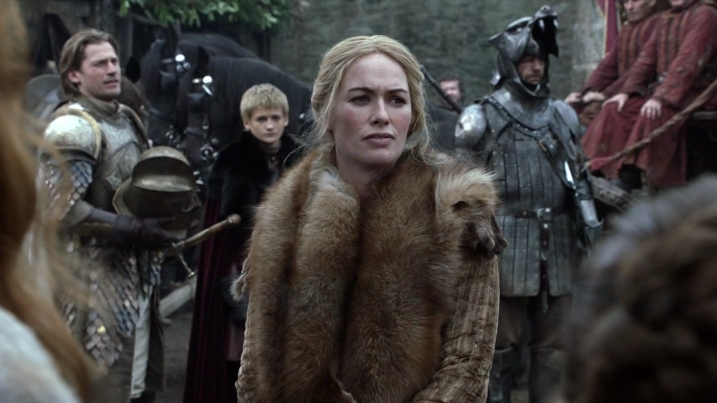 Series 
The perfect score of 5 up above is a compilation average of how I ranked all eight seasons of Game of Thrones in my previous 4K/Blu-ray reviews.  The fact of the matter is with the exception of the eighth season I awarded the first through seventh seasons all perfect scores.  Season 8 suffered from what I can only describe as the "Dexter Syndrome."  Both of these shows were excellent, but both ended pathetically.  Thankfully, the Dexter show runners are looking at rectifying that over at Showtime.  Only time will tell until the jury is out on that, but I regret to inform you that as beautiful as things look here on 4K Ultra HD Blu-ray Disc it doesn't change the lackluster, unimaginative ending employed in Season 8.  However, that's the ONLY negative thing you will ever find me saying throughout the rest of the review.  So there's that!
Before we move onto unboxing things here I do want to provide you with URL links to each and every season of my coverage of this series (plus Sean Ferguson's take on Season 1).  So if you're interested in knowing why I scored each of the seasons a perfect score with the exception of the eighth, you can read all about in any of the below hyperlinks.  All you have to do is point and click.  Enjoy!
Now that we got that obligation out of the way what do you say we rip this humungous 4K box set open?  That was a rhetorical question.  Hell yeah we want to open this beast!  Just an FYI there is a Best Buy exclusive steelbook set up for sale.  At the time of this writing it was going for $240 HERE.
Disclaimer: Make sure to click on any of the below thumbnails to open for maximum viewing pleasure.
*
So here's what this 33-disc set looks like with its protective sheath of plastic still protecting its contents.
*
Alright, let's take that plastic off so our pictures aren't so reflective.  As you can see down below I graciously provided you with a shot of the front, rear and spine of the what would be a…spoiler alert…giant slip cover.  Best of all this thing is embossed!
*
So let's take the slip cover off and as you can see from the one side angle it exposes the fact that there are a total of 9 different disc cases, which will look at momentarily in more detail.
*
I want to now show you closeup what the front cover artwork looks like on all 9 cases.  Just an FYI the redemption code paperwork for the digital copies of the complete series was found within my Season 1 case.
*
There's also a small episode guide within the box set here that is extremely handy in tackling what extras are found on what disc within each season.  I'll go more into depth down below in the extras sections, but for now I'll tease you with both the cover of said episode guide and the last page from within it.
*
Also just to let you see what's inside so to speak here's a quick look at what every single disc in this set looks like.  It's just a plain back disc with titling informing you what it is.
*
And now it's time to tackle my favorite subjects within a typical disc review, not (think of like a Borat not joke), the audio and video sections.  I have to chuckle about this one.  I was showing this off to some of my 4K friends in a private Facebook Messenger group and one of the members, Sir Robert Jaros, had the following to say.  I thought it was super hilarious so I couldn't resist sharing.  He also gave me permission to do so.  Check it out!
Thanks for that laugh Robert and I hope others get a chuckle out of that too.  So let's be honest.  I have a life and there are only so many waking hours within each day.  Therefore, it's inconceivable for me to go through all 90 hours worth of content here.  Thankfully in my case I have already viewed and reviewed the majority of the 15 hours of bonus content in previous reviews and graded the audio and video on the 4K Disc releases of Seasons 1 and 8.  That leaves me with Seasons 2 through 7 to tackle here.  My plan of attack with this was simple.  I sampled episodes from each season here on the 4K discs and I put together a cumulative grade down below for both the audio and video presentations in this complete series release.  If something pops up in the meantime and I find there are any issues with subsequent viewings or others reporting such, you have my promise I will update this review immediately with said new information.  So here goes nothing.
Video
As stated prior the above video score and related critique of things down below are based solely upon my viewings against a cumulative average curve of the 4K Ultra HD Blu-ray presentations of HBO's Game of Thrones: The Complete Collection.
Encoding: HEVC / H.265
Resolution: 4K (2160p)
Aspect Ratio: 1.78:1
Dolby Vision: Yes
HDR: Yes (HDR10)
Size: 23 BD-100s, 7 BD-66s
Clarity/Detail: Game of Thrones is all about that cinematic look.  It looks more like a Lord of the Rings motion picture than it does your ordinary television show.  Close-ups look exceptional/impeccable from the many pores and moles to stubble and unruly hairs.  Fine details in the costumes are both exquisite and quite amazing looking here especially in the furs.  Also, the fine intricacies of the designs and stitchings in certain outfits/clothing, accessories and armor all lend themselves to authenticity and care taken within this production.  I would be foolish not to mention how textures in elements such as stones in walls, masonry, sand, dragon scales, feathers on arrows and even vegetation all look incredulous too.  With such clarity also comes the obvious…the fake CGI moments and such.  I'm sorry, but I can't fix some of the back of dragon flying moments.  They are what they are.  Elements such as snow also look extremely fake, but how can you fault that when a television show like this looks so good on the 4K disc format?  You can't!
Depth: I said it before in my previous reviews and I'll say it again here.  Because of the many, worldly environments in Game of Thrones, some real and many obviously CGI, the forever ranging landscapes are what really draw me in from the vast snowy mountainsides to castle interiors to outdoor battlefields and so much more.  Truth be told though, it's always the vast and breathtaking outdoor scenes that do it for me here season after season.  Huge battle scenes, which there are always at least one per season are always a bonus to gaze upon as well.  The onscreen characters also pop throughout here with three-dimensional delight in direct comparison from their surroundings.  Let me emphasize that when I talk bout the 3D pop of things here.  It's absolutely AMAZING how the onscreen characters pop and sizzle.  I'm talking eye-popping of course!   There's just an overwhelming sense of immersion throughout even in the CGI moments like when Daenerys is looking over a cliff at a sea of ships.
Black Levels: Black levels are on average very natural looking throughout.  They are usually not overly deep, but not troublesome either.  I absolutely love how gorgeous fire, explosions and torches look in contrast to things here.  However, there are examples where the black levels are not always consistent.  Like in Season 8 there were moments in the crypt for example that were overly deep and inky compared to the moments outside.  And who can forget that whole debacle folks had with the wicked battle at night within Season 8 where they said they couldn't see anything during one of the broadcasts?  Calibrate your television sets folks!  It's fine!
Color Reproduction: Compared to the 1080p Blu-ray Disc the colors here appear wider thanks in part to the 4K's Wide Color Gamut resulting in both more natural, lifelike colors as well as bold ones too.  While bold at times the colors are mostly neutral, natural and never overblown from what I saw.  Colors are going to differ tonally from sequence to sequence here.  There's also the added benefit of Dolby Vision!  Besides the reds and fiery moments the blue eyes of Sansa and the Whitewalkers in Season 7 are quite striking and rich too.  You also have to love the "stark" contrast between the sun drenched moments and those of the white winter.
Flesh Tones: The skin tones all look natural throughout these 4K presentations.  However, it all depends upon the particular scene and lighting too as to how much you'll see.
Noise/Artifacts: Things are for the most part very clean (maybe some noise here or there in shadows) and not overly problematic at all throughout.
Audio 
As stated prior the above audio score and related critique of how things sound down below are based solely upon my viewings against a cumulative average curve of the 4K Ultra HD Blu-ray presentations of HBO's Game of Thrones: The Complete Collection.
Audio Format(s): English Dolby Audio 5.1, English Dolby Atmos, French Dolby Audio 5.1, Latin American Spanish Dolby Audio 2.0, Castilian Dolby Audio 5.1, German Dolby Audio 5.1, Italian Dolby Audio 5.1, Brazilian Portuguese Dolby Audio 2.0, Czech Dolby Audio 2.0, Hungarian Dolby Audio 2.0, Polish DTS Dolby Audio 2.0, Russian Dolby Audio 5.1
Subtitles: English SDH, French, Latin American Spanish, Castilian, German, Italian SDH, Brazilian Portuguese, Czech, Hungarian, Polish, Russian, Dutch, Danish, Finnish, Norwegian, Swedish, Greek, Hebrew, Portuguese, Romanian, Slovenian, Turkish, Complex Chinese, Korean, Thai
Dynamics: The audio presentation here is what really makes Game of Thrones a champion when you're speaking of doing a television show right on the Blu-ray or 4K UHD formats.  The wide dynamics of the Dolby Atmos track virtually puts you in the middle of everything happening onscreen and changes with each subsequent moment never sounding fake, unpolished or generic.  The dynamic range of this series is balls to the wall when it comes to the action sequences.  It doesn't sound like a mere television show, but rather the action sequences make this feel like a bombastic, summer blockbuster when fully engaged. The dynamic range of this surround track feels like you're climbing the highest peaks of Everest and want to shout it to the world.  Despite it all though nothing ever gets lost in the translation of the mix here including the dialogue thanks to the discreteness of it all.  Let's face it dialogue is very important in this show, but worry not about it here.  As a little shout out I also love how intricate the tiles crumbling in the shows opening credits sound.
Height: Game of Thrones was one of the first television shows to employ Dolby Atmos on the Blu-ray format years ago when it re-released Seasons 1 and 2 with the collectable steelbooks and magnets within.  Some of the many Atmos moments you can expect to find within this complete series includes dragons flapping there hefty wings, flying, screaming, blowing fire and cold air downward and even landing, catapults, explosions, arrows overhead and you guessed it…my favorite saying…so much more.  One of my favorite Atmos moments still remains in Season 8.  It involves one of my favorite characters who usually dresses in red (guess who) that lights a whole army's weapons ablaze with fire to prepare them to fight the opposing undead enemies in the heart of the night.  It just sounds magnificent.
Low Frequency Extension: The LFE channel is always quite busy thanks to the sweeping score and drums employed throughout.  Heck right from the onset of the shows' brilliant opening sequence you'll get your first dose of how aggressive things can be here when called upon.  Without the bass you'll never notice that stampede of horses coming your way or the many thuds and blows building up offscreen. Don't forget the scorching of a city by a dragon or taking on an undead giant.  Those moments tend to make a BIG BOOM or two not to mention when said giant falls.  I just love the aggressiveness here and even the subtle nuances of the LFE as well.
Surround Sound Presentation: The rear channels engage you completely throughout with endless action (when there is action of course), swords and shields clanging, dragons soaring, wind gusts and so much more.  I do love the directionality of the simplest of things like the wind blowing for example.  Also, the rousing score once again fills the rears with sounds of delight to keep you in the middle of it all.  In addition it's also the ambiance of it all.  I said it before and I'll say it again this one is not mixed like any mere television show.  This one is dressed to impress and it does so majestically!
Dialogue Reproduction: Dialog levels are always loud, clear, intelligible and prioritized throughout the entire complete series  here.  You should have no problem hearing Hodor tell you to do something with something.
Extras 
This 4K Ultra HD release includes over 15 hours of bonus features originally released on the 2019 Game of Thrones: The Complete Series and The Complete Collection (Limited Collector's Edition) Blu-ray sets.  It also contains a redemption code good to watch the complete series digitally (US only).  So yeah.  There's a lot to tackle here.  However, I am going to make it super simple for you all.  Remember up above I mentioned the Episode Guide lists all the extras and breaks them down by what disc they can be found on?  Well I have unboxing pictures saved especially for this section capturing all that.  Even better I am going to hyperlink you to each review on the website here where these extras are found so you can learn all about them in much more detail should you choose.  Let's get this party started!
P.S. Remember to click on the thumbnails below for maximum viewing pleasure and of course to truly see what extra is found where.
Season 1
*
Season 2
Review HERE
Season 3
Review HERE
*
Season 4
Review HERE
*
Season 5
Review HERE
*
Season 6
Review HERE
*
Season 7
Review HERE
*
Season 8
Review HERE
*
Alright here is where we shakes things up just slightly.  If you remember up above, I said there were 9 cases within this box set.  I wasn't lying and I even showed you proof of one that just said Bonus Features (see again HERE for a refresher).  Upon clicking on the thumbnail image below you'll see even more extras housed across the enclosed three Blu-ray Discs.  The most notable of those extras is the first of the following.
Bonus Discs
Disc 1:
Game of Thrones: Reunion Special (HD) – This is a two-part reunion show (57:01 and 42:21 runtimes) that was shot live in Belfast with the cast, both past and present, hosted by Conan O'Brien and was made available exclusively on the complete series collections last year on Blu-ray. The reunion special is assembled in segments focused on Houses Lannister, Stark, & Targaryen and concludes with the key players all onstage for their final reflections on the years they shared in Westeros and Essos.  I personally can't think of a more perfect way to cap off the completion of watching all the seasons across these discs.
Anatomy of Scenes –

Season 4 – Planning a Royal Wedding (HD, 22:50)
Season 5 – The Massacre at Hardhome (HD, 28:03)
Season 6 – Inside the Fight for Meereen (HD, 23:59)
Season 7 – Ice, Fire and Dragons: Creating the Frozen Lake (HD, 27:23)
Disc 2:
Behind the Scenes –

Season 1: Houses of the Seven Kingdoms (HD, 15:27)
Season 2: Westeros at War with George R.R. Martin (HD, 18:44)
Season 4: Silk, Leather and Chain Mail: The Costumes of Season 4 (HD, 19:14)
Season 5: The Final Step (HD, 25:54)

Inside the Visual Effects –

Season 1 (HD, 17:49)
Season 2 (HD, 20:53)
Season 3 (HD, 25:03)
Season 4 (HD, 24:36)
Season 5 (HD, 25:37)
Season 6 (HD, 21:43)
Season 7 (HD, 29:37)

Season 7 Deleted Scenes (HD) – This one contains the following three sequences: Extended Sam & Gilly (HD, 2:21), Daenerys and Tyrion Corridor Talk (1:43) and Varys and Trella in King's Landing (1:04)
Disc 3:
Conquest and Rebellion (HD, 44:47) – This animated history was also found on the Season 7 Blu-ray set. This is the never-before-seen story of the tumultuous events that shaped the world of Westeros thousands of years before the series start. Cast members Pilou Asbæk (Euron Greyjoy), Nikolaj Coster-Waldau (Jaime Lannister), Aidan Gillen (Littlefinger), Conleth Hill (Varys), Harry Lloyd (Viserys Targaryen) and Sophie Turner (Sansa Stark) team up to narrate the animated telling of Aegon Targaryen's attempts to conquer the Seven Kingdoms.  This one is written by show writer Dave Hill.
Summary 
I apologize to everyone out there who bought Seasons 1 and 8 on the 4K Ultra HD Blu-ray format because you're kind of double dipping.  At the time of this writing there are no known releases plans for the individual seasons.  One has to believe that will happen, but for now if you want to experience the complete series of Game of Thrones on 4K Ultra HD Blu-ray Disc, then you're going have to pay to play here.  And by that I mean you're going to have to splurge!  Sorry.  I know this collection is not cheap, but you are getting quality product here.  I assure you of that!
I used to do the following for every Game of Thrones Blu-ray I wrote and for some reason I stopped.  No more!  The biggest box set on the 4K UHD format deserves the best send off.  So I'm bringing it back.  Riddle me this.  What does the complete collection of Game of Thrones offer you on the 4K Ultra HD Blu-ray format other than this humungous, embossed cardboard packaging?  Well I'm glad the question is being asked because I can think of three main reasons why you need to hit that order link below.  Ready?  Set?  Here we go!
1. You are getting one of the most amazing ever shows on television in respect to breadth of storytelling, production value, cinematography, acting, dragons and so much more.  And let's not forget that one episode every season that's perhaps one of the most shocking episodes ever to air on television, not to mention action packed.
2.  This 4K Ultra HD Blu-ray box set contains a total of 33 Discs (23 BD-100s, 7 BD-66s, 3 BD-50s) and houses hours upon hours of bonus material (15 to be exact) not to mention the complete 73 episodes (75 hours worth) in pristine 4K Ultra HD picture and Dolby Atmos surround sound plus a redemption code for Digital Copies to enjoy anywhere you want.
3.  This one is quite simple.  You know you want to help support our site so we are able to keep it running smoothly and efficiently plus enable us alway to optimally deliver robust, kick-@$$ reviews like this, don't you?  Of course you do and we all at Why So Blu thank you for your generosity, time and support!  Enjoy this one!  I will for a long, long time to come!  And special thanks to Warner Bros. for allowing me the chance to review this product.  Much appreciated!
*
DISCLAIMER: This 4K Ultra HD Blu-ray review was judged and graded using the following 4K certified Ultra HD Premium television set found here and player here.  Make sure to check out all our 4K Ultra HD Blu-ray reviews archived here.
*
Game of Thrones:
The Complete Collection
Breathes Fire & Chills Ice
on 4K UHD Blu-ray
*
Paid Link
We earn commissions on qualifying purchases.
And re-invest them into the site to keep it humming!
*