October 24th, 2020 by Aaron Neuwirth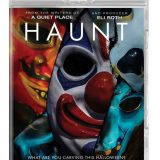 While putting together their script for A Quiet Place, writers/directors Scott Beck and Bryan Woods were also working on Haunt. This slick horror flick focused on an "extreme" haunted house was a big hit on Shudder last year and has now finally made its way to having a proper home release, thanks to Ronin Flix. Read on to hear more about the film and just how effective it is at delivering in terror. Additionally, see what Ronin Flix has in store for buyers looking to get their hands on this packed release, featuring multiple commentaries, a new making-of feature, and more.
–
Film:
Haunt follows a group of friends on Halloween night, who decide to take on a haunted house that promises to go after their darkest fears. After signing liability waivers and giving up their cellphones, the group heads inside. While the frights begin with spooky people in costumes performing what seem like evil deeds, the fun seekers begin encountering wilder situations that prove to not only be dangerous but deadly.
Beck and Woods were joined by Eli Roth as a producer, who also helped in guiding them a bit in the screenplay. While Haunt is a film delivering on a solid level of horror violence (a hammer, in particular, finds its use in graphic ways), Beck and Woods explain in one of their commentary tracks that Roth really helped them focus on doing just enough with the characters to give us a reason to care, while maintaining a good pace to get us to the haunted house quick enough.
This truly does pay off, as the characters are a mix of reasonable to rowdy but still likable. There's also just enough dynamic going on to establish them as types without leaning too hard into convention. You have a troubled woman (Katie Stevens) who is dealing with an abusive boyfriend. There's the nice guy (Will Brittain), the concerned friend (Lauryn McClain), the funny guy (Andrew Caldwell), and the other party-ready ladies (Shazi Raja and Schuyler Helford). Yes, there's only so much time to flesh out these people, but enough is done.
On the other side, while the film does not go into detail, there are some very clear villains in the form of anonymous individuals in creepy masks (Chaney Morrow, Justin Marxen, and Damian Maffei). Haunt allows for some understanding of what is underneath the masks (and it's also creepy), but the film knows how to utilize them well in their maze of terror.
Speaking of which, the location is fantastic. Shot at a Kentucky location, a lot of great work is done to understand the design of this haunted house, its inner workings, and the various dangers presented. Ryan Samul's sleek cinematography and the effective score from Tomandandy only help things further. Plus, some terrific sound design (made possible by Beck and Woods efforts to have Skywalker Sound work on the film) really ramps up the intensity.
Not unlike films such as The Collector or Green Room, the melding of well-shot terror and grisly horror play to Haunt's advantage. We don't want to see bad things happen to these characters, but there's such a great effort made in getting to those moments that it's hardly an issue to see how these filmmakers execute these moments. The haunted house setting for a horror film is a territory not utilized nearly enough anyway (see Tobe Hooper's The Funhouse for another great one), so it's just nice to have more of this kind of thing to go around.
Come for the haunted house of death. Stay for the quality filmmaking. Haunt is a fun ride that plays with expectations, delivers well enough on characters, and creates some lasting imagery when it comes to its spooky villains.
Video:
Encoding: MPEG-4 AVC
Resolution: 1080p
Aspect Ratio: 2.39:1
Clarity/Detail: Shot on digital, there's a lot to like in the amount of detail one can find in this film. The opening alone, which features a series of close-ups on the preparation of this horror house allows for the viewer to take in the level of care that goes into the clarity of this presentation. Things like the details of the makeup and costumes stick out well, especially later in the film, as we see more of the characters (particularly the unmasked ones). There's a lot to work with here.
Depth: Depth of field is captured well here, with a level of dimensionality that comes across effectively. Think of the ghost room, for example, as one character moves through a suspenseful area with so much around him at one time.
Black Levels: Shadow and black levels are terrific throughout. When the film heads indoors or takes on its many nighttime sequences, we get a chance to see how strong these areas of the film are thanks to a lack of crush.
Color Reproduction: Colors look great. Costumes, in particular, are given a chance to pop with color. Some well-lit rooms have a chance to show off the balance.
Flesh Tones: Character detail is strong enough.
Noise/Artifacts: Clean.
Audio:
Audio Format(s): English DTS-HD Master Audio 5.1
Subtitles: English SDH
Dynamics: The lossless track presented here does plenty to highlight all of the specific choices that keep us with the characters, tracking the horror on display, and more. Score and other elements are important, but it's all handled quite appropriately for the film we are watching, which is reflected well in this audio track. And once again – props to this little movie for getting help from Skywalker Sound.
Low-Frequency Extension: There are plenty of good moments to bring life to the LFE channel. The score, chainsaws, and other fun.
Surround Sound Presentation: The film is front and center-focused, but you have plenty to go on as far as the surrounding atmosphere. The balance is great, as you are never at a loss for what's taking place, especially with the frights come from all around.
Dialogue Reproduction: Everyone is heard loud and clear.
Extras:
There are two versions of this release. I have the regular Blu-ray, which is packed, but just know the deluxe edition includes the film's soundtrack, along with multiple movie posters and map reproductions, magnets, and enamel pins. That said, the actual supplements are terrific, with two commentaries, multiple Q&As, a great making-of, and more.
Features Include:
Introduction with the Filmmakers (HD)
Audio Commentary with Writers/Directors Scott Beck and Bryan Woods – These two go over every aspect of production, along with some fun stories, and more. They have a great sense of humor about themselves while also delivering what film fans want in a commentary.
Audio Commentary with Actors Justin Marxen (Clown), Chaney Morrow (Ghost), and Damian Maffei (Devil) – A lot looser than the other commentary, by design, but worth a listen too for fans of the film's villains, looking to hear their perspective.
The Making of Haunt (HD, 32:33) – A lot of great information that includes interviews with the cast and crew. The work done by the special effects team and the composers is given attention as well, which rounds out this excellent look behind the scenes.
Deleted Scenes (HD, 13:01) – A series of deleted moments, as well as a fun outtake.
Behind the Haunt (4:57) – Another, briefer look behind the scenes.
The Sound of Haunt (HD, 3:52) – Beck and Woods talk about getting Skywalker Sound's involvement.
Popcorn Frights Q&A (HD, 21:37) – Beck and Woods, along with some of the cast, discuss the film following a screening.
Egyptian theater Premiere Q&A (HD, 25:30) – Producer Eli Roth moderates this Q&A with Beck and Woods, following a screening of the film.
Director's Diary (HD, 10:23) – A series of clips taken from social media posts and more, documenting the film's production.
Short Film: The Sleepover (HD, 6:32) – Beck and Woods provide an intro before showing their very early film made by them as teenagers. It's "terrible," like they say, but fun and features some outtakes during the credits as well.
Theatrical Trailer (HD, 2:30)
Summary:
Haunt is a really solid horror-thriller that plays on some conventions of the genre and takes advantage of the unique setting that is a haunted house attraction. Beck and Woods show they have a lot of admiration for horror films and thrillers, which they can turn into some solid work on their own. This deluxe Blu-ray release does well to give audiences all they'd want with a terrific audio/video presentation, along with plenty of extra features to learn all they want about how this film got made. Horror fans should be delighted by all of this.