November 24th, 2021 by Peter Paras
House of Gucci is the second film this year by legendary director Ridley Scott. The filmmaker is 83 years old and, like Taylor Swift, who turns 32 next month, has absolutely shamed my lazy butt during the pandemic. Imagine the fortitude to complete two epic-sized features (or, in Swift's case, two Grammy-nominated albums and two more because #lifegoals) with an impressive roster of A-list talent. The true story of the Gucci empire through the turbulent seventies up to the nineties stars Lady Gaga, Adam Driver, Al Pacino, Jeremy Irons, Salma Hayek, and Jared Leto. The latter is unrecognizable under tons of makeup and ugly corduroy suits. Sadly, although the soundtrack includes George Michael, the Eurythmics, and Blondie, Swift's tracks are absent because, well, she hadn't been born for most of the story's run time (Then again, Tarantino used David Bowie in his WWII-era flick Inglorious Basterds). Would this award-seeking film about the Italian fashion house earn one star higher if it included a montage of Gaga on the runway while "Bad Blood" played? Definitely. Regardless, Sir Scott had a full plate during COVID, so he can sashay away knowing he's accomplished a ton.
When Patrizia Reggiani (Gaga) meets the soft-spoken Maurizio Gucci (Driver) at a club in Milan circa 1973, sparks fly. She mistook him for a bartender but zeros in on his name as soon as he utters it. He wants little to do with the iconic handbag brand his father Rodolfo (Irons) oversees with his brother Aldo (Pacino). Patrizia sees potential in the mostly irrelevant Gucci name, and soon enough, the young twenty-something couple is hitched, leaving Italy behind for penthouses and excess in Manhattan. But infighting, particularly with Maurizio's cousin Paolo (Leto), threatens to tear the company apart across bloodlines (Clearly, "Bad Blood" would have been perfect here, come on, Ridley!). By 1995, there will be scandals and murder.
Based on Sara Gay Forden's novel, House of Gucci: A Sensational Story of Murder, Madness, and Greed, MGM's production runs a hefty 157 minutes yet often feels rushed (And somehow too slow). There's a lot of ground to cover over the course of three decades, after all. The script by Becky Johnston and Roberto Bentivegna wisely keeps a laser focus on Patrizia's point of view until the film's rather scattershot but effective final forty minutes.
Scott has often released films in theaters that later benefit from different cuts on home video, most notably Blade Runner. However, a better comparison is Scott's Crusades epic, Kingdom of Heaven, which added 48 minutes to the director's cut. On the one hand, I'm glad we're seeing a big production for House of Gucci instead of merely a limited series by Ryan Murphy. Yet too often, especially in the middle section, the film feels compromised.
The cast is by far the best reason to justify the ungainly plot. Gaga revels in playing the polar opposite of her breakout role of Ally in A Star is Born. From frame one, we understand Patrizia's intentions. Gaga makes us like her despite Patrizia's appetite for more more more. Part of the reason is she actually has some solid ideas on how to help Gucci retain some of its former glory as one of the fashion industry's biggest names. (A scene involving Gucci knockoffs is terrific). To wit, the script is about Patrizia's obstacles against those born a Gucci. Nearly every other character (except Hayek as a fortune teller) in the film spars against her. Pacino and Irons are the old guard, with someone like Leto's Paolo, is a younger but just as clueless dolt, who should not control the family business.
Like HBO's Succession and Hulu's Dopesick, this is yet another tale that highlights just how wrongheaded it is for multibillion-dollar corporations to be run by a single-family. Of the three, the men of Gucci are absolutely the worst at management. Yet they are far less evil than the Roy's or Sackler's, so they have that going for them.
The problem is that the script (or the cut we got), while held up by a strong cast, takes character portrayals leaps from A to C, skipping B altogether. The biggest offender is the character of Mauricio, played by Driver. He starts off as well-intentioned, happy to go to law school (or even drive trucks), but after the first hour he's suddenly backstabbing his cousin Paolo with Patrizia behind him in Lady Macbeth mode. The acting is spot on, but this confrontation left me confused rather than engaged. I certainly understand the broad strokes of what's happening, but the craft of good storytelling is the old adage of how moments should reveal themselves to be both surprising and inevitable.
Speaking of Paolo, Jared Leto's take on a would-be designer has several strong scenes. There's a great one where he showcases his questionable sketches for a line of womenswear to Rodolfo that's cringe-worthy in the best way. As an actor, Leto runs hot (Dallas Buyers Club) and cold (Joker in Ayer's Suicide Squad). Here, beyond all the makeup, he's playing a person with layers that I never tired of seeing in situations that often failed him.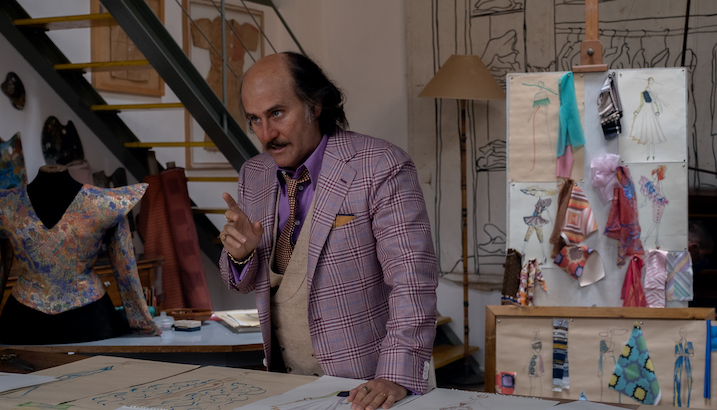 There are other quibbles though: Scott's cool, grey photography does such a glamorous world no favors for a film set in high fashion. This is obviously by design, but with performances that can easily lean into camp (in a good way), I do wish certain set pieces like the opening at an Italian nightclub or when Patrizia visits a swanky Gucci shop were more fun. Moreover, while the costumes by frequent Scott collaborator Janty Yates are period-accurate (Gaga is stunning pretty much the whole film), the lightning too often mutes such studied, elegant attire.
On the plus side, I admire how Gucci is one of the few biopics that resist the urge to name drop. Scenes with fashion mainstays Anna Wintour and Andre Leon Talley are quick and effective. Odds are the target audience doesn't need awkward introductions to know who they are. A simple bob haircut and dark shades are more than enough. When Tom Ford (Reeve Carney) finally shows up, his talent and style leave an impression, not his name.
House of Gucci feels like a near-final draft of a film that I hope to see a longer, better-tailored cut one day. The cast revels in the drama without losing their respective characters, even when the script does. If you're a fan of this era of fashion, it's definitely worth checking out.