November 30th, 2019 by Brian White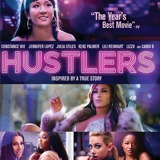 Hustlers was one of those films that try as I might I could not make time and the Earth's axis around the stars align to see it in the theaters.  However, that's the beauty of the 4K Ultra HD Blu-ray format.  If you miss a feature during its initial theatrical run, you still have an opportunity to watch it in one of the finest presentations available within the privacy of your own home.  When you think positive like that life seems really swell (and it's completely feasible too as Austin is not known for good theaters).  And double the fact that if you know me well, you know I'm cuckoo for Cocoa Puffs over a film that features strong, powerful women.  Having the ageless Jennifer Lopez behind the driver's wheel is just the proverbial icing on the cake.  Come on!  Let's talk some Hustlers down below!
Film 
Hustlers was released theatrically this past September and did quite well against its meager budget.  The crime/semi-heist/drama was both written and directed by Lorene Scafaria.  It was based on a 2015 article by Jessica Pressler, "The Hustlers at Scores," in the magazine New York.  The film stars Jennifer Lopez, Constance Wu, Julia Stiles, Keke Palmer, Lili Reinhardt, Cardi B and Lizzo.  The plot is pretty basic as it follows these strippers in New York City stealing money by drugging stock traders, CEOs and more that visit their club.  I don't know why, but typing that reminds me of the Aerosmith song, "Eat the Rich."
The filmmaker in me finds it kind of amazing that Hustlers was just filmed this year in March through May and ready in time for a September theatrical release.  I guess it shouldn't surprise me since there are no battles or VFX, but still.  If you ask me, that's quite an accomplishment.  I'll never probably do this film review justice like Peter Paras does in his very simple, but relatable review HERE.  However, I'm going give it a try.  This one is not overly complicated so two paragraphs below should be plenty to knock it all out in.
In a similar fashion that this story was originally laid out in the New York magazine the feature unfolds onscreen.  We quickly realize that Julia Stiles' character is chronicling the rise, fall and how-do's of this all female crew of strippers that in 2007 began drugging Wall Street types of rich men, taking their money and living the independent lives they always wanted (never having to worry about not having enough money to keep the lights on).  What you have to admire about Hustlers is the self awareness of the characters.  The women are never feeling sorry for themselves and they completely realize they are living in a world dominated by men making most of the money.  They conceive a plan to make the world their own and they pretty much get away with it.  Although as you know with most movies of this subject matter sometimes all does not end well for all characters, but that's a story for another day.
The story of Hustlers is not overly complicated and there aren't any radical twists and turns.  It's rather straightforward.  Make no mistake though, the star of this film is Jennifer Lopez.  She makes a huge entrance in her opening dance number at the club to Fiona Apple's "Criminal" and you literally can't take your eyes off her the rest of the film (I feel Wu takes a backseat to her here).  Lopez portrays Romana and she's a strong woman indeed (no man needed at all).  In fact that's the central theme here.  Women don't need men.  I mean they need them to pull off this heist of their funds, but not to the extent of having to care and provide for them.  So you really, and I can't stress this enough, have a strong woman driven story here.  This one's also about strippers so guys like it or not you still have plenty of eye candy if strong, independent women aren't your thing.  And last but not least I can't help not to borrow this from Peter Paras' movie review, but I feel very strongly about this too.  Lili Reinhardt, as Annabelle here, hands down wins the best comedic vomiter ever award (if there was one).
Video 
The below video score and related critique of things here are based solely upon my viewing of the 4K Ultra HD Blu-ray presentation of Universal's Hustlers.
Encoding: HEVC / H.265
Resolution: 2160p
Dolby Vision: No
HDR: HDR 10
Size: BD-66
Aspect Ratio: 2.39:1
Clarity/Detail: From what I can tell this one comes sourced from a 4K Digital Intermediate, which most people love to hear.  Things look great too like the ability to see all the glistening glitter on a stripper's body to the textures of the outfits they don in their playful sex capers.  Closeups also reveal the finer details such as pores, scars (I noticed a small one on Lopez's face), moles, piercings, tattoos, stubble, stray hairs and more.
Depth: Depth of field is also very clear to see as the foreground characters pop with the three-dimensional qualities leaving the backgrounds to appear vast and deep.
Black Levels: The black levels are are all very deep, inky and dark throughout.  In fact if I only had one complaint about this one, it would be it's very dark at times.
Color Reproduction: The color grading does differ slightly between sequences, but for the most part it has a nice, healthy and vibrant look to it all.
Flesh Tones: The skin tones all look natural in appearance to the actors' complexions throughout the presentation.  For example, either Lopez has one hell of a spray tan or her skin is very olive and beautiful.
Noise/Artifacts: Everything looks perfect here with no signs of visible noise or artifacts that would hinder your viewing enjoyment of this reference looking presentation.  Enjoy the show!
Audio 
Like I mention up above in the video section, the below audio score and critical comments of such are based solely upon my viewing of Universal's 4K Ultra HD Blu-ray presentation of Hustlers.
Audio Format(s): English Dolby Atmos, Spanish Dolby Digital 5.1
Subtitles: English SDH, Spanish
Dynamics: This one is kind of a shocker.  Hustlers comes with a Dolby Atmos surround track.  Did Universal dump their DTS:X support?  I sure hope not.  However, I am shocked they included any kind of atmospheric track, but fret not as things sound really dynamically pleasing in this drama caper.  Obviously the club scenes are where it's at when you're talking anything of substance about this surround track.  The drama of it all is where most of this one takes place in and even with the loud and wide landscape of the booming hits no spoken word ever gets drowned out.  Hustlers has a nice balance to it, but it's also not your bang, bang shoot 'em up kind of track either.
Height: I was skeptical as to what they would utilize the height channels discreetly for.  Then came the booming Brittney Spears song "Gimme More" and low and behold the tune was radiating from the height channels and more frequently after that I noticed much of the same with the jams discreetly coming from overhead.  It's not the best use of Atmos, but with our subject matter here it was cool nonetheless.  And come on!  Who doesn't like Spears in their Atmos channels?
Low Frequency Extension: The subwoofer keeps the sound booming throughout with the many deep stripper club selections.  There's little ambiance here and there, but the bulk of the workout is lifting the club tunes here.
Surround Sound Presentation: This one is mostly front heavy due to it being a drama movie, but it's the little things like the music, crowds and people in the club behind you that immerse you within the rear channels from time-to-time.
Dialogue Reproduction: The dialog levels are loud, clear and intelligible throughout.

 

I have zero qualms here.
Extras 
The Hustlers 4K set here is a dream for reviewers like me and probably not ideal for consumers like you.  Besides two trailers available to view there's only one lone extra…an audio commentary.  That makes my life so much easier and this review so much quicker to get to publication.  Other than that there is a Blu-ray Disc inside this set, which enables you to view the feature presentation in 1080p as well as a redemption code for the equivalent Digital Copy.
Feature Commentary with Director Lorene Scafaria – If you're a fan of this film, you know you should be viewing this one.  Also, this is available on the 4K disc too!
Trailer 1 (HD) – Also available on the 4K disc too.
Trailer 2 (HD) – Also available on the 4K disc too.
Summary 
There you go ladies and gentlemen.  This is my quick 4K review of Hustlers.  I say quick because watching the film was very easy on the eyes, but reviewing it was even easier because of the lack of supplements.  In recap Hustlers is a very straightforward film about incredibly strong women up to no good.  It's not everyone's cup of proverbial tea.  However, as long as you enjoy seeing women sticking it to guys (the reverse of the norm you're programmed and condition to), I think you're in for a great ride.  Hustlers doesn't break any filmmaking barriers, but it's a nice tight package that doesn't break the bank budget-wise and hit the ground running in jubilant victory over others at the box office this year.  I do recommend Hustlers for your home media collection when you can get it at the right price.  I say that price is circa the ~$20 range so you may need to be a bit patient as Universal titles as of late have not been very lenient in that department.
*
DISCLAIMER: This 4K Ultra HD Blu-ray review was judged and graded using the following 4K certified Ultra HD Premium television set found here and player here.  Make sure to check out all our 4K Ultra HD Blu-ray reviews archived here.  The images used above within the review are not actual 4K screenshots.  They are for illustrative purposes only.  
*
Hustlers
Delivers Deception, Lap Dances & More on
4K Ultra HD Blu-ray
December 10th
*
Paid Link
As an Amazon Associate we earn from qualifying purchases to keep the site humming.
*