May 30th, 2019 by Brandon Peters
One of the all-time classic sci-fi films comes to Blu-ray on July 9, when Scream Factory launches This Island Earth into orbit. Extras are plentiful, and include new audio commentary with author Robert Skotak, a new audio interview with film historian David Schecter, a new interview with filmmaker Luigi Cozzi, a new text-based gallery of information titled Facts about Perspecta Stereophonic Sound by Bob Furmanek, and much, much more.
.
.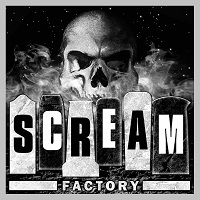 SCREAM FACTORY PRESENTS
THE CLASSIC SCI-FI FLICK
THIS ISLAND EARTH
ON BLU-RAY JULY 9, 2019
"A landmark science-fiction film! An intelligent interplanetary epic filled with
beautifully crafted designs and marvelous special effects!"
– TV Guide
When atomic scientist Dr. Meacham (Rex Reason, The Creature Walks Among Us) is chosen to take part in a top-secret research experiment in a remote lab, he quickly discovers that he is really involved in an evil scheme by alien Metalunans to take over Earth. After he and the gorgeous Dr. Adams (Faith Domergue, It Came From Beneath The Sea) make their escape shortly before the lab explodes, they are whisked away in a flying saucer to Metaluna, where they are blamed for the destruction. Will interstellar negotiation save the day or will the scientists be forced to take part in a treacherous battle to the death?
Special Features
NEW 4K scan of the inter-positive – Two aspect ratios: 1.85:1 and 1.37:1
NEW The Original Perspecta Stereophonic Sound restored by 3-D Film Archive
NEW Audio Commentary with author and Academy Award winning visual effects artist Robert Skotak
NEW Audio Interview with film historian David Schecter on the music of THIS ISLAND EARTH
NEW Alien Ideas – an interview with filmmaker Luigi Cozzi (Starcrash)
NEW Facts about Perspecta Stereophonic Sound by Bob Furmanek
THIS ISLAND EARTH – Two and A Half Years in the Making: The Extended Documentary – a look at the making of THIS ISLAND EARTH
WAR OF THE PLANETS: 1958 Castle Films release for the home market including both the 50-foot silent Headline edition and the 200-foot sound Complete edition.
Trailers from Hell – This Island Earth with commentary by filmmaker Joe Dante
Theatrical Trailer
Still Galleries – poster and lobby cards, publicity stills and behind-the-scenes photos