September 19th, 2023 by Brandon Peters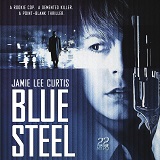 Releasing on Blu-ray™ for the first time ever, Blue Steel arrives November 14 on Blu-ray™ + Digital from Lionsgate. Written and directed by Kathryn Bigelow (The Hurt Locker, Zero Dark Thirty, Point Break), this release will feature updated artwork and new special features. Blue Steel, which Moviehole calls "a captivating and thrilling whodunnit," will be available on Blu-ray™ + Digital November 14th.
.
.
Blu-ray™ + Digital Street Date: 11/14/23
Making its Blu-ray™ debut, this classic '90s thriller directed by Kathryn Bigelow (Zero Dark Thirty) stars Jamie Lee Curtis as newly minted NYPD officer Megan Turner, who responds to a grocery store robbery – and kills the perpetrator – her first day on the job. But Megan's uncorroborated story of the shooting gets her suspended from active duty when the stickup gun mysteriously vanishes. Enter a charming-but-disturbed commodities trader (Ron Silver), whose obsession with Megan threatens to destroy everything she holds dear, pushing her into a desperate fight to salvage her reputation… and save her own life.
BLU-RAY SPECIAL FEATURES
• Audio Commentary with Film Historian Alexandra Heller-Nicholas
• "A Hired Gun" with Editor Lee Percy
• "The Phallic Woman: Deconstructing Blue Steel" with Film Historian Professor Jennifer Moorman
• "Staring Down the Barrel" with Production Designer Toby Corbett
• A Profound Emotional Response – A Video Essay by Film Historian Chris O'Neill
• Theatrical Trailer
• TV Spots
• Vintage Promo
• Still Gallery
CAST
Jamie Lee Curtis                     Halloween, Everything Everywhere All At Once, True Lies
Winner Ron Silver                  Timecop, Reversal of Fortune, The Arrival
Clancy Brown                         Highlander, The Shawshank Redemption, John Wick: Chapter 4
PROGRAM INFORMATION
Year of Production: 1990
Title Copyright: Blue Steel © 1989 Vestron Pictures. All Rights Reserved. Artwork & Supplementary Materials ®, TM & © 2023 Lions Gate Entertainment Inc. All Rights Reserved.
Type: Catalog Re-Release
Run Time: 102 minutes
Rating: R
Genre: Thriller, Crime, Action/Adventure, Drama
Closed-Captioned: N/A
Subtitles: English, Spanish, English SDH
Blu-rayTM Format: 1080p High Definition 16×9 (1.78:1) Presentation
Blu-rayTM Audio: English 2.0 DTS-HD Master AudioTM