November 19th, 2008 by Blu-ray Brian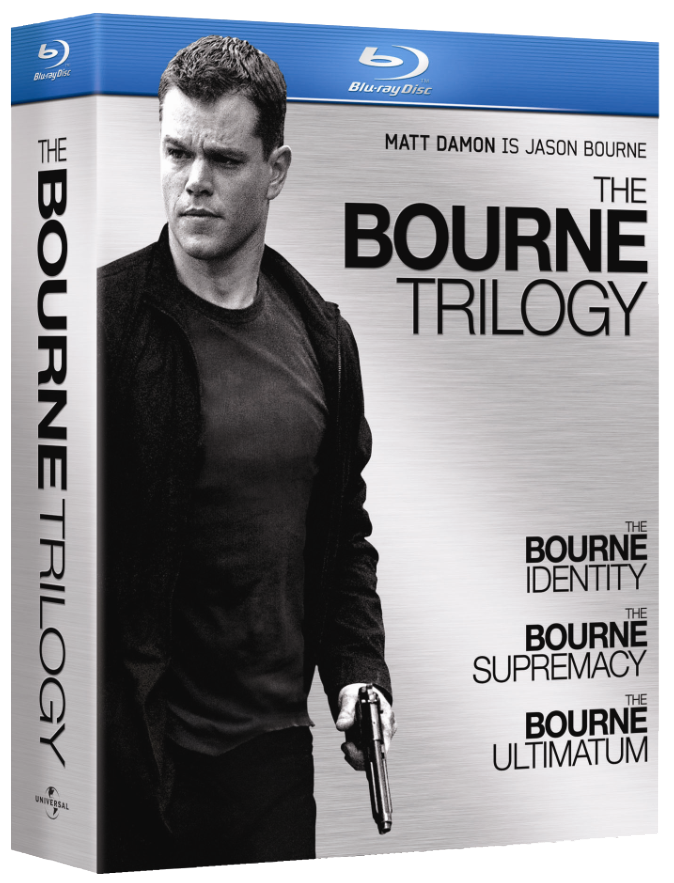 Jason Bourne is finally coming home!  This is the announcement Hi-Def Bourne fans have been anxiously waiting for.  Universal Studios Home Entertainment has announced that they will bring all three Bourne movies to the Blu-ray format as a single box set entitled The Bourne Trilogy Collection, on January 27th.  Just to reiterate….that is The Bourne Identity, The Bourne Supremacy and The Bourne Ultimatum.  All three titles have been previously released on the now defunct HD DVD format and Blu-ray fans have been on the sidelines waiting a long time for this announcement to finally come.  We almost thought Universal had amnesia there for a moment.  We were all like…where's Jason Bourne?  The only thing Universal owes us now is The Fast and the Furious trilogy.
All three films will come on BD-50 discs featuring a 1080P video encode and a rocking 5.1 DTS-HD Master Audio soundtrack.  Extras have already been confirmed for this box set.  Wait until you get a look at the extras in store for you.  Universal Studios does not disappoint when it comes to their Blu-ray releases.
The special features for the three films will include:
       The Bourne Identity
Exclusive U-Control:

Picture in Picture
Bourne Reminders
Bourne Card Battle Strategy Game
Treadstone Files: Includes interactive Character Dossiers, Agent Status info, and GPS features.

BD-Live:

My Scenes Sharing: Share your favorite clips with friends through BD Live Internet discussions.
Bourne card battle strategy game.

My Scenes
The Ludlum Identity: An extraordinary portrait of the best-selling author through archival interviews with friends, colleagues, family members and Ludlum himself.
The Ludlum Supremacy: Who is Jason Bourne? A revealing look at how Bourne was born.
The Ludlum Ultimatum: A fascinating examination of the Bourne character and his enduring audience appeal
Alternate Opening and Ending: With an introduction by producer Frank Marshall, screenwriter Tony Gilroy and actor Brian Cox
Deleted and Extended Scenes
The Birth of the Bourne Identity
The Bourne Mastermind: Robert Ludlum: A fascinating new look at the late Robert Ludlum, the bestselling novelist who created the "Bourne" trilogy.
Access Granted: An exclusive interview with screenwriter Tony Gilroy on the challenges of adapting Ludlum's 500-page book for the screen.
From Identity to Supremacy – Jason & Marie: This feature includes exclusive interviews with Matt Damon and Franka Potente which explore the making of "The Bourne Identity" – and build a bridge to the spectacular sequel, "The Bourne Supremacy."
The Bourne Diagnosis: Insights into the causes and effects of Jason Bourne's struggle with amnesia from a UCLA psychologist.
Cloak and Dagger: In this feature, CIA liaison officer Chase Brandon delivers a detailed, real-world analysis of the making of a super-spy.
Inside a Fight Sequence: Join Matt Damon on the set as he and the film's Stunt Choreographer map out the explosive action-packed U.S. Embassy fight sequence.
Moby "Extreme Ways" Music Video
Feature Commentary with Director Doug Liman
        The Bourne Supremacy
Exclusive U-Control:

Picture in Picture
Bourne Reminders
Bourne Card Battle Strategy Game
Supremacy Dossier

BD-Live:

My Scenes Sharing: Share your favorite clips with friends through BD Live Internet discussions.
Bourne card battle strategy game.

My Scenes
Explosive Deleted Scenes
Matching Identities: Casting – See what it took to land a key role in this major action hit.
Keeping It Real – A look at the edgy and kinetic visual style the filmmakers brought to Supremacy.
Blowing Things Up – Virtual isn't always better. See how some of the film's most awesome pyrotechnical sequences were created, without the use of digital effects.
On the Move with Jason Bourne – Travel the globe to visit the film's exotic locations from India to Berlin to Moscow.
Bourne to Be Wild: Fight Training – Matt Damon didn't become a lethal weapon overnight. Witness the action as the star and the movie's fight trainer perfect the film's thrilling hand-to-hand combat scenes!
Crash Cam: Racing Through the Streets of Moscow – Experience how stunt coordinators meticulously planned and executed the movie's stunning, high-speed chase sequence
The Go-Mobile Revs Up the Action – Feel the rush of being in the driver's seat with this revolutionary new vehicle used to capture Matt Damon's high-speed exploits in the film's jaw-dropping car chase sequences!
Anatomy of a Scene: The Explosive Bridge Chase Scene – Step onto the set and experience the tension and intense preparation as the filmmaking team plans and shoots one of the movie's most demanding, dangerous and thrilling action scenes.
Scoring with John Powell: A special look at creating the pulse- pound score for the movie.
The Bourne Mastermind: Robert Ludlum: A new look at the late Robert Ludlum, the bestselling novelist who created the "Bourne" trilogy.
The Bourne Diagnosis Part Two: Insights into the causes and effects of Jason Bourne's struggle with amnesia from a UCLA psychologist.
Feature Commentary with Paul Greengrass
         The Bourne Ultimatum
Exclusive U-Control:

Picture in Picture
Bourne Reminders
Bourne Card Battle Strategy Game
Blackbriar Files: While you watch the movie, immerse yourself in the character dossiers and location analyses, and explore the technology behind the spy gadgets through visuals and 3D animations.

BD-Live:

My Scenes Sharing: Share your favorite clips with friends through BD Live Internet discussions.
Bourne card battle strategy game.

My Scenes
Be Bourne Spy Training – Viewers test their skills to see if they've got what it takes to be a covert operative.
Man on the Move: Jason Bourne – From Berlin to Tangier, see how the film's exotic locations influenced the filmmaking process.
Rooftop Pursuit – Discover how state-of-the-art technology was used to film the incredible Tangier rooftop chase scene!
Planning the Punches – Matt Damon reveals his complex and rigorous fight training.
Driving School – Join Matt Damon behind the wheel as he trains for the New York car chase scene.
New York Chase – An insider's view on how the film's heart- stopping chase sequences were filmed.
Feature Commentary with Director Paul Greengrass
Deleted Scenes