July 22nd, 2022 by Peter Paras
Nope, the third film from writer/director Jordan Peele, features the best use of IMAX cameras since Christopher Nolan's Tenet. Yes, Tom Cruise's Top Gun: Maverick ain't no slouch in terms of aerial wonder on the most enormous screens possible, but Peele's latest, which stars Daniel Kaluuya, Keke Palmer, and Steven Yeun, offers something else. Something… out of this world. Are such close encounters merely a new take on an old sci-fi trope? At the very least, the promise of Peele's brand of sharp humor with a terrific ensemble will intrigue fans and possibly put butts in seats. So don't look up or do. For what is seen, as they say, cannot be unseen.
When Otis Haywood Sr. (Keith David), the proprietor of a ranch that caters to film shoots, dies in a bizarre accident, it's up to his siblings, OJ and Emerald, to continue the family business. OJ (Kaluuya) knows horses but not people, while Em (Palmer) is all charisma yet little follow through. The Haywoods are descendants of the very first person put on film. Very few people knew who he was, but the image of a black man on a horse is one of the defining images of early motion pictures. It was a shot that not only settled a bet among those in that era, namely, whether horses have multiple hooves off the ground at once but ignited the magic of cinema.
Next door to the Haywood Ranch (well, not exactly "next door," but the next plot of land) is Ricky "Jupe" Park (Yuen). Jupe has his own tales of Hollywood. He was a child actor on a hit sitcom in the 90s until a freak accident involving an onset animal ended in tragedy. Still, Ricky and his family have learned to lean into such a dark period. For both the Haywoods and the Parks, the entertainment industry has been a beast they've yet to tame but will most likely never give up on.
Of course, anyone that's seen the trailers or is familiar with Peele's work knows the backstories of these characters will be fodder for some kind of Twilight Zone-type twist of circumstances. Whether it's a young black man's fateful meeting of his girlfriend's so-called liberal family of racists in Get Out, or a young black woman who comes face-to-face with those who suffered for her to prosper in Us, Peele is adept at not only observations of race in modern America but class too.
Yet, for the first time in Peele's work, the political ideas are less focused or, to be kinder, deliberately abstract. The plot, which involves a small cast of characters coming into contact with Peele's version of seemingly 50s-style flying saucers, is relatively straightforward. Like the first shot of their great, great, great grandpa on a horse, OJ and Emerald hope a definitive UFO (or "UAP" as the U.S. government now calls them) caught on film will be their "Oprah shot," and that's pretty much it.
That could be disappointing as a follow-up to Us' dense yet rewarding premise from 2019. What's surprising, though, isn't necessarily the in-camera and post-special effects (although they are incredible) but Peele's leap forward as a visual storyteller on such a large canvas. Comparisons can easily be made to Spielberg. Like War of the Worlds (2004), there's a palpable sense of scale that feels fresh and new. Working with award-winning cinematographer Hoyt Van Hoytema (Tenet, well, look at that), simple shots of OJ on a horse looking at a cloudy sky has a "you are there" vibe that never lets up.
There are far too many ways the film is framed – which should be seen, not merely read about in a review – which engaged purely on a visceral level. Tension builds from what's hiding in plain sight. A lone ranch under the largest sky imaginable takes on almost David Lean-like epicness. Peele wisely stages many scenes with little to no dialogue. It does mean Kaluuya's performance can be a bit closed off, but what he lacks in traditional character beats is swapped out to be an audience stand-in for the spectacle and horror that unfolds in IMAX. Do I wish OJ was less a cipher? Sure, but there's no denying the thoughtful craft on display.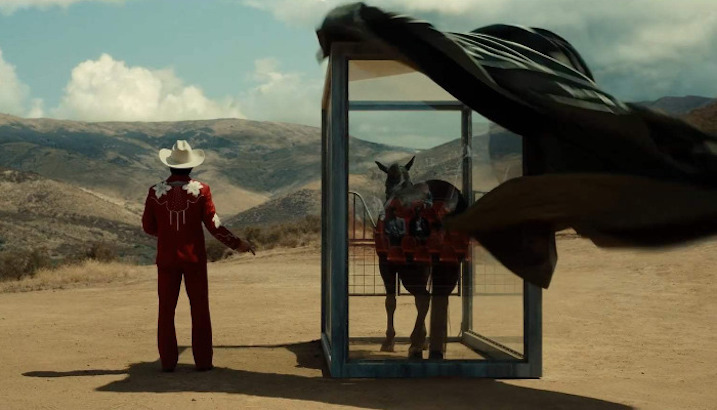 So much of what's onscreen begs to be dissected. What exactly is Peele getting at? Many scenes come across as a love letter to the many film crews that do thankless work. How does that fit into the lives of the Haywoods and the Parks beyond the obvious? Yuen's character, in particular, is admirable in not being an outright antagonist to his neighbors but lacks an interior life. Clearly, Jupe's backstory does the heavy lifting. A sequence that is referenced more than once about the sitcom's fateful taping is one of the film's highlights.
Although the cast put in the work, this is, above all, an idea film. While I do think Kaluuya and Yuen can't quite make their characters come off the page, Keke Palmer is terrific. In the few moments when Peele's focus isn't on awe-inspiring set pieces or terrifying staged mayhem, her performance grounds the proceedings with much-needed humor. She's one of the few characters with a discernible arc. Other actors like Michael Wincott's old school cinematographer, Antlers Holst (what a name!), serves as a kind of stand-in for director Peele has some lovely moments.
Nope can be truly frustrating to simply award an arbitrary star rating. I have no doubt the film will age better in the years to come. The Birds is one of my favorites by Alfred Hitchcock because of the mood and the abstract ideas. John Carpenter's The Fog has undoubtedly seen a reevaluation in decades since its release. In terms of plot and characters, despite Palmer's strong work, Nope is just alright. Yet we come to the cinema for various reasons, one of which is to witness unforgettable moments. This film has that and then some. Just watch the skies and find out.