July 13th, 2017 by Aaron Neuwirth
This year marks the 25th anniversary of Juice, one of the few notable "hood" movies to come out during a time when Spike Lee had made a name for himself and opened up a path for other directors to make films about black culture in LA and NY. Fittingly, Juice was written and directed by Lee's frequent cinematographer at that point, Ernest R. Dickerson, who would go on to make many more features (Demon Knight) and become a regular mainstay on big television series, such as The Wire and The Walking Dead. While not as highly acclaimed, Juice joined films such as Boyz N the Hood and later on Menace II Society and also provided an early look at how charismatic and compelling Tupac Shakur was on the silver screen.
a
Film:
The film focuses on the lives of four youths growing up in Harlem. Q (Omar Epps) is ostensibly the lead with a dream of becoming a well-known DJ. There's also the livewire Bishop (Shakur), Raheem (Khalil Kain) and Steel (Jermaine 'Huggy' Hopkins). Juice spends its first half letting us watch these guys in their daily activities, which includes hanging out at the arcade and getting harassed by the police. The second half takes a turn when the group reluctantly goes to rob a liquor store, leading to the unexpected fallout that has things becoming deadly.
It's been a long time since I watched Juice and the first thing that struck me was the fantastic soundtrack assembled for this film. It kicks off right away during the credits and doesn't stop with tracks by Naughty by Nature, Big Daddy Kane, Too Short, Cypress Hill and more. It's important because of what music means to Q as well as how Dickerson can take the energy found in the lively hip-hop soundtrack and interweave it within the world of these characters.
While Spike Lee had no connection to this film, it's not surprising to see so much familiarity with Juice. Similar to something like Do the Right Thing, just hanging out with these characters is quite engaging, but there is the feel of societal commentary going on. That's made clear by trying to show the issues shared among the friends and conflict found between them and other groups, let alone the police. It's not a film that's out to put a bad light on law enforcement, but there is enough that had been going on (and persists to various extents) that gets reflected in a story by those with experience.
With this in mind, while the film plays like a fascinating portrayal of culture in Harlem in the early 90s, the switch up midway through the movie turns Juice into something of a genre picture. It's here that shows just how good of a screen presence Shakur was. A shift happens with his character, but it doesn't make him any less watchable. As lines are drawn establishing Q as the hero and Bishop as a villain, Juice becomes a thriller with its mind still on digging into how society can shape young men in the hood.
Watching the film, I could easily see newer viewers not being as taken by it, given how there are elements that feel dated. The filmmaking style is still quite vibrant, but certain character portrayals seem of their time. There's also a younger and very skinny Samuel L. Jackson serving as a sort of well-intended authority figure for the youths. It all adds up to a film that remains quite effective, even if it stops short of being a well-regarded modern classic all-around.
Video:
Encoding: MPEG-4 AVC
Resolution: 1080p
Aspect Ratio: 1.85:1
Clarity/Detail: Thankfully Paramount has been very kind to the film celebrating an anniversary, as the low-budget feature boasts a nice 1080p transfer. Thanks to having the film set in real Harlem neighborhoods and a proper attempt to maintain the look and feel of the times, there is a great amount of detail to be found in the various homes, businesses, clubs and other settings. Scenes set outside allow you to take in the clarity of the environments, along with the characters. Even if the somewhat gritty aesthetic doesn't make for the most dynamic viewing experience, this is a proper transfer that rings true.
Depth: Good spacing seen throughout this film. The dimensionality is well-handled for this video transfer.
Black Levels: Black levels are deep throughout. With no signs of crush and a lot of scenes in the second half set at night, you get a good chance to take in stable levels that add to the film's approach to genre territory.
Color Reproduction: Thanks to a showy number of characters and the interiors of certain scenes, there's a good amount of color found throughout this film that pops. While early scenes are fairly drab, it is the jackets and movement around the city that allows things to open up.
Flesh Tones: Facial textures register strongly here. Detail is well-handled.
Noise/Artifacts: Some minor artifacts likely the result of this being a transfer from an old print, but nothing that truly upsets the film.
Audio:
Audio Format(s): English 5.1 DTS-HD Master Audio, Spanish 2.0 Dolby Digital
Subtitles: English SDH, Spanish, French
Dynamics: While I was happy to be reminded of the great soundtrack for this film, it was hard not to notice how this lossless soundtrack did not seem to have the same level of push as something like Straight Outta Compton for example. Obviously, that's a more recent film, but plenty of films from this time, if not older, have featured a great handle on presenting their audio tracks in a way that shows off the music, in addition to the other elements. As a result, it's a good audio track that could have been better.
Low-Frequency Extension: Another area where I knew this track was not putting out as much as it could. For all the scenes where the music takes hold, not a huge work out for the LFE channel.
Surround Sound Presentation: A good balance is had on this track for the most part, even if it's not amazing overall. Dialogue plays on the center channel, with the majority of sound playing center as well as on the front channels. The rear channels do enough work as well, thanks to all that's going on with the environment and music that surrounds the characters.
Dialogue Reproduction: Everyone is loud and clear.
Extras:
Juice features a strong set of extras that detail the film's origins, production and more. A commentary rounds it all out, but it may be the archival interview that's worth it the most.
Features Include:
Commentary by Director Ernest R. Dickerson – A solid commentary track that provides plenty of details about the production and is presented in a fun and engaging way.
You've Got the Juice Now (HD, 19:12) – A retrospective look back exploring where this film came from, with new interviews and behind-the-scenes footage from the time.
The Wrecking Crew (HD, 23:44) – A deeper look at the cast, featuring old and new interviews.
Sip the Juice: The Music (HD, 12:51) – A look at the music choices for the film, featuring more interviews.
Stay in the Scene: The Interview (HD, 22:43) – This may be the best feature on the disc, as it's an archival interview with the four lead cast members (including Tupac) and they speak completely candidly about being involved with the film and the circumstances of why it needed to be made. It's fairly insightful and completely relevant for today.
Photo Gallery (HD)
Summary: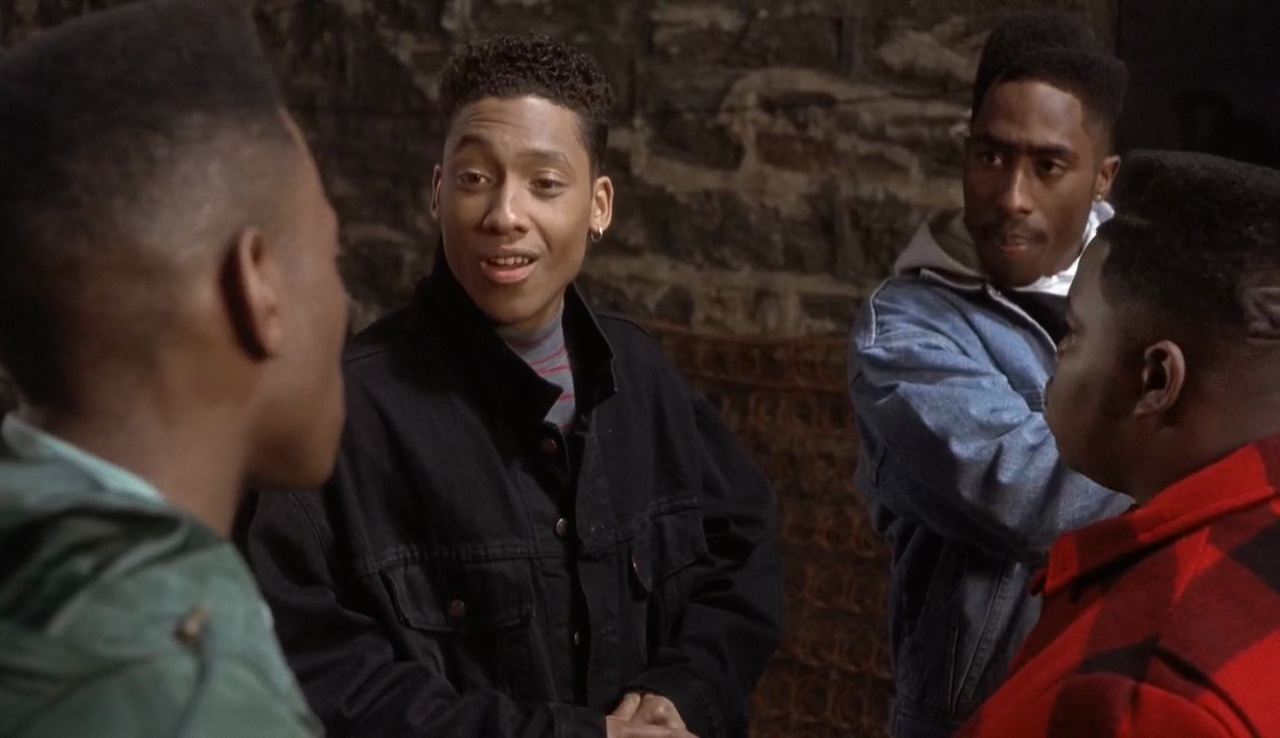 Juice was a great film to revisit and certainly worthwhile for anyone that's familiar with similar films from this time and wants another strong entry to go with those. This Blu-ray looks great and has a decent enough audio track to go with it. There are also good selections of extras that provide all you'd need to know about the film. It's a strong package and perfect for what could almost be considered a hidden gem.
Order Your Copy Here: