February 8th, 2020 by Peter Paras
Rom-coms that stray from time-tested formulas risk alienating audiences. Last Christmas, a movie about a would-be London singer who works at a year-round Christmas-themed shop while trying to navigate a very hectic life is one of those films. Despite a strong cast and a director with a solid track record, the film failed to connect with theatergoers last holiday season. I, too, was one of those viewers that couldn't quite wrap my head around director Paul Feig and writer Emma Thompson's high concept Christmas love story with a plot twisty last act, filled with wall-to-wall tunes from the late, great George Michael. Yet, here we are months later, and it's a Christmas miracle, aka the joyous rewatch. I may have wished this was a 4K release, but I couldn't have hoped for a better reevaluation. I liked Emilia Clarke even more this time around. Henry Golding had me wanting to dance and jump around the U.K. There was a bit more to this tale than I had originally understood. And man, does this package have amazing stocking stuffers via extras! Last Christmas is here, just in time for… Valentine's Day.
Film:
I remember seeing Joe Versus the Volcano way back in 1990 and loving every minute of it. Tom Hanks plays a guy who, upon learning that he's dying ("brain cloud"), quits his dull job and sets out for an adventure. Along the way, he meets not one but three women, all played by Meg Ryan. The film goes from dull and depressing to joyous and colorful. I still hope one day to be shipwrecked on Waponi Woo. (It means "little island with a big volcano.").
Roger Ebert, one of the few critics who didn't pan the film, said, "I realized a wondrous thing: I had not seen this movie before." It's been three decades and John Patrick Shanley's directorial debut has yet to be topped. Still, Joe was a big bomb that derailed Hanks' career. Thankfully, he and Ryan bounced back three years later with the rom-com staple Sleepless in Seattle. In 2020 though, Joe Versus the Volcano has many fans. Beyond all it's wacky ideas and the strange flashes of humor that 90s audiences clearly weren't ready for, the film is ultimately a romance about, as cheesy as it may still sound, loving yourself. That even though you might meet many Meg Ryans, none of that matters if you can't heal your own wounds. Ya gotta go on that quest. Ya gotta find your center.
Last Christmas is not about a gal named Kate who's dying. Truth be told she already sorta did that before the opening credits. A year prior to the start of the story, Kate (Clarke) had a heart transplant. Her mom (Emma Thompson) still dotes on her way more than her successful older sister. All of this attention from her condition and not being able to land a real singing gig has left Kate a big hot mess of a person. She hooks up with randos, drinks too much, and is a disaster at her Christmas-themed retail job. Her boss "Santa" (Michelle Yeoh) has had it up to here, finally saying this is the last "second chance" she'll get after Kate leaves the keys in the shop door, and the place gets burglarized.
Yet, Kate CAN sing. As played by the Clarke, she's easy to root for even if, on paper, you might not be her friend in real life. Kate's also a couch crasher, but she's worn out her welcome on that front too after a quick montage shows everything from mini fires to general accidental mayhem. Yet, her voice connects with the songs of George Michael (and WHAM!) in a way that goes beyond karaoke. Clarke puts it all out there.
And so does the film with its introduction of Tom (Henry Golding). Seemingly out of nowhere, he's this charming guy that doesn't have a smartphone attached to himself at all times. He'd rather Kate "look up" at the kitschy old signs on the street. Tom rides a bike through the busy streets. He volunteers at a soup kitchen. And ya know, he's got that charming British accent. He's, at first glance, a manic pixie dream dude. And for the bulk of the film's run time, one can think that and be engaged by just these two twenty-somethings getting to know each other and possibly falling in love.
I won't spoil the twist except to say that it's very much in the vein of Joe Versus the Volcano figuratively if not literally. Director Paul Feig lets the surface, the holiday colors, the songs, the upbeat mood fool the viewer into a sense of "oh, I get this"-ness. The problem for me, at least the first time, was that the subtext of the film really didn't get me at all. Now it does. And now I feel like I'll be rewatching Last Christmas every year.
It's not perfect. As much as I love Emma Thompson, her portrayal of an Eastern block matriarch refugee can go from endearing to a stereotype. There's also a subplot involving Yeoh and a would-be German Paramore that, despite a game, Yeoh falls flat. Feig's "Apatowness" can sometimes lead to too many gags when just spending time with Kate and Tom on an ice rink is more than enough.
That said, Last Christmas is still a pretty original, rom-com, so I'll take a few nitpicks here and there. The buy-in – the big twist – is huge. You really gotta dive in but if you do, the film offers a nice take on feelings of isolation and the need to grow without ever being genuinely depressing or preachy. That's quite a feat. I really hope Clarke takes more roles like this. She's so much more than the Mother of Dragons.
Video:
Encoding: MPEG-4 AVC
Resolution: 1080P
Aspect Ratio: 200:1
Clarity/Detail: As in Me Before You, Clarke gets to wear outfits that are uniquely her. Her green Elf outfit looks tangible. Golding and the rest of the cast are also well-represented with visual clarity that never distracts but feels true to the filmmaker's intentions.
Depth: Walking the street of a small London pocket feels endless.
Black Levels: Black levels are strong for a 2K disc.
Color Reproduction: The best, color-popping version of London I've seen is well represented.
Flesh Tones: Flesh tones are natural and well rendered.
Noise/Artifacts: None were present that affected the viewing experience.
Audio: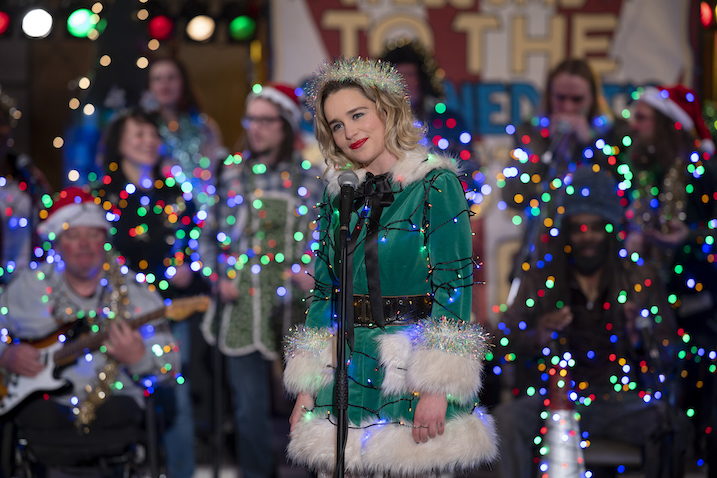 Audio Format(s): DTS-HD Master Audio 5.1 (48kHz, 16-bit), French, Portuguese, Spanish all 5.1 Dolby Digital
Subtitles: English SDH, Spanish, French, Portuguese
Dynamics: All the songs, whether sung by Clarke or the Careless Whisperer himself, are crisp and clean.
Low-Frequency Extension: The way we're transported to a uber clean, idealized version of London is filled with the shuffles of the streets.
Surround Sound Presentation: Sounded excellent with my Sony soundbar.
Height: For the most part, beyond the songs, there's all the fun chatter like when Kate bickers with her family. All strong and full.
Dialogue Reproduction: Dialogue is loud and clear.
Extras: 
Last Christmas comes packaged in a standard slipcover and contains a ton of bonus features. Apparently, Paul Feig does this with most of his films, so hats off to you, sir. And he (mostly) introduces these segments. A DVD and a Movies Anywhere digital copy code are included too. Fun trick: When the film finishes, these supplements just queue up automatically, with Feig doing many intros!
Audio Commentary: Director Paul Feig.
Audio Commentary: Director Paul Feig and Producer/Co-Writer Emma Thompson.
Alternate Opening (HD, 1:11): This totally should have been the opener. It's a cool shot of Kate banging through a mail slot. It gets rid of the guy she sleeps with in the theatrical opener, and gets right to the clash between Kate and the dude's live-in girlfriend. Works way better.
Alternate Ending (HD, 1:53): A funny button ender that totally should have been a mid-credits Easter egg
Blooper Reel (HD, 14:30): I usually can't stand more than a few minutes, but I quite enjoyed the nearly 15 minutes of cast and crew antics.
Deleted/Alternate/Extended Scenes (HD, 22:45 total runtime): A ton of these and pretty much all worth checking out.
"Last Christmas" Full Performance (HD, 3:56): Director Paul Feig introduces Emilia Clarke's full performance. Solid.
Director in Vision (HD, 1:51): Pretty standard behind the scenes featurette.
It's All So Cold (HD, 2:00): Funny, quick bit of Clarke not liking cold weather.
Try Not to Laugh (HD, 6:04): Even more bloopers!
A Legacy Revealed (HD, 2:43): The standard "how it all began" clip.
Pure Golding (HD, 1:28): Quick look at charmer Henry Golding.
Emilia Recording Session (HD, 2:14): On Clarke's great voice.
Love Letter to London (HD, 3:36): Weird they shot in London. I liked the film, but the coloring and shot composition made everything look like a set to my eyes.
Santa and Her Elf (HD, 2:47): A segment focused on the Yuletide Wonderful store set. Nice downline with Michelle Yeoh.
Paul Feig Takes Over the Tram (HD, 3:34): Fun aside with Feig recalling his tour guide days at Universal Studios.
12 Days of Production (HD, 10:21): Video blogs from the set.
Seriously, love or hate on this movie all you want, but these extras put most triple-A blu-ray releases to shame. (Looking at you, Joker.)
Summary:
I'm always delighted when a rewatch of a film I was initially iffy on ends up with plenty of good cheer. Emilia Clarke and the rest of the cast do good work here. Paul Feig continues to push himself in other directions. It's recommended for anyone who likes charming rom-coms, Christmas movies, and the music of George Micheal.
Order Your Copy Here:
Paid link