October 28th, 2021 by Peter Paras
Edgar Wright's Last Night in Soho opens this weekend just in time to deliver October scares in swinging sixties London, baby (I had to make with an Austin Powers reference, right?). The film stars Jojo Rabbit's Thomasin McKenzie and Anya-Taylor Joy as two British women who share a link from the present to the past – as well as stunning period-era outfits, fancy cocktails, and a big butcher knife. Infused with wall-to-wall décor that amps up the color grading to eleven alongside punchy editing, there's no doubt Soho is crafted by the same bloke whose previous work included Baby Driver and Scott Pilgrim vs. the World. Still, this is first and foremost a horror tale, a first for the director. His debut, Shaun of the Dead, may have included zombies but more laughs than scares. Are you ready for excellent mod-era tunes, dancing, and blood?
Back in the States, I've encountered plenty of young Americans that swore they grew up in the wrong era, let alone location. From a music scene that included The Beatles to fashionistas like Twiggy, the 1960s U.K. was just a whole lot cooler. Certainly more remarkable than the North Shore Chicago suburb where I attended high school. Yes, the learning institution where The Breakfast Club was filmed was just a few miles away, but even that eighties touchstone's most famous single, "Don't You Forget About Me," was imported from Scotland's own Simple Minds. This year's Cruella took place in the eighties, but Emma Stone's origin tale saw something irresistible about the country that birthed New Wave.
So when young Eloise (McKenzie) is ecstatic to leave her country digs to attend a prestigious fashion university in London, there's not much needed in terms of character motivation to get audiences on board for her new life to begin stat. Of course, the big city can be particularly isolating for anyone, especially with a dorm mate that's taken cues from Mean Girls. Soon enough, Eloise has found a new place to live in Soho, a mysterious flat run by a kindly older woman (Diana Rigg in her final role). Eloise hopes the history of her new digs will inspire not just the wannabe designer in her but the adult yearning to grow.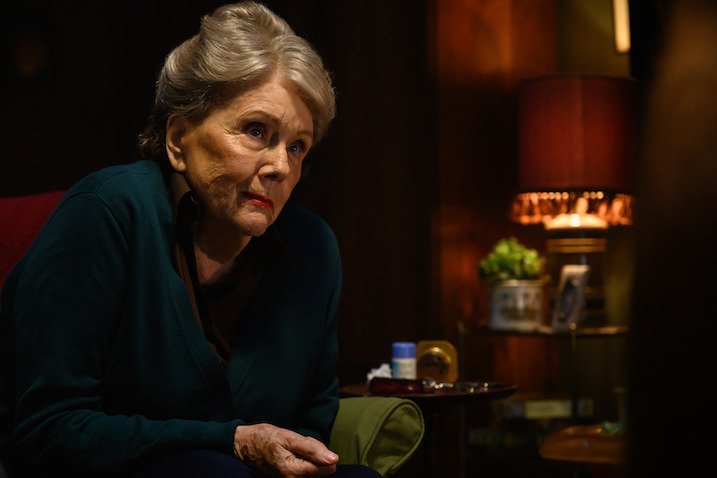 What transpires over the course of the film's 114 minutes is a waking dream that turns into a nightmare. Trouble seems to be at every corner, every pub. Somehow Eloise gets transported to her favorite era, the sixties, through the eyes of Sandie (Taylor-Joy), an aspiring singer. Her run-in with a charming manager (Matt Smith) starts well enough, but violence and death soon take center stage. Meanwhile, Eloise seemed to have picked up a stalker in real life, an older, spooky gentleman (Terence Stamp). Can Eloise and Sandie escape a new nightmare haunted by old ghosts?
From a technical standpoint, Wright and his team have brought their A-game. The way cinematographer Chung-Hoon Chung (It) uses color and shadows to heighten Eloise's isolation and confusion is highly effective. The costumes by Odile Dicks-Mireaux (Brooklyn) are varied and expertly realized. There's a playfulness to Eloise's "handmade" outfits like her newspaper dress in the film's opening dance number that brims with joy and playfulness. By contrast, Sandie's 60s era dresses are always stunning, yet her surroundings are dangerous. Each scene has been thoroughly storyboarded for maximum effect. Like a lot of terrific horror films of this century, it's the marriage of editing, score, and more to confound the viewer as well as entice that makes for an undeniably cinematic experience.
Yet, once the "is this real or just dream" sequences take over in the film's second half, a sense of repetition sets in. Horror as a genre tends to employ such cyclical techniques as a rule, but by the third time McKenzie's big wide eyes went into shock, I was bored. I've been a fan of McKenzie in all her work, especially Leave no Trace, so I'm wondering if it's the script by Wright and Krysty Wilson-Cairns that lets her down. There are only so many times I can see McKenzie whisper and freak out before the horror loses its effect. Joy fares much better in her part, allowing for more range going from eager to terrified to world-weary. The supporting cast all do solid work here, especially Rigg as Eloise's aforementioned landlady. Terence Stamp might be creepy, but darn it all, who wouldn't wanna share a pint with that guy?
Last Night In Soho is disappointing as pure horror but still fun as a well-executed venture. I still want a rewatch in the hopes that I'll admire its ambition more. For now, it's a fan-only recommendation.