February 4th, 2021 by Aaron Neuwirth
For February, the Criterion Collection has decided to honor filmmaker Ramin Bahrani by releasing his first two features on brand-new Blu-rays. In this post, Bahrani's first feature, Man Push Cart, tells a simple story serving as an update of the "Myth of Sisyphus." With that in mind, Bahrani was praised early on for his style fitting into the realm of Italian Neorealism, given the minimalist nature of the filmmaking, combined with a focus on the conditions of a lesser everyday life, utilizing mostly non-professional actors. Now, looking at this film, having seen Bahrani's work since, it remains a fascinating effort from a filmmaker harnessing his talents.
–
Film:
Set in contemporary (2005) Midtown Manhattan, Ahmad (Ahmad Razvi), a Pakistani immigrant, struggles every morning to drag his heavy cart along New York's streets. His daily sales of coffee and bagels lead to an encounter with a wealthy Pakistani businessman (Charles Daniel Sandoval) who may have a way to get him some extra money. Ahmad also meets a Spanish woman (Leticia Dolera) who works in a nearby newspaper stand whom he starts spending more time with. We learn more about Ahmad's backstory over time and eventually realize his plight involving this heavy cart, fair or not, can only really go one direction.
I'm actually quite a fan of Bahrani, despite this being the first time I've seen his two earliest features. From Goodbye Solo onward, hit or miss, I like the specific energy and filmmaking style Bahrani brings to his projects (Fahrenheit 451 is a bust, but The White Tiger is quite good and now on Netflix). Watching Man Push Cart, I can see why critic Roger Ebert was quick to praise the man and look forward to what he would be doing from then on. There's a scrappiness here that, yes, can be compared to early Scorsese.
Effectively placing effort on this one man's actions, including the details of him setting up his cart, let alone the effort it takes to drag it down Lexington Ave. during morning rush hour, means having a proper understanding of how to get across a certain kind of emotion. It's all the more helpful that Bahrani holds back from placing any sort of emphasis on style. Letting the camera watch from afar in many instances, or being in the area without the knowledge of everyone around Ahmad, allows the film to simply present moments as they exist.
Man Push Cart is less about performances or story (though Razvi is quite good) and more about summoning a certain mood of the time and place. Made after 9/11, for an immigrant story, we get brief moments calling out to the xenophobia of the time, though it's not an area the story highlights. Even Ahmad's backstory and what took him to America is only vaguely hinted at (there was a wife, and he has a child he does not get to see regularly). Other films would go for adding dramatic weight to these areas. Bahrani is uninterested. Instead, we watch a story of human endurance, even if climbing over the hill seems impossible.
Video: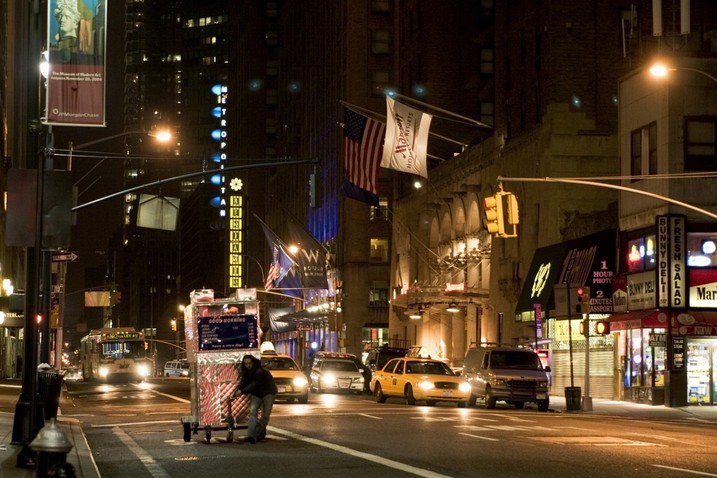 Encoding: MPEG-4 AVC
Resolution: 1080p
Aspect Ratio: 1.78:1
Details: The film was shot on a Sony HDW-F900R CineAlta and completed in a fully digital workflow. This HD digital master was approved by director Ramin Bahrani.
Clarity/Detail: Given the low-budget nature of the production and the use of digital cameras, there's only so much a full remaster can accomplish, and for what's on screen, there's plenty to appreciate about just how great the image is here. There's plenty of clarity in the moment to recognize a strong level of authenticity in any given scene. The amount of detail found in the cart, for example, does plenty to help immerse the viewer.
Depth: The image is never flat. Watching Ahmad pull his cart through the streets is a great way to witness the level of spacing on display.
Black Levels: The black levels are great. Indoor and nighttime scenes play well thanks to how the film handles the different settings, even in these earlier days of digital filmmaking. Plays well with shadow too. No signs of crushing.
Color Reproduction: Given the film's style, the colors come through as strong as necessary and are generally vibrant and natural, like the big city. Areas pop where they need to, even when heading indoors to crowded rooms.
Flesh Tones: The detail level seen in the characters is impressive enough.
Noise/Artifacts: The film looks nice and clean, with the appropriate amount of grain.
Audio:
Audio Format(s): English 5.1 Surround DTS-HD Master Audio
Subtitles: English
Details: The new 5.1 surround mix was created for this release from the dialog, music, and effects stems by Tom Efinger at Red Hook Post in Brooklyn and supervised by Bahrani.
Dynamics: The new audio track does a fantastic job of capturing all that's needed to be heard in this film. This 5.1 track has a great level of clarity, letting all the city's sounds come through loud and clear. The focus is on Ahmad's day, which means hearing cars constantly driving by as he speaks with various people.
Low-Frequency Extension: The city allows for a low rumble now and again from the subwoofer. A couple of parties also allow for some time for the LFE channel to get some use, but this little indie is not exactly a film full of bass-heavy moments.
Surround Sound Presentation: Strong and center-focused, but enough is going on in the sound design to apply the supporting channels when needed. Things like ambient noise come in the right way, while the music manages to wash over the movie as needed.
Dialogue Reproduction: Everyone is heard loud and clear.
Extras:
Man Push Cart comes with a nice collection of extras including a commentary track, and a couple of retrospectives. The new looks back at the film allow for some interesting insight into the production, as well as where things went since, though it would have been nice to learn more about the film's impact on Bahrani's career. That said, good conversations are had. Plus, Bahrani's early short film is well worth watching.
Features Include:
Commentary featuring director Ramin Bahrani, director of photography Michael Simmonds, assistant director Nicholas Elliot, and actor Ahmad Razvi
The Formation of a Filmmaker (HD, 19:22) – A nice conversation between director Ramin Bahrani and critic Hamid Dabashi to discuss early cultural and cinematic influences.
Against All Odds: Making "Man Push Cart" (HD, 24:40) – Bahrani, assistant director Nicholas Elliot, and actor Ahmad Razvi come together to have a discussion about their experiences making the film, which includes the struggles of actually moving the cart, and an FBI encounter reflecting the shakiness of the time.
Backgammon (SD, 11:50) – Ramin Bahrani's 1998 short film focused on a young girl looking to challenge her grandfather to a game. It's a cute story.
Trailer (HD, 1:56)
PLUS – An essay by critic Bilge Ebiri
Summary:
Looking at Man Push Cart through today's lens, it's an example of limited means matching simplicity in storytelling and filmmaking in the most successful of ways. So much can be gleaned by the actions presented, while Bahrani does his best to remain an anonymous observer with his debut feature. The Criterion release supports this effort with a clean presentation, doing well to preserve the look and sound. A nice collection of extras does well to round out this package, with a nice level of retrospection taking place. For independent film fans looking to learn about the American experience from an immigrant perspective, this is an engaging watch.
Order Your Copy Here:

Paid Advertising Link