April 17th, 2019 by Brandon Peters
The good news is your date is here. The bad news is…he's dead. Scream Factory proudly presents 
Night of the Creeps
 in a definitive collector's edition Blu-ray release on June 25, 2019. This release is jam-packed, with both theatrical and director's cut versions of the film and new bonus features including interviews with cast and crew and an episode of Horrors' Hallowed Grounds. When an alien experiment goes awry, it crashes to Earth in 1959 and infects a young college student. Twenty-seven years later, his cryogenically frozen body is thawed out by fraternity pledges … and the campus is quickly overrun by alien creatures whose victims turn into zombies!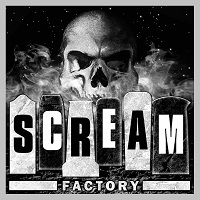 SCREAM FACTORY PRESENTS
NIGHT OF THE CREEPS (COLLECTOR'S EDITION)
ON BLU-RAY June 25, 2019
"A fantastic horror movie … There is so much to love about Night of the Creeps that I have no idea where to begin." – Bloody Disgusting
Director Fred Dekker's thoroughly enjoyable throwback chiller deftly mixes all sorts of genres while simultaneously having fun with them (the college and all the leading characters are named after famous horror movie directors). This cult classic stars Jason Lively (European Vacation and The Dukes of Hazzard Series) and horror film legend Tom Atkins (The Fog, Creepshow, Halloween III, Escape from New York).
Special Features:
DISC ONE:
Theatrical Version
·        Thrill Me!: The Making of NIGHT OF THE CREEPS – a five-part documentary on the making of the film featuring interviews with writer/director Fred Dekker, actors Tom Atkins, Jason Lively, Steve Marshall, Jill Whitlow, producer Charles Gordon, special makeup effects creator David B. Miller, Special Makeup Effects artists Howard Berger and Robert Kurtzman and more
·        Tom Atkins: Man of Action – a look at the actor's career
·        Deleted Scenes
·        Theatrical Trailer
DISC TWO:
Director's Cut
·        Audio Commentary with writer/director Fred Dekker
·        Audio Commentary with actors Tom Atkins, Jason Lively, Steve Marshall and Jill Whitlow
·        NEW Horror's Hallowed Grounds – a look at the film's locations today with host Sean Clark, director Fred Dekker and actor Jason Lively
·        NEW Real Good Plan – an interview with actor Jason Lively
·        NEW The Bradster- an interview with actor Alan Kayser
·        NEW I Vote For That One – an interview with actor Ken Heron
·        NEW Worst Coroner Ever – an interview with actor Vic Polizos
·        NEW Answering the Door – an interview with actress Suzanne Snyder
·        NEW Final Cut – an interview with editor Michael N. Knue