February 21st, 2022 by Aaron Neuwirth
This was an entirely fitting choice. Miller's Crossing is one of the ultimate kinds of Criterion films in many ways. It's a neo-noir, low-budget yet heavy on style and influence, one of the early efforts from the Coen brothers, a cult favorite for audiences, despite receiving plenty of acclaim at the time from critics then and now, and just old enough to feel like a bridge between older and younger cinephiles. I don't know all that goes into the selection process, but I do know that Miller's Crossing is a gem of a picture, and I'm happy to see this feature get the deluxe treatment on Blu-ray.
–
Film:
Attempting to detail the plot of Miller's Crossing could be considered a fool's errand, but one can break it down into the basics. The film begins with Italian mob boss Johnny Caspar (Jon Polito) asking for permission to kill a crooked bookie (John Turturro). Irish mob boss Leo O'Bannon (Albert Finney) refuses to allow it, as he's dating the bookie's sister, Verna Bernbaum (Marcia Gay Harden). Leo's right-hand man, the perpetually drunk Tom Reagan (Gabriel Byrne), is also seeing Verna on the sly. Throughout the film, shifting alliances prove eventful during an escalating gang war over liquor distribution.
One thing to keep in mind – despite being set during Prohibition, Miller's Crossing doesn't exist in any specific city. Sure, the Coens filmed in New Orleans, but the film is set in any midwestern town and concerns itself far more with the dialogue and character motivations than with the specificity of the geography. I say all this to highlight the other thing about this movie – a lot of it just doesn't matter.
This is not referring to the actions taking place, as plenty of that not only matters but is essential to keep up with. The labyrinthine-style plotting will put viewers down a hole as big as The Big Sleep if they don't attempt to keep up with all that's going on. However, outside the vagaries of specific themes that the Coens will never really confirm as being true, the work done to deliver the quintessential noir tale is not the point here.
Miller's Crossing does put a heavy emphasis on style and mood over adding more depth to what's on display. What some detractors tend to think of as a negative, I see as the clear point of the film. Particularly in the Coen Bros's first three features, what they are after is not unlike the early days of Tarantino and other hip indie filmmakers. Blood Simple was a modern noir with aspects of horror and Hitchcock infused within its twisted tale. Raising Arizona is a Looney Tunes experience with an endearing heart. Miller's Crossing is their riff on everything from Dashiell Hammett novels to The Godfather.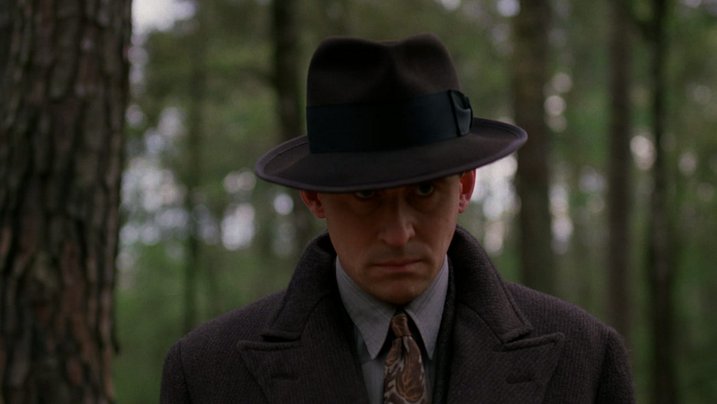 What makes this less worthwhile? Not much in my eyes, not when everything is presented in such an immaculate fashion. The performances are top-notch. Gabriel Byrne may not have become a massive box office star (the film famously flopped by being released around the same time as Goodfellas), but he's a spectacular lead, channeling both a sense of aloofness as well as a dark side that serves the Irish actor quite well. Not to be outdone, the wonderful Albert Finney is fantastic in this movie, commanding every scene he's in and starring in one of the most iconic Coen brothers scenes, where Leo avoids an assassination attempt and deals punishment via his Tommy Gun.
The rest of the cast is just as terrific. John Turturro's slippery performance is full of big emotion and menace. Marcia Gay Harden finds plenty of layers as the gun moll. Jon Polito is wonderfully memorable as a gangster who seemingly just learned the word "ethics" and decided to use it as many times as he can. And then there's J.E. Freeman as the Dane, a heavy with enough attitude to keep a smirk on your face while he kills all who get in his path.
Shot by Barry Sonnenfeld, there's no questioning the look of this feature. While it's not as though all of the Coen's films are not as ornately shot, Miller's Crossing defined look is so fantastic, relying on both a town that never upgraded out of the 20s and the neighboring woods that provide for plenty of memorable scenes. Rarely have you seen a fedora sail so smoothly through a forest and feel like a pair of filmmakers getting their D.P. to really deliver on the impact of something so meaningless in the scheme of things.
Then there's the writing. Without opting to make it any easier for the viewers, all of the characters attach themselves to the deliberately stylish vernacular of the times and make it seem second nature. Again, keeping up with the plot is quite the challenge in and of itself for first-time viewers, but certainly a rewarding experience for anyone who has stuck with it, let alone realized that revisiting films can always be rewarding (you wouldn't look at a painting just once).
There's never enough to say about Miller's Crossing. At one time, the film may have been overshadowed by many as something of an outlier for the Coens (the more acclaimed Barton Fink would come out a year later, and then Fargo would become an awards favorite). Nowadays, it's not surprising to see this film ranked in the top five, if not higher for many. Given the consistent brilliance of Coens, it's less about how it ranks against the rest and more about just looking at the film for what it is – a modern classic.
[Note: While not noted anywhere in this package, this version of Miller's Crossing runs 113 minutes, two minutes shorter than the theatrical version. Evidently, the Coens decided to tighten up the films in a few areas (some more noticeable than others), creating what is technically a new director's cut of the film.]
Video:
Encoding: MPEG -4 AVC
Resolution: 1080p
Aspect Ratio: 1.85:1
Details:  This digital transfer was created in 2K resolution from the 35mm original camera negative.
Clarity/Detail: While not remastered in 4K, it's not hard to see the quality video presentation that's here. This is the kind of movie where the cinematography does go a long way to make up for the lower-budget nature of the film. As a result, Sonnenfeld's approval of this transfer means Miller's Crossing looks as good as it can until a true 4K remaster happens. The costumes, in particular, have plenty of detail to dig into and are most noticeable when placing these characters in the forest settings.
Depth: The staging of this film makes for a good understanding of character placement, with no sense of flatness in watching these people move around the various environments.
Black Levels: The noir-ish feel of the film allows for plenty of darker scenes taking place at night, outdoors, and they look great. Shadow work and more are all handled well for this disc. Minor signs of light crushing in very few instances, but nothing detrimental.
Color Reproduction: There are some key areas where colors can pop. While not a wide range to focus on, enough is going on for these moments to come through well.
Flesh Tones: The detail level seen in the actual characters is impressive, given the many close-ups on the faces of people like Polito in some crucial moments.
Noise/Artifacts: The film looks nice and clean, with no issues in sight.
Audio:
Audio Format(s): English DTS-HD Master Audio 5.1
Subtitles: English SDH
Details: The new 5.1 surround mix was created by supervising sound editor and recording mixer Skip Lievsay and composer Carter Burwell in 2021 at Warner Bros. Sound, New York.
Dynamics: This is a fantastic lossless track that really emphasizes Burwell's brilliant score, along with the balance of so many fast-talking characters emersed in this mobster environment.
Low-Frequency Extension: There are a few areas where the subwoofer gets a chance to shine, thanks to some of the action and score-heavy moments.
Surround Sound Presentation: There are many great ways to feel impressed by how sound functions in this film. The Coens have a knack for using their spaces well (for comedic or thrilling effect), and those moments shine here when hearing the various channels work the way they need to in order to build the mood.
Dialogue Reproduction: Everyone is heard loud and clear.
Extras:
Several new interviews were conducted for this release, and short of Finney and Freeman, who have passed away, and Harden, anyone interested gets to hear from all of the most important cast members and filmmakers involved in the making of Miller's Crossing.
Hard-Boiled: The Coen Brothers and Megan Abbott (HD, 29:00) – Joel and Ethan Coen sit with author Megan Abbott to discuss the film, film noir, and more about the film's legacy.
The Actors (HD, 32:00) – Gabriel Byrne and John Turturro sit with Abbott to go over their memories of the production, Finney, the Coens, the unique nature of the film, and more.
The Music (HD, 17:00) – Composer Carter Burwell and music editor Todd Kasow discuss the film's music, the way the Coens work, and more about the film.
The Look (HD, 16:00) – Director of Photography Barry Sonnenfeld discusses his relationship with the Coens, how his career has evolved, and a lot about Miller's Crossing, which is his favorite film he was able to shoot.
The Design (HD, 10:00) – Production designer Dennis Gassner discusses working on the film, what the Coens were like, the locations, and more.
From the Archives (SD, 14:00) – Archival interviews feature the cast, originally recorded during the promotion stage of the film.
PLUS – An essay by film critic Glenn Kenny
Summary:
Miller's Crossing ranks high on my list of Coen features, and that hasn't changed. It's a wonderfully twisty noir, with excellent performances and a great sense of style to capture this period. Criterion delivers on its technical presentation, even if the video transfer is not a fancy new 4K restoration. The excellent collection of interviews is a wonderful touch as well, providing a nice level of extra insight. Any fan of neo-noir or the Coens would be doing themselves a great service to pick up this release.
Order Your Copy Here:

Paid Sponsored Link