January 3rd, 2023 by Adam Toroni-Byrne
25 years ago, I had a great year with films. All mainstream, yet somehow so wonderful, different, and fun, I was lucky enough to see quite a few that left an indelible mark on my love of movies. One such movie, My Best Friend's Wedding came to me as an eye-rolling consequence of having an older sister. At the time, I was denying my own coming out, at age 12, and trying to be decidedly macho in my movie choices. The reasoning behind that is all but lost to me now, as I revisit My Best Friend's Wedding for what seems like the umpteenth time, with this new 4K UHD Blu-ray edition, which was released very quietly, and hard to acquire, in mid-December.  Read more on this classic comedy and if you didn't know this was available in 4K, it is and can be yours by clicking the paid link at the end of this review!
Film 
Julianne Potter (Roberts) is an outgoing restaurant critic, single, and nearing her 28th birthday. After a talk with her gay bestie George (Everett) about her best, best friend Michael (Mulroney), who left an ambiguous voicemail, has decided that she wants to pursue a pact she made with Michael years before – "If we haven't married by 28, we should just marry one another…". At the time, this seemed like a joke, but inching closer to 28, it seems very appealing, and time isn't slowing down any.  When Julianne finally does speak to Michael, of course, he is on the verge of a very quickly constructed wedding to Kimmy Wallace (Diaz), a bright-eyed, sheltered 20-year-old. Hearing the news literally has Julianne falling out on the floor, and before she knows it, Michael is begging her to fly from New York to Chicago to be with him on his special day.
With all that chaos happening within minutes, Juliette has "4 days to break up a wedding, steal the bride's fella" and has no clue how to do so.  She feels imminently that she is in love and has to figure out how to steal the man of her dreams before he becomes Kimmy's reality.  This is all of course before she meets Kimmy, who besides being delightfully dimwitted, is as sweet as can be, fun and funny and somehow, perfect for Michael. Upon meeting Juliette, Kim has branded her her "sister" and asks Julianne to be her maid of honor. The mishaps that ensue were, in 1997, so inventive, shady, engaging and fresh.  Watching the film now, the tropes have been used countless times since, and somehow, not nearly as good.
A lot of that credit has to be given to Ronald Bass, whose work is varied, and a lot of it, uncredited anyway, given some tooling from a controversial group of women Bass called "The Ronettes", have him speaking to women in his scripts.  You may recognize his work from Rain Man, When A Man Loves A Woman, The Joy Luck Club, Waiting To Exhale, Stepmom, What Dreams May Come, How Stella Got Her Groove Back, andEntrapment just to name a few of his 90's hits and misses… and though he may have filtered his stories through an uncredited group of women, the one thing in all of the movies mentioned here and even further, show his singular style.  His characters are typically fully realized, engaging and people you want to root for, even if the film isn't always the greatest (i.e., Dangerous Minds).
This is an instance where Bass was on fire though. Besides the 4 leads, the gallery of supporting roles and their players inhabit each other beautifully.  Little asides here and there provide sharp comedy from those that aren't the focus, and you find yourself falling for the whole cast as you get deeper into the film.  PJ Hogan, who had made Muriel's Wedding before this, adds that film's quirk to the direction, giving us a different take on the Rom-com.  There is a lot to take in in each scene. Whether it's a scene of Julianne scheming, or of Michael and Julianne showing undeniable feelings of attraction to one another. Further, there is an unforgettable scene with the wonderful Paul Giamatti in a cameo that seems destined just for him.  Performances are all excellent with Julia Roberts delivering some of her best work with the chain-smoking, ulterior-motive-having Julianne, or Dermot Mulroney being a dreamboat just by smiling.  Cameron Diaz plays Kimmy as a ditz, but you know she is fully engaged here as well.  Of course, Rupert Everett is fabulous as the GBF, even if now, he plays a little cliché, he is still a highlight throughout the film, hamming it up in an extended scene playing Julianne's beard. Also, be on the lookout for Harry Shearer (of the Simpsons…) in a tiny cameo as well.
I hadn't watched My Best Friend's Wedding in quite a while leading up to this new release and seeing it now hasn't changed my fondness for the movie.  It's still hilarious, still one that keeps you going until the very end, and is supported by gorgeous cinematography, fantastic character embodiments and even better screenwriting.  This is a film that couldn't be denied then (the $300 million dollar haul it made way back when is an obvious thing to refer to here…) and is still undeniable now, although now it would have to be played even smarter or shadier.
Video
Encoding: HEVC / H.265
Resolution: 4K (2160p)
Aspect Ratio: 2.39:1
Layers: BD-100
Clarity/Detail: My Best Friend's Wedding has always looked pretty good at home.  This 4K release is no different.  There is a lovely filmic look here, with light complimentary grain, and a gorgeous new colorful sheen that makes the film look impressive throughout.  Interiors are lovely, and the Chicago setting makes for eye candy in UHD!
Depth: The film looks its best when the image opens up in wide shots.  Things look excellent in restaurants, bars, churches and train stations, but also outdoors on Kimmy's vast family estate.  Whether in or out of focus, things don't look out of place and really sing here.
Black Levels: Nice natural blacks are showcased here, dark and perfect, with no crush..
Color Reproduction: Opening with a sickeningly pink set and a charming musical number, the film settles into more natural colors as the film goes on.  Natural woods, and primary colors look lovely, with greens being a standout as well as purples and blues.
Flesh Tones: Skin tones are beautifully rendered throughout, with nobody looking anything more than natural.
Noise/Artifacts: Clean.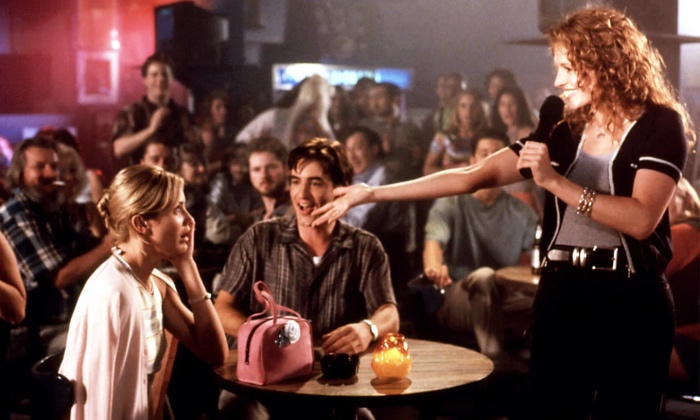 Audio
Audio Format(s): English Dolby Atmos, English, French and Spanish DTS HD-MA 5.1
Subtitles: English SDH, Spanish, French
Dynamics:  My Best Friend's Wedding surprisingly gets itself a Dolby Atmos mix! The film hasn't sounded better of course, with a subtle Atmos upgrade.  The room fills with crowd noise, restaurant sounds, and the sounds of Chicago!
Height: Off screen chatter, music, and ambience are all winning in the height channels, complimenting the lower channels in ways that were unexpected for me, in the best of ways of course.
Low Frequency Extension: Bass is a subtle player in this mix, relegating itself to the music on the soundtrack.  Either James Newton Howard's score, or to source cues, many of which are Brill Building Pop or Burt Bacharach/Hal David tunes, some redone, and others, originals. Everything sounds nice in this department, but nothing too overpowering.
Surround Sound Presentation: The surround activity is much like the height, with sounds going around you nearer to your ears as others are moving up to the top!
Dialogue Reproduction: Dialogue is never missed!

Extras
Extras for My Best Friend's Wedding are all port overs, save for newly unearthed deleted scenes and a movie ruining alternate ending. Deleted scenes and the alt. ending total about 19 minutes and are all unfinished, but presented in HD.
Legacy Features are:
On The Set: My Best Friend's Wedding
My Best Friend's Wedding Album
Wedding Do's and Don'ts
Unveiled: My Best Friend's Wedding
"I Say A Little Prayer" Sing-Along
Theatrical Trailer
No standard Blu-ray is included, and all features are on the 4K disc itself.  A digital code is included.
Summary 
As I said earlier, 1997 was a good movie year for me.  Dante's Peak, Titanic, Soul Food, Jackie Brown, The Game, Good Will Hunting, Face/Off, Men In Black, The Rainmaker, As Good As It Gets, Midnight in the Garden of Good and Evil, Event Horizon, The Saint and of course, My Best Friend's Wedding. I recall all of these being rented or purchased by my family in this time.  We rented this one first, and my sister used money from a babysitting job to buy the VHS shortly after.  We watched it to death, and even with me lazily trying to deny myself the enjoyment of this movie, I was hooked.  The film still works so well.  The powers that be that put it together should be commended for beginning a new era for the romantic comedy and making a very sturdy film that is fun to revisit each time, making you laugh, smile, and fall in love over and over again.  This new, gorgeous 4K edition is not to be missed and is for now the definitive way to enjoy the film!