October 30th, 2022 by Gregg Senko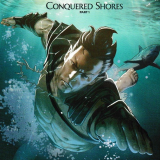 Namor: Conquered Shores recently mades its debut in comic book stores and has been receiving solid reviews across the board. Written by Christopher Cantwell, the writer/director takes us 100 years into the future when much of the earth's surface is a scalded wasteland while Atlantis prospers below the waves. Cantwell is joined by artist Pasqual Ferry who offers page after page of descriptive visuals in what will be a five-issue mini-series.
When Namor pays a trip to the surface, he meets with an elderly, but still fit Luke Cage.  With Captain America mediating the get-together, what could possibly go wrong?  Let's just say Cage is not happy with the state of the surface world and he lets Namor know about it.  Chaos erupts and the issue's closure will have you clamoring for more.
One review has billed the mini-series as Namor's answer to Old Man Logan, and I have to say, that's not a bad comparison at all.  While Conquered Seas may not top the artistry of Wolverine in his gray-haired years, it shows a great deal of promise in this first issue.  And that's coming from someone who's always preferred an Aquaman read over Marvel's sea-farer.
Issue #2 will go on sale November 16th.