February 11th, 2022 by Peter Paras
Just in time for our second pandemic Valentine's Day, Universal Pictures is releasing a love letter for fans of Jenifer Lopez and, to a lesser degree, Owen Wilson. Marry Me, a high concept "will they won't they" rom-com, debuts in theaters as well as exclusively on Peacock during this time of romance. Over twenty years ago, the same studio delivered a massive hit with Julia Roberts playing a movie star who smiled like Julia Roberts and fell in love with an affable Hugh Grant playing an "ordinary" version of the English charmer in Notting Hill. Will a 2022 offering with J. Lo starring as a pop star who marries a down-to-earth stranger played by Wilson have audiences saying 'I do'? I'd bet for most, the answer is probably more a "maybe," but for diehard fans of Hustlers' leading lady, this lightweight rom-com is an easy "yes!"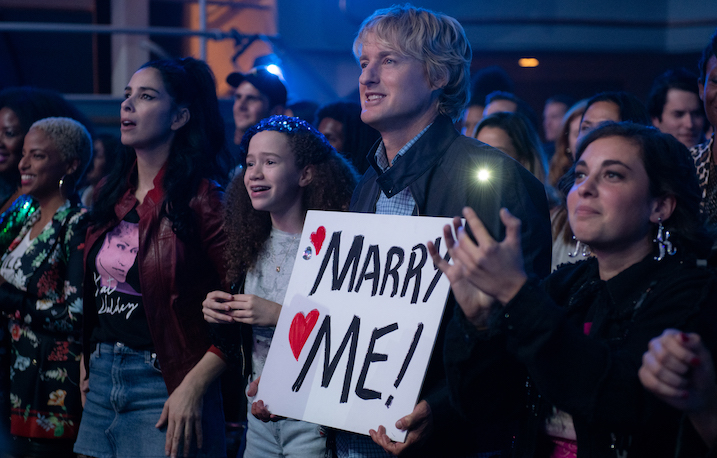 Based on Bobby Crosby's graphic of the same name, the premise is the right degree of silly for a studio rom-com. Moments before Kat Valdez (Lopez) is ready to take the stage to marry her megastar fiancé Bastion (international pop singer Maluma) to an eager sold-out stadium, news breaks that her groom-to-be has been locking lips with Kat's personal assistant. Yikes! Onstage wearing a shiny, glittery gown, Kat sees a rando in the audience holding a "Marry Me" sign. It's the name of her hit single, but she locks in on him and says yes. Soon a whirlwind media frenzy blows up the socials. Turns out the sign guy, Charlie Gilbert (Wilson), was only there because his preteen daughter Lou (Chloe Coleman) was a fan. Now hilarity and romance ideally ensue for the next two hours.
The script is, frustratingly, pretty generic, considering the outlandish premise. We never really get to know the life of a pop star as we did in Natalie Portman's odd stunner Vox Lux, for example. Likewise, the normal dad and his lovable but insecure daughter never feel entirely real either. And yet, in the same way that I rarely care how genuine a typical slasher movie is, I afford most rom-coms an acceptable degree of goofy shenanigans. Do I honestly believe Gilbert can afford his home with a public school teacher's salary? Not even a little bit (Speaking of, ABC's Abbot Elementary, a kind of The Office for public schools, is funnier and more relevant, but I digress.) Likewise, does everyone in Valdez's crew save for her non-kissy-face assistant Collin (John Bradley) have to be so lecherous?
None of this matters as long as I want to spend a couple of harmless hours with Lopez and Wilson. And honestly, I do (There's that phrase again). These two fifty-something vets have undeniable chemistry. They can elevate paper-thin material with side glances, the occasional laugh, or just by dancing. Lopez can pull off the big stage stuff as well as a loosely choreographed dance routine with kids. Likewise, Wilson is likable enough to make his character's frankly insufferable "just be yourself and unplug" nonsense the right amount of tolerable. I want to like these two even if the script by Harper Dill and John Rogers can't concoct a single scene that's any less forgettable than a 2000-era auto-tuned track. To be fair, I did quite like the title song and the last act single, "On My Way."
On the production side of Marry Me, the direction by Kat Corio mostly gets out the way of the A-listers. She directed Peacock's Girls5ever pilot and is helming She-Hulk for Disney+. I can't quite tell exactly what she'll bring to Marvel's upcoming series, but I would guess the banter between Tatiana Maslany and Mark Ruffalo's green meanies will deliver the expected level of quippy. The photography by Florian Balhaus (Allegiant) is often too video-like. Maybe Corio and Bauhaus were going for the "shot on iPhone" aesthetic of TikTok, but it's more distracting than authentic.
Marry Me is an entirely serviceable romantic comedy diversion for the V-Day season. This is the kind of matinee I would have enjoyed in the 90s. Decades before Lady Gaga proved a strong screen presence beyond her pop persona, Jennifer Lopez lit up the screen, no matter how trifling the material. She's still out of sight.