June 15th, 2020 by Gerard Iribe
In One Cut of the Dead, while shooting a low-budget zombie film in an abandoned warehouse, the crew find themselves caught between actual zombies and a mad director who won't stop rolling. If you think you know what happens next, think again. Filmmaker Shinchiro Ueda turns teh film on its head more than once for one of the wildest, funniest, and most surprising zombie movies of all time.
Film
A fervent director and crew work like mad to finish the making of their latest zombie horror film. There are countless takes, flubs, malfunctions, you name it, but the show must go on. The abandoned warehouse this ambitious project is being filmed in makes for a great post-apocalyptic setting, as well.
As the actors work feverishly with their tenacious and dramatic Director Higurashi (Takayuki Hamatsu), they often cannot help themselves but screw up lines or scenes altogether. This is a low-budget production but the cast and crew have to do whatever it takes in order to succeed. This means that they will also have combat the zombie outbreak happening just as they continue filming.
*I don't know how I should preface the rest of this portion of the review, because it may contain spoilers. If you wish to skip it then by all means, technical specifications are down below.
One Cut of the Dead is basically a film about the making of a film, wrapped up in a feature. Does that make sense? It is not your traditional film, with a typical narrative. The gist of it is that "real" zombies begin to appear while the cast and crew are filming their zombie film. Some of the actors and crew members have to also improvise while interacting with these creatures, because the director thinks that their best acting comes through in terror.
As I watched One Cut of the Dead, it felt like I was a kid in a candy store. It was literally film school 101, because all of the techniques used to make the film are literally right in front of your eyes. From gags, set pieces, equipment, etc., it's all there and it's part of the film that is also a "making of" film. Again, if that makes sense.
I had a blast watching the film and taking mental notes on how it was made. The other gimmick used was that it also looks take place in real time, but that's just the excellent 38-minute "single shot" that opens the film. The latter part is basically a flashback that brings us back to the events of the first part. In any event, One of the Cut is one of the best "zombie" flicks ever made.
Video
Encoding: MPEG-4 AVC
Resolution: 1080p
Aspect Ratio: 1.78:1
Clarity/Detail: The film was made to look like a low budget production, so take that with a grain of salt. The Blu-ray looks great in terms of aesthetics, as that was what the filmmaker was going. Contrast and sharpness levels look fine. There's occasional judder due to how it's supposed to have a "found footage" feel – it has nothing to do with the transfer itself.
Depth: The first part of film in "zombie mode" does have a flat look to it, but once the second part of the film starts up, the image takes on a more three-dimensional look.
Black Levels: There a very few nighttime and darkly lit interiors/exteriors and those take place in the second half of the film. These scenes looked nice and natural, without any instances of crush.
Color Reproduction:  The color palette was fine. Red being the dominant color really brought out the terror and gore within the zombie carnage. Banding and pixilation were not a problem.
Flesh Tones: Flesh tones looked nice and natural except for the undead. They looked a little…pasty.
Noise/Artifacts: I would say that the first part of the film had some noise and artifacts of the artificial kind since it was going for a low budget feel. The source material was clean.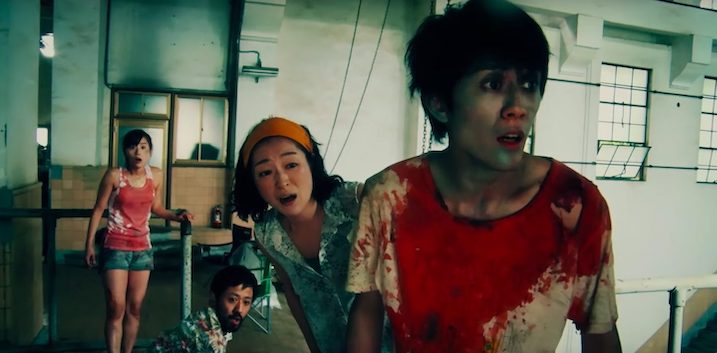 Audio
Audio Format(s): Japanese DTS-HD MA 2.0, English DTS-HD MA 2.0
Subtitles: English, French Spanish
Dynamics: One Cut of the Dead is presented in a Japanese 2.0 lossless DTS, which is sort of peculiar since we don't have active surround or even a low-end channel. With that said, the soundtrack is no pushover and gets going when it needs to. Onscreen action can be all over the place depending on the scene, but the primary left and right channels handle it all without any problems. There is an English dub included but I prefer the Japanese language version.
Low-Frequency Extension: N/A
Surround Sound Presentation:  N/A
Dialogue Reproduction: Dialogue levels were fine. Everyone could be heard clearly, without instances of clipping, or distortion.
Extras 
The extras sort of skimp on quantity, but in terms of quality, I think they do alright. What puts it over the top is the "Go Pro" version of the film, which is basically an over-the-shoulder b-roll of the shooting of the zombie film. It's the first 38-minutes of the film but shot from behind the scenes. There are outtakes, a photo gallery, and a funny instructional video from one of the film's running gags.
Outtakes
POM! Instructional Video
Go-Pro Version of the film
Photo Gallery
Summary 
One Cut of the Dead is one of the coolest and best zombie genre films to come out in recent history. It's a shame that it was released 3-years ago and is only finding fame here now. Better late than never, I suppose. The video and audio quality are above average. The special features are also okay. One Cut of the Dead is highly recommended!
The images used above within the review are not actual Blu-ray screenshots. They are for illustrative purposes only.
now on Blu-ray & DVD!