November 30th, 2020 by Adam Toroni-Byrne
Perry Mason arrived with quite a buzz to HBO Max at launch. Each week, my writing colleagues would be abuzz about the next episode, keeping things exciting and still spoiler free. Me being the physical media purist I strive to be, I waited until this awesome new Blu-ray set arrived to check the series out. Does it hold up to the buzz and the reaction? Is it a victim of the retread blues? Check out my thoughts below and be sure to click the paid link at the end to order your copy!

Season
Perry Mason is a down on his luck P.I. working for chump change in 1930's Los Angeles. When we meet Mason (Matthew Rhys) he is hot on the trail of a famous comedy actor. While Mason trails him, he feels hopeless on finding the hard evidence he's been tasked to find.  Mason works with Pete Strickland (Shea Wigham) on many cases.  Mason is also an investigative partner to E.B. Jonathan (John Lithgow) who has been trying to improve his business since the crash of 1929.  Jonathan employs Ms. Street (Juliet Rylance) whom is devoted but also overworked by the elderly E.B.  These are the main characters of the show and they on their own are interesting, wonderfully fleshed out characters.
The show's arc is a storyline set in the past that downright shocked me in real life.  Mason and Jonathan work together to solve a horrendous murder.  Emily and Matthew Dodson (Nate Coddry and Gayle Rankin) are the victims of a kidnapping that ends up also being the murder of their infant son.  The story becomes the stuff of headline news as the entire city seems to be on the case, trying to solve the senseless murder.  There is even a tour of the elevator car the poor baby was found in.  Mason scrambles to find clues and connect confessions in a great police procedural way.
Also involved is a (at least to me…) creepy Evangelical church. Based in LA, The Radiant Assembly of God broadcasts over the radio and the fiery preacher, Sister Alice McKeegan (Tatiana Maslany) presides over her congregation with passion, fury, theatrics and a devotion that has followers treating her with cult-like admiration.  They want the Dodsons to find peace and pay Jonathan for his work.  When things go a little south, the church's and Sister Alice's motivations turn sinister and the mystery grows deeper. Adding to the sleuthing is Paul Drake (Chris Chalk) whom witnesses some things that could help Mason solve the crime and bring the right people to justice.
I will stop with my series explanation here so as not to spoil the best of the show.  There is a feeling upon the first episode that shows the series is a special one.  There is so much to take in.  The pacing is sometime up and down but it works for the ebb and flow of each episode.  This Is the kind of show that plays out like a movie each segment.  There are no plot holes that don't come together and each performance no matter how small or large is filled with a wonderful actor giving a great performance.  Each scene pairing has a fantastic chemistry and scenes meant to be tense do keep you on the edge of your seat.
I will be honest and say that the subject matter did make me a little upset at the beginning just because in my professional life I'm a preschool teacher, but all that aside, this first season has left me craving more, and looking forward to each episode following as I finished the one before.  I am officially now a fan of Matthew Rhys for his quiet way with the character of Perry Mason while Lithgow, Chalk, Rylance and Maslany do so much in their roles that they become them, rather than just being great actors you know from other projects.
Video 
Encoding: MPEG-4 AVC
Resolution: 1080p
Aspect Ratio: 2.00:1
Layers: BD-50
Clarity/Detail: Perry Mason made it's debut on HBOMax this year. Though the subject matter and setting are vintage, this is one gorgeously detailed HD filmed series. Detail is evident from scene to scene in abundance with no softness in any frame.  Interiors and exteriors look fantastic and even clothing, hair and facial features stand out in the format, giving space to each frame to give off so much for the eyes to feast on.
Depth: The transfer is no slouch in the depth department either. Set pieces are densely populated with beautiful imagery that pops off the screen.
Black Levels: Blacks look incredible here. Dark but with zero crush.
Color Reproduction: A lot of the series has a bluish hue, but the color palette is also surprisingly warm. Night scenes look elegant and cool and scenes in the daytime are often sun-kissed and quite bright. The overall look is that of a 30's vintage and that means colors look stunning and rich no matter what side of the tone scale they sit on.
Flesh Tones: Flesh tones look great all around. Natural, even and very consistent.
Noise/Artifacts: Clean
Audio 
Audio Format(s): English DTS-HD MA 5.1, French Dolby Digital 5.1
Subtitles: English, English SDH, French, Spanish, Portuguese, Danish, Dutch, Finnish
Dynamics: Perry Mason is on the case with an excellent sounding 5.1 DTS-HD MA mix. The show is primarily a dialogue driven drama but some of the set pieces call for crowds and audiences. The church scenes provide huge swathes of surround activity and other scenes make good use of the subwoofer and left/right channels. Nothing is left to the imagination with this mix and it's perfect for the show it accompanies.
Height: N/A
Low Frequency Extension: LFE for Perry Mason is subdued for the most part. Trolleys, cars, gun shots and other apparent sounds make their way to the sub, but they're not the main draws of the soundtrack. All the same when that bass hits, it's deep and pleasing to the ear.
Surround Sound Presentation: Especially apparent in scenes involving the evangelist church and also in scenes involving offices, trains, car pursuits and shootouts, the surrounds are given lots of work to do. Each use of the surround channels envelopes the audience into the scenes, further drawing us into the show with every episode.
Dialogue Reproduction: Dialogue is perfectly intelligible and comes out of the center speaker beautifully clear.
Extras 
Perry Mason ships with a cozy slipcase, two discs with 9 episodes and a digital code. On each disc there are a few features as well!
DISC 1:
The Characters of Perry Mason (HD, 2:28) – An all too brief walk through of the characters
Under the Fedora (HD, 4:41) – Another short about the rebooted version of the Mason character.
DISC 2:
Robert Downey Jr. & Matthew Rhys: Conversation (HD, 4:43) Another glaringly brief feature with executive producer and star. Looks to be socially distanced…
Susan Downey and Robert Downey Jr. (HD, 4:19) – A short about the production team/couple.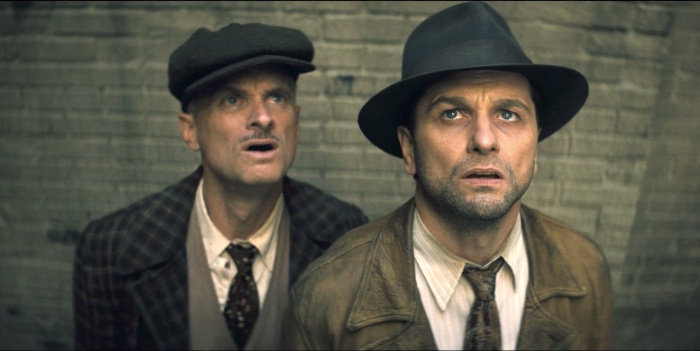 Summary
In the end, Perry Mason has made it's way to the 21st century with a new 1930's makeover breathing new life into a fresh reboot.  I have been blown away by this show and can't wait to see where the series goes in the future too. This Blu-ray edition knocks the content out of the park with a gorgeous transfer and excellent audio too! The features and the overall package make for a "must-own" collection if you too were fans of the series or new to it like I was. Well worth a pick-up!