January 4th, 2021 by Peter Paras
Sooooo, 2020 amirite? I've never been happier for a year to end. Of course, with the pandemic still ongoing and awaiting a vaccine to reach millions, this was the first time I haven't seen 70-100 movies in theaters since…. I dunno, the 90s? I have loved reviewing theatrical releases for this site and hope to do so again before 2021 ends. Were there great films in 2020? Of course. Did I miss a ton of them? I did. This past year, in lockdown, I spent more time with games than cinema. So by December, I found myself perusing other best-of lists to see what I missed. So, while the following shows that there was a lot to love creatively, I really miss seeing these films on the big screen. I did see a few like Birds of Prey and Emma. pre-lockdown, in actual theaters, but the art of the movies overall was appreciated via VOD and streaming services this time around.
As for the content itself, I was delighted that so many films were bold and daring. Films about gender, socioeconomic disparity, and race filled my 4K set at night. There were also many fun, expertly crafted thrills to be had too. The films of 2020 offered different perspectives, amazing vistas, and more — and all from the comfort of our own homes.
10.  I Used to Go Here
There isn't anything Gillian Jacobs can't do from this reviewer's POV (She's even good in that forgettable '09 thriller The Box). From playing one of the earliest impressions of a social justice warrior on Community to addict Mickey on Love, Jacobs makes smart choices that effectively keep her characters charming (sometimes even in spite of themselves.) Kate (Jacobs) is a thirty-something author whose debut novel is not doing great, and thus, her book tour has been scrapped. When given a chance to return to her old university stomping grounds to give a reading, who is she to refuse? Her former professor (Jemaine Clement) even wants her to leave Chicago behind and move back to Carbondale, IL, to teach. For me, Jacobs has been one of the most interesting performers of her generation. Here she seems to have found a way to imbue Kate with a slacker vibe that rings true to the character even if technically she's a millennial, not Gen X. As an Xer myself, I found my time with Kate and the young Gen Z coeds she hangs out with to be a spiritual successor to films like Sleep with Me and Kicking and Screaming. In the end, it turned out Millennials did not have all the answers (Phew!!). With that, aimless protagonists are back!  (Available on HBO Max.)
9. The Vast of Night
The place: Cayuga, a fictional town in New Mexico. The time: the very real 1950s of Anytown, U.S.A., in the wee hours of the night. Two teens find themselves captivated by something far more strange and possibly sinister than the local high school basketball game. Fay (Sierra McCormick) and Everett (Jake Horowitz) are a chatty pair for whom being a switchboard operator and a radio DJ comes naturally. But all their high-minded analysis comes crashing down in the wake of something unnatural, "up there," in the dark skies. This debut film by Andrew Patterson skillfully uses cold war sci-fi paranoia that made Rod Serling's The Twilight Zone the pioneer of modern anthologies. In fact, given that Twilight Zone was made in the 60s, the microbudget of The Vast of Night in 2020 somehow makes it feel like the true heir to that show more than the high budget, tech-infused Black Mirror, let alone the Jordan Peele-produced reboot. The Vast of Night is at its best when merely suggesting something rather than actually showing. I can't wait to see what Patterson does next. (Available on Amazon Prime.)
8.  Dick Johnson is Dead
Documentarian Kirsten Johnson's experimental feature on how a family deals with the loss of a loved one affected by Alzheimer's is expectedly sad but also warm, charming, and funny. Johnson's own father is her subject. Throughout, Dick is seen repeatedly dying via staged "accidental deaths," such as an AC window unit that falls on him. This might sound macabre, but it isn't. By way of bright colors and a wonderful level of theatricality, Johnson makes the case that losing a parent will always be utterly absurd. (Available on Netflix.)
7. The Assistant
Director Kitty Green takes a great structural conceit (a powerful male figure who is never seen) from Zhang Yimou's biting critique on gender from Raise the Red Lantern (1992) and tosses it into the drab but no less tense setting of a New York film studio office. Clearly, Harvey Weinstein is whom this threatening specter is based on. Julia Garner (Ozark) is the new assistant in a room full of men who never make sexual advances, but an air of "that's just what he does" is always palpable. Beyond the timely politics, this is a biting and brutal look at complicity in the workplace. (Available on Hulu.)
6.  Minari
A Korean family travels from California to Arkansas in the hopes of finding a better life in Reagan's America circa the 80s. Stephen Yuen stars as a father who aims to build a viable farm on a small plot of land. Like Asghar Farhadi's Iranian breakout A Separation, writer/director Lee Isaac Chung's drama is at once culturally specific and universally relatable. The youngest member of the family, David, played by seven-year-old Alan S. Kim, is the film's breakout. And Youn Yuh-jung is the best non-grandma grandma ever. (Opening nationwide Feb 2021.)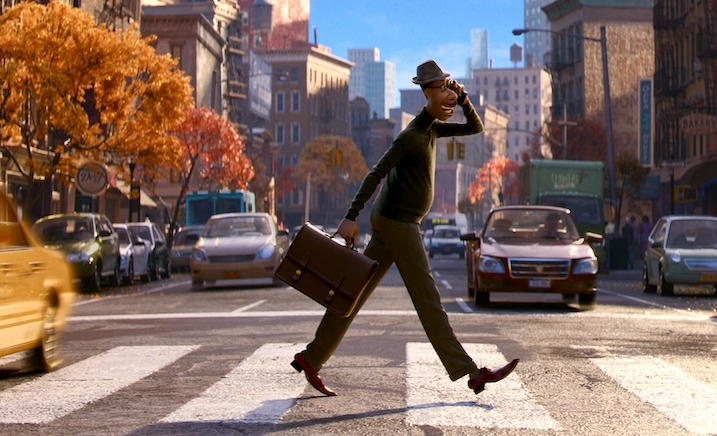 5.  Soul
Pixar's take on It's A Wonderful Life ditches Capra's laser focus on capitalism and takes aim at the struggle between being an artist and living a more pragmatic life. If you've ever seen a Pixar film, you probably already know where director Pete Docter (Inside Out) will side on this debate. Or maybe not. Jamie Foxx plays a would-be Jazz musician who has a chance at a big musical break the same day the school he's working as a music teacher at finally offers him a staff gig complete with benefits. As Pixar's first film with a black lead character, Soul is, thankfully, a nuanced story about growing up as a person of color and what that can mean in relation to family and career. Tina Fey is Foxx's sorta co-lead as a soul not interested in getting a body despite urging from 2D dimensional authority figures that recall Don Hertzfelt's Beautiful Day trilogy in the best way possible. Pixar once again raises the bar in terms of texture, design, and execution. This probably doesn't need to be said but bring tissues as this is arguably the best-animated film since Coco. (Available on Disney Plus.)
4. First Cow
Kelly Reichardt's frontier era setting is the best comfort food watch of the year. And not just because the oily cakes made with assistance from the titular cow look so darn tasty! This grounded, sweet story of two friends had me smiling, mostly throughout the whole run time. Not to say a film set in the 1820s is a barrel of laughs but co-leads Orion Lee and John Magaro are the opposite of the toxic males we see too often (and too often idolized) in pop culture. On the bigger picture level, Reichardt leaves plenty to chew on in regards to capitalism on both a micro and macro level. Still, those cakes… yum. (Available on VOD.)
3. Possessor
Brandon Cronenberg does his papa proud in the bloodiest body-swap flick I'm pretty sure I've ever seen (though, for what it's worth, Freaky was pretty gory too). Andrea Riseborough (Black Mirror) plays assassin Tasya Vos who, with the help of her handler, Girder (the always dependable Jennifer Jason Leigh), hacks into people's minds to "possess" their bodies. Once the transition is made, she kills her target and puts a bullet to the head of the body she's occupying. Girls alum Christopher Abbot is Colin, a young man with a weird job whose girlfriend's father (Sean Bean) is a new prime target. What follows is not at all predictable, and I can't stop thinking about it. Not at all for the squeamish, but to be fair, I watched the uncut version. (No doubt the R-rated one has less eyeball popping.) Great, imaginative, visceral mayhem is an art, and Possessor never lets go of that mantra.  (Available on VOD.)
2. Palm Springs
Adam Samberg and Cristin Milioti are a couple of meet-cutes at a destination wedding who keep meeting over and over yet remain impossibly engaging in RomCom Groundhog Day. We've seen this formula done a lot lately: as a series (Russian Doll), smart sci-fi (Edge of Tomorrow), and a helluva fun slasher (Happy Death Day), so why not a romantic comedy? Much has been made about how director Max Marbakow's tale is the year's most relatable film, as Samberg and Miloti's characters suffer the boredom of living the same day over and over, just as most of us did the same while quarantined. That alone would make this short 90-minute feature worth a look, but the script by Andy Siara never stops topping itself. (Or finding opportunities for the terrific J.K. Simmons.) Still funny and insightful even upon multiple viewings. (Available on Hulu.)
1. Nomadland
What exactly is a post-apocalyptic story? Must it include zombies, a virus, or the like? Chloe Zhao's ode to the modern nomadic life uses the American landscape to both strand and free her characters of what most consider the status quo: civilization. Set in 2011, after an economic collapse has literally ended a small town named Empire (even the zip code has been deleted), Fern (Frances McDormand) has left behind 'normal life' for an always-breaking down white van, odd jobs, and conversations with other like-minded individuals (Van or not, this was most of us in 2020). Over the course of one year, we hang with Fern and, in a much greater sense, are sent adrift on an overwhelming canvas that includes the desert, endless roads, and more. Zhao's way of presenting such a lifestyle is neither exploitative, even though she includes many real-life nomads in speaking parts, nor is it some utopian "live free" credo. It can feel very much like a post-apocalyptic story though not necessarily so awful to live in.  Based on the 2017 book, Nomadland: Surviving America in the Twenty-First Century, the film has a lot to say about rural life, and the economic disparity between the have and have nots. It turns out that the real struggle was less about living in a suburban enclave and more of what the memory of any kind of perceived normality can bring as a past remembered lives on in our heads. (Opening nationwide Feb 2021.)
Honorable mentions (Essentially, my 11 -25)
I'm Thinking of Ending Things, The Hunt, Emma., Host, Birds of Prey, Da 5 Bloods, Disclosure, Mank, Tenet, She Dies Tomorrow, Black Bear, Weathering With You, The Invisible Man, Gretel & Hansel, Freaky
Movies I Missed, But Hope To (Finally) See in 2021
Never Rarely Sometimes Always, Lovers Rock, Sound of Metal, Collective, Time, Ma Rainey's Black Bottom, Beanpole, Fourteen, Kajillionaire
Hope to see you all in an actual theater in 2021!