February 15th, 2021 by Gerard Iribe
Random Acts of Violence on Blu-ray is set to arrive this week, so how was it? Read the summary: "Comic book creator Todd Walkley, his wife, assistant and best friend, are heading to NYC Comic Con when bad things start to happen—people start getting killed. It soon becomes clear that a crazed fan is using his "SLASHERMAN" comic as inspiration for the killings. And as the bodies pile up, and Todd's friends become victims themselves, he is forced to face the killer and put an end to his notorious comic once and for all." Random Acts of Violence is released on Blu-ray February 16, 2021!
Film 
Random Acts of Violence is the new horror film co-written, starting, and directed by Jay Baruchel. Adapted from the graphic novel of the same name by Jimmy Palmiotti and Justin Gray. It's the story of a couple of friends who have a hit comic book and are on their way to NYC Comic-Con until things take a turn for the worse.
Things spiral out of control when it becomes evident that there is a serial killer that's copying the killings in Todd's (Jesse Williams) graphic novel SLASHERMAN. Now Todd and his friends have to try to survive out in the middle of nowhere.
The really interesting angle of Random Acts of Violence is that it goes back and forth between the real world and a literal fantasy, almost comic book-like world. Once it comes out of the fantasy you don't really know if you're back in reality or still stuck in the comic book. It's kind of freaky in a way, because it becomes one of those life imitates art, art imitates life scenarios.
Random Acts of Violence is still a horror film at its core and the body count does rise, along with ample gore and creative kills. The only fault or faults that I felt the film had was that it could get kind of confusing in sections. There times when certain segues really threw me in for a loop before I got my bearings back.
With that out of the way, I do believe that the final product is stylish and cool enough to work for the general movie going (horror film) audience. I was entertained by it and Baruchel has a good eye behind the camera. I should point out that I am not familiar with the source material, so I am reviewing the film as a standalone piece of media.
Video 
Encoding: MPEG-4 AVC
Resolution: 1080p
Aspect Ratio: 2.38:1
Clarity/Detail: Random Acts of Violence has a nice and balanced picture. Sharpness and contrast levels are spot on.
Depth: Random Acts of Violence has a great visual look and this transfer utilizes it to full effect. I'm sure a 4K presentation would only enhance the great picture.
Black Levels: There are many scenes taking place at night and in dark interiors – these scenes were free from crush.
Color Reproduction: The color palette is rich and vibrant. The scenes that enter the comic or become surrealistic, have a great look to them. Pixilation and banding were not an issue.
Flesh Tones: Everyone looked nice and healthy. Flesh tones were nicely balanced throughout the film.
Noise/Artifacts: Clean
Audio 
Audio Format(s): English DTS-HD Master Audio 5.1
Subtitles: English SDH, Spanish
Dynamics: Random Acts of Violence has a very robust lossless surround soundtrack. It can be very active and passive in certain scenes, all depending on what the scene calls for.
Low Frequency Extension: The LFE subwoofer channel does some of the heavy lifting during those scenes that break from the real world into the surreal world.
Surround Sound Presentation: The Blu-ray has a very dynamic surround sound presence – there's a lot going on in the backstage area, if you get my meaning.
Dialogue Reproduction: Dialogue levels are clean, clear, and crisp.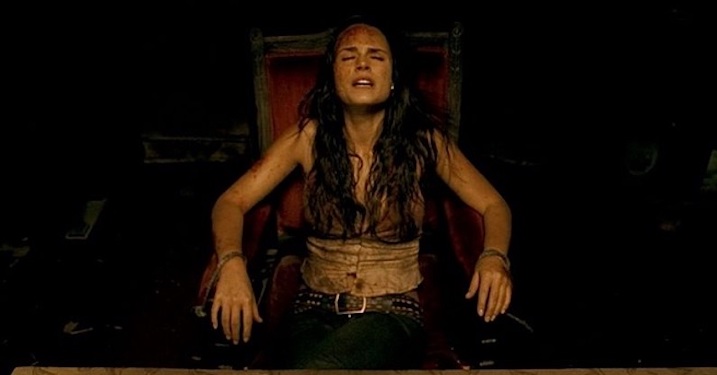 Extras 
The extras are slim on this Blu-ray release. The longer featurette is that of Jay Baruchel's interview over Zoom. It's light and entertaining. The making-of featurette is standard but the directing of the action scene is pretty cool. You can see Baruchel taking it all seriously and knows what he's doing.
Interview with Director Jay Baruchel
More Than Just a Scary Movie
Inside the Making Of an Action Scene
Summary 
Random Acts of Violence was sort of a surprise entry into the horror genre. It's definitely got style and the Blu-ray looks and sounds great. I do think it has faults and those may have something to do with the editing and segueing of information. I still give it a recommendation on style alone.
The images used above within the review are not actual Blu-ray screenshots. They are for illustrative purposes only.
on Blu-ray February 16, 2021!