August 16th, 2018 by Brandon Peters
In 2007, two talented Spanish filmmakers, Jaume Balagueró and Paco Plaza created a terrifying film that went on to spawn three sequels, an American remake and its sequel. On September 25, 2018, SCREAM FACTORY™ is proud to present THE [REC] COLLECTION 4-Disc Blu-ray set featuring a quadrilogy of terror, including [REC], [REC] 2, [REC] 3: GENESIS, and [REC] 4: APOCALYPSE. A must-have for horror enthusiasts and movie collectors, THE [REC] Collection Blu-ray set includes audio commentary with writers/directors Jaume Balagueró and Paco Plaza, making-of featurettes, behind-the-scenes footage, outtakes, deleted scenes, trailers, and more! Pre-order is available now at ShoutFactory.com.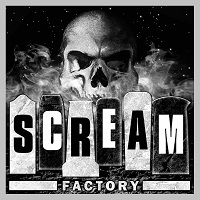 SCREAM FACTORY PRESENTS
THE [REC] COLLECTION
4-DISC BLU-RAY™ SET ARRIVES SEPTEMBER 25, 2018
FROM SCREAM FACTORY™
In the first film, [REC], a TV reporter and her crew are asked to cover a crew of firemen on duty. What seems like a routine story about a night at the fire station soon turns into a nightmare. Trapped inside a quarantined building, the crew must try to survive the terror that rages inside. [REC] 2 picks up minutes after the end of [REC]. The authorities have lost contact with the people trapped inside the quarantined building and chaos reigns. A Special Operations Unit has been tasked with entering the premises … only to discover that this is anything but a straightforward mission. [REC] 3: GENESIS leaves the confines of the quarantined building to follow the wedding of Koldo and Clara. Everything appears to be running smoothly and the bride and groom are enjoying a wonderful day … until some of the guests start showing signs of a strange illness and unleash a torrent of violence. [REC] 4: APOCALYPSE returns focus to Ángela Vidal, the young reporter who has managed to make it out of the building alive. But she hasn't made it out of the building alone as she carries the seed of the strange infection. She is taken to a provisional quarantine facility: the perfect location for the virus to be reborn.
THE [REC] COLLECTION 4-Disc Blu-ray set
Special Features
REC
In Spanish with English Subtitles and English Dub
Audio Commentary with writers/directors Jaume Balagueró and Paco Plaza (In Spanish with English Subtitles)
The Making of REC  (40 minutes)
Crew Interviews (46 minutes)
Extended Scenes
Deleted Scenes
Behind the Scenes Footage (43 minutes)
Teaser
Theatrical Trailers
TV Spots
Still Gallery
REC 2
In Spanish with English Subtitles
Audio Commentary with writers/directors Jaume Balagueró and Paco Plaza (In Spanish with English Subtitles)
Behind the Scenes
Deleted Scenes
Extended Scenes
A Walkthrough of the Set
REC 2 On Tour
Sitges Film Festival Press Conference
Theatrical Trailers
TV Spots
Still Gallery
REC 3: GENESIS
In Spanish with English Subtitles
REC: Genesis – Preparing A Bloody Wedding (117 minutes)
The Making of REC 3
Deleted Scenes
Outtakes
Theatrical Trailers
TV Spots
Still Gallery
REC 4: APOCALYPSE
In Spanish with English Subtitles
The Making of REC: APOCALYPSE
Theatrical Trailers
TV Spot
Still Gallery