October 16th, 2020 by Jason Coleman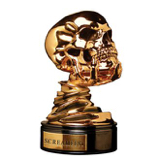 The scary has already unspooled but our coverage of the carnage never ends!  That's right kiddies, the final films of the iconic SCREAMFEST HORROR DRIVE IN FILM FESTIVAL 2020 have come and gone but WhySoBlu.com is still in the haunted review house for your carnal consideration.  Today we take on two features, sixteen shorts and one student short in an attempt to separate the gems form the duds.  Check out below…Even More Film Reviews!
FEATURES
"A Ghost Waits" – A Ghost Waits is one of those rare times where the gamble of mixing very different genres proves to be a winner.  It's fantastical and original story of a ho-hum handyman who upon fixing a recently unoccupied house encounters and then falls for the beautiful ghost whose job it is to haunt it is only eclipsed by the engaging turns by leads MacLeod Andrews and Natalie Walker as the unlikely couple in question.  A sort of offbeat Before Sunrise for the afterlife crowd, A Ghost Waits is witty, wry and ultimately romantic as hell.
"Sanzaru" – Less a horror outing than a deep drama about the emotionally fragile long-lasting effects of family, Sunzaru contains a myriad of interesting stories that never reach their full potential.  Meaning all arcs within the fold – a mother seeking solace, a son seeking answers and a caretaker with secrets of her own – never really get their due.  Plus any horror or supernatural elements feel firmly crowbarred into all of the above stories that don't need it – Sanzaru should have kept it simple.
SHORTS
"BOS" – A short without a cohesive story, but the lush visual imagery and pulsating score makes this one not only a winner, but makes one curious as to what's next for the talent behind it.
"Feed Your Muse" – Fantastic freaky short about a struggling writer who acquires a statue from a now deceased scribe who considered it his muse – but at what price.
"Mourn" – Keep 'em guessing cool little ditty about a psychiatrist who gets an unexpected visit from a familiar new client.
"Theourgia" – Effective animated short about a deadly deal gone seriously wrong – savory and stylishly grim visuals.
"Things We Dig" – A quirky and funny What We Do In the Shadows style short for the female set involves a commercial crew that follows around a bunch of fanged gals for a night.
"Abracitos" – Two sisters being terrorized by an unknown entity – this one is an exercise in fear.  (Bastards made me jump…twice!)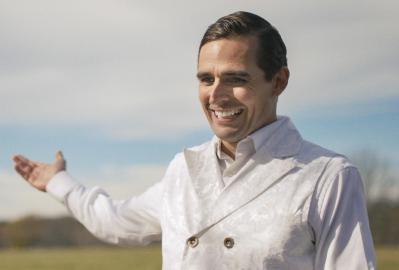 "You Wouldn't Understand" – In this terrific time travel tale that warns one to beware of strange well- dressed men inquiring about horsey sauce, rides and the like.
"Masterpiece" – A young girl tortured by her brother discovers a magical pen where the drawings it makes come to life – things eventually go awry.  (Nice!)
"My Mother Mary" – Psychologically disturbing piece about a boy worried by the strange behaviors of his mom.
"Miniature" – Nifty short where a janitor hears a cry for help – from a nearby miniature town set.
"Vikaari" – A thoughtful allegory and cautionary tale shot in doc style about possessed zombie-eyed kids who are being both shunned and exploited by their adult elders.  (Aka horrific on a different level)
"Seasonal Depression" – Fun and clever short ditty about one girls search to alleviate her bloodthirsty depression.
"Teething" – Downright eerie but also confusing tale involving a meek janitor and a crying baby from hell.
"Alvin" – Interesting outing that begins interestingly enough about an over-eater who finds himself in a strange help center, but this one ends on a less than satisfying note.
"Warm Blood" – A seemingly sweet gal whose true colors and story get revealed is the basis for this short that would have excelled as a feature.
"Metavision" – Strange and frankly mean-spirited short about a loser who gets help from a mysterious guru VHS tape.
STUDENT SHORTS
"The Last Leaf" – Less horror than otherworldly, this one is a well-told old school tale about a woman's sacrifice for a loved one – touching.
Screamfest 2020 has ended but our coverage keeps going!  Stay tuned for two more feature reviews tomorrow and then our final Best of Fest "Wrap Up" hitting Monday – stay scared!