October 13th, 2020 by Jason Coleman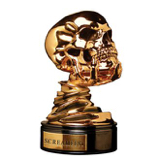 Are you fright film fans ready for more blood and gore galore?  We're keeping our coverage going fast and furious of the amazing SCREAMFEST HORROR DRIVE IN FILM FESTIVAL 2020 (go to www.screamfestla.com for more details!) currently taking place October 6th – 15th right from the safety and comfort of your own car at the Regency Theatres – The Plant Drive In (7876 Van Nuys Blvd, Van Nuys CA 91402) and there is a ton of scary and fun content to be witnessed.  This time out we're giving our critical skinny on a little bit of everything including three features, fourteen shorts and even ten student shorts that have all had their day of the dead at Screamfest this year.  So light the pumpkin candles and grab your cinematic treat bags as we prepare for your consideration even…More Film Reviews!
FEATURES
"Caveat" – The initial premise of Caveat – a drifter takes a job watching after a psychologically troubled woman living in an abandoned house – may feel seemingly simple but thankfully nothing is farther from the truth.  Writer/Director Damian McCarthy creates a story with so many levels, layers and surprises that there's no possible way for even the smartest viewer to possibly guess what will happen next.  And skillfully anchored by equally thoughtful turns by both Jonathan French and Leila Sykes as the two housebound inhabitants, this is one tasty outing that should be viewed with the strict caveat of going in cold.
"Anonymous Animals" – While I adore the premise of Anonymous Animals, namely balance of power between man and animal being reversed, the execution definitely leaves a lot to be desired. The tales are told in constant abrupt ending segments that feel like non-connecting vignettes and as such makes this whole project feels more like an experimental performance art piece than a film. (And with the running time just a few minutes past one hour this one could have used extra time to add backstory and frame of reference!)  There's no relatable narrative, no dialogue and frankly nothing too thought provoking beyond reversing the roles.  Don't get me wrong, I'm all for creating a space where man gets a taste of his own cruel abuses medicine, but merely creating an opposite world without context feels no better than the current cruel one we already got.
"The Brain That Wouldn't Die" – Putting whatever one feels about the original 1962 film of the same name aside, the end result of this plucky and much more tongue in cheek remake is that it's just not all that fun.  They do try by giving lead mad scientist Patrick D. Green a few surface quirks (but he's like a lame version of Herbert West, Re-Animator!) and having severed head heroine Rachael Perrell Fosket much more sassy alongside being sinister, but sadly its all to no avail.  Adding nothing, presenting a humorless homage and even failing on the simple level of being a winking to the audience parody, this is one brain that truly deserves to die.
SHORTS
"The Haunted Swordsman" – With its story of a samurai seeking revenge for the killing of his shogun, cavalcade of creative looking supernatural monsters and puppets voiced by greats like Jason Scott Lee, James Hong and even Christopher Lloyd, this one is almost perfect.  (Half dog off for the slightly distracting stoic puppet faces and for only having a small piece of what seems to be an ongoing fantastical story here – make this one a live action feature STAT!)
"Kalley's Last Review" – For the grossest short of Screamfest hats off to both creator/star Julia Bailey Johnson and her make-up artist Alondra Excene Shields for making me gag with their equally effective work.  (Rick Baker award for acting and prosthetics you two!)
"We All Scream" – Eerie tale of a kid who simply wants to eat more ice cream and with the help of a truck from hell gets to.  (The Mr. Sweetie character would give The Babadook a run for his money!)
"Becky" – Bullies get theirs in this savory story about a two mean girls who get a little comeuppance.  (Brian Krause alert genre fans!)
"Hammurabi" – Great short about a deaf gal who decides to take a little revenge on someone from her past that wronged her.  (Karma's a bitch – even if you can't hear it!)
"In The Mirrors" – An Airbnb turns out to have more creepy noises and happenings inside besides the loud sounds from being directly under the flight path.  Eerie and effective.
"The Mime" – Said it before in a previous short dealing with the same subject (though shorter here and even more tasty!) – don't f@ck with a mime!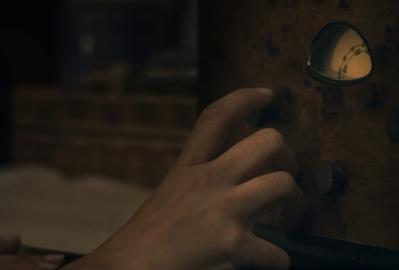 "Sound Of Silence" – Creepy sounds bring forth something sinister in this very short short that kills it.  (The T3 helmers freaked me out AGAIN with this one!)
"Ten Shots" – Neat tale about a hunter who perches himself high in the trees and find himself in a moral dilemma involving guns and victims – tense, stylish and satisfying.
"The Infiltration" – As much as I dug this tale of a private investigator hired to infiltrate a cult to find a client's missing daughter, the ending felt like a rush job and out of tone with the rest of the well-crafted piece all in the name of horror.  (Forget the genre stuff and make this one a dramatic feature cause it would kick ass!)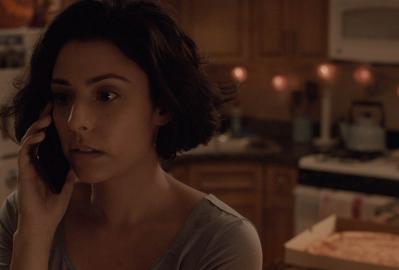 "Meat Lovers" – Definitely a short unintentionally promoting vegetarianism as a gal gets more than she bargains for ordering a meat lovers pizza.  (Tasty!)
"Fragile.com" – Disturbing story about a fragile gal who decides to be a cam girl where crying is the category of the day – prepare to be emotionally drained.
"A Wake" – Creepy and captivating short about a tarot reading gone wrong – but this one was too short and needs further explanation.  (Good start though!)
"The Teachers" – So-so story about a group of teachers who decide to take discipline to a whole other level.
STUDENT SHORTS
"The History of Monsters" – Moody and skillfully told tale about a woman who must decide which is the biggest monster – the creatures roaming the forest outside or an unknown man from nowhere.
"Necro-Men (OV)" – A couple of fake con artist healers have to find their inner faith when confronted with a real exorcism in this satisfying short.
"Out Of Order" – Nifty little terror tale about a gang of three people – one a previous manual elevator operator – who find themselves trapped and traveling down in one of the first automatic elevators.  (Ruckus ride ensues!)
"The Popping" – Very cute and quick short that shows what happens when the "Let's All Go To The Lobby" popcorn box steps out of the concession area and into a horror flick.
"The Chair Maker" – Can a specially crafted chair bring the passion lacking in a woman's life back?  Creepy.  (This filmmaker has got skills!)
"I Love Eve" – A tad confusing, but decently done short about the dangers of having an imaginary friend.  (At least that's what I got out of it!)
"Stalkers" – The traditional tale of a gal getting stalked gets turned on its ear in this quirky little ditty that keeps you guessing till the end.
"A Strange Calm" – Unsettling but well made short about two kids who get into a strangers car.
"Let The Ghost Pass" – Entertaining tale about folks confronting a ghost who walks the same street every night and terrorizes all in his path.  (Could use the feature film treatment!)
"The Rule Of Three" – A woman is terrorized – is there are real killer or is it her crushing case of OCD?  By the end of this disappointing short no answer satisfies.
So you think that's the end?  NOPE!  There are still three full days of chills and thrills to be had via Screamfest 2020 (go to www.screamfestla.com for all the details!) so drive on up and check out the fun.  Plus stay tuned for final reviews and a "Best Of Fest" coming from us here at WhySoBlu.com!