October 23rd, 2021 by Jason Coleman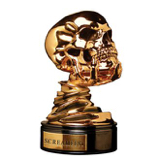 So the curtain may be closed for this year's Los Angeles based SCREAMFEST HORROR FILM FESTIVAL 2021, but here at WhySoBlu.com we're still going like a Texas chainsaw with unlimited gas!  Below is our final review article, which provides five more features for critical skinny pleasure.  Check out the encapsulated movies reviews for When I Consume You, What Josiah Saw, The Changed, Alone With You and Let the Wrong One In below!
"When I Consume You" – What is so affecting about the highly original When I Consume You is how the film operates successfully on two very different but equally potent plains.  The first is a story about a devoted brother and sister, played with dramatic gusto by Libby Ewing and Evan Dumouchel, and their ever changing but utterly devoted dynamic.  The other is a creepy tale of lifelong demons and learning to live with them.  Sounds a tad vague, but most of the pleasure within this one comes from its surprises.  No spoilers here.  If the devil is indeed in the details, best to consume this one cold.
"What Josiah Saw" – A well-woven terror tale of a different sort with three captivating stories that collide into one hair-raising finale.  First is about Thomas and his overbearing father (played with evil relish by Robert Patrick!) as they decide to follow God's plan, followed by the story of in-debt Eli forced to do some nefarious tasks to pay what he owes (Jake Weber is chilling as the dark loan shark!) and finally Mary, who is trying to overcome her past and successfully adopt a new child with her husband.  How do they all come together?  Revealing more would be a sin by rest assured in the hands of helmer Vincent Grashaw this cinematic table has serious surprises in store.
"The Changed" – The Changed is a fascinating and effective use of limited spaces to create a tension filled tale of aliens taking over the planet.  Of course, it helps that their plans are laid out by horror icon Tony Todd (even when he is calm he's creepy!), but everyone involved here takes the material dead seriously and the result is a captivating little ditty about never giving up no matter what.
"Alone With You" – What starts off as an interesting modern take on Repulsion ultimately turns stale quickly.  Meaning love the set up of Emily Bennett's neurotic character not being able to escape her apartment, but things to get a tad weird and tedious as the film goes on.  (Final act is depressing as hell!)  Notable – iconic Barbara Crampton provides a layered turn as Bennett's demanding mom.
"Let the Wrong One In" – While definitely sporting some humorous bits and moments of unbridled gore, Irish import Let the Wrong One In is sadly somewhat underwhelming.  Meaning the story of two brothers learning to cope with both family issues and a slight case of vampirism definitely lends itself to some Shaun of the Dead style humor, but unfortunately the witty puns and physical comedy just don't land as often as it should.  More an amusing aside than head-on hilarity, this is the wrong one for those looking for wall-to-wall guffaws.
That's it from Screamfest 2021 – until next year try to stay scared!