October 14th, 2021 by Jason Coleman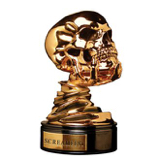 Well genre fans, the amazing and fright film rich Los Angeles based SCREAMFEST HORROR FILM FESTIVAL 2021 (go to www.screamfestla.com for more details!) taking place October 12th – 21st at the TCL Chinese 6 Theatres at the Hollywood and Highland Center is well underway and much cinematic blood has been spilled.  We're taking time out today to give critical skinny of some flicks both big and small that have already shown their ghostface and let you know if they are destined to be final girls or DOA.  Complex revenge flicks, crockpots and gals who see dead people – check out the encapsulated reviews of features and shorts below via our…First Film Reviews!
FEATURES
The Retailiators
Part revenge flick, part redemption story and part ruckus romp filled with blood and guts, The Retailiators is an outing that is, in both good and bad ways, all over the place.  Meaning the film itself is so discombobulating in its desire to embody many different genres (deep drama, salacious sin cinema, and gore galore flick to name a few!), but also excels in doing so by keeping the viewer off-kilter. (The whole heavy metal music and stars here only serve to make this thing more creative and confusing!) Best of the bunch performance-wise is Rescue Me alum Michael Lombardi as a spiritual man who must brave the blood-soaked waters of vengeance and faith.  An inspired movie mess that is far from forgettable, The Retailiators goes against all cinematic conventions and surprisingly still works.
SHORTS
"The Departure" – An emotionally rich, moving and exceptionally well-crafted tale about a gal who sees dead people.  (Hats off to skilled Netherlands writer/director Nico van den Brink – I'm watching you!)
"SPORE" – Dating while distancing can be tough in this apt short that sees a gal fighting germs and creatures while trying to find love – this one's got serious style.
"Crockpot" – Sinful little short proving that badmouthing someone's mom is never a good idea.  (Creepy creature stuff to boot!)
"DYSTOPIA" – Creating the perfect man is brutal work for a gang of carnage craving women in this tasty horror/comedy, but Norway writer/director Laura Ugolini and her filmmaking sensibilities are the standouts here.
"GIRL'S NIGHT IN" – What to do when two friends prove more toxic than a masked intruder – flipping the script is fun, fun!
"Macabre Night" – Decent ditty about a couple having a relationship crisis amidst a gaggle of escaped killers surrounding them.  Good score, staging and performances.  (Though could have done without the Thriller-inspired musical number!)
"Shiny New World" – Quick, quirky and at times funny look at those who clean up after a teenage cabin killing.
The fright fest fun is just beginning horror hounds so stay tuned to WhySoBlu.com for continued coverage and head over to www.screamfestla.com for all the info on this years festivities!