October 19th, 2021 by Jason Coleman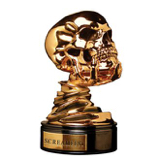 It ain't over till the skeletons scream!   The ever-amazing Los Angeles based SCREAMFEST HORROR FILM FESTIVAL 2021 (go to www.screamfestla.com for more details!) taking place October 12th – 21st at the TCL Chinese 6 Theatres at the Hollywood and Highland Center is still hanging on by bloody fingernails and we are enjoying every carnal kernel from its cinematic trick or treat bag.  Continuing our comprehensive coverage today, we're checking out five frightful features by providing some critical skinny.  See the encapsulated movie reviews of #Blue_Whale, NOCTURNA: SIDE A – THE GREAT OLD MAN'S NIGHT, Bring Out The Fear, Wicked Games, and Night at the Eagle Inn below – it's "Five Feature Reviews."
"#Blue_Whale" – Continuing in the tradition of first-person fare like Unfriended and Searching (both of which were also produced by Wanted helmer Timur Bekmambetov), #Blue_Whale sports a fascinating premise of a heartbroken teen who delves into the mysterious suicide of her younger sister via a sick online game.  Much like the two previously mentioned films, the "seeing through technology aspect" is definitely solid and effective here, used as both a plot device and to add mystery to the story.  But unlike the previous films of the same ilk, this one, unfortunately, has a distinct air of predictability, with twists and turns that a blind man could see coming.  Good on style, less on substance, #Blue_Whale needed a screenwriter with subtlety.
"NOCTURNA: SIDE A – THE GREAT OLD MAN'S NIGHT" – While more an emotional drama than a horror film, this one (NOT repeating a title this big!) nevertheless has seriously moving moments.  The tale of an elderly man who is faced with everything from harrowing current events to demons from his past carries with it a thoughtful weight that, no matter what the genre, makes it hard to dismiss.  Not that there are not serious flaws within – from cohesive issues (this one is seriously confusing at times!) to structural problems (this film feels like it ends four different times!).  But at least in the area of heartbreak and healing, Nocturna has more than enough to fill a film night to remember.
"Bring Out The Fear" – Another film with a fantastic original premise – a couple heads into the woods on a special occasion and end up trapped inside – that sadly goes nowhere.  Loved the setup of an ailing couple forced to battle both themselves and the strange elements around them in order to escape a forest that seems hell-bent on holding them hostage.  The problem is we never really learn why it's happening nor do said events ever feel justified.  A great start with no finish, this one cries out for a finale worthy of fear.
"Wicked Games" – For a flick that sees its female lead in the role of an ass-kicking badass, Wicked Games is sadly just not as satisfying as it should have been.  Not that it's not tasty at times seeing Christine Spang's itchy trigger finger gal Harley turn the tables on a house full of psychotic intruders, but the fun factor in her actions is kept to a minimum and as such the impact of her lethal lady brutality is lessened.  More morose than mighty, this one needed more time to stop and smell the bloodstained roses.
"Night at the Eagle Inn" – The good news is that both a great premise and great casting set up the mysterious Night at the Eagle Inn nicely.  Loved the unfolding tale of a couple of foster care siblings – played with original character flair by duo Taylor Turner and Amelia Dudley – who head to an odd inn in hopes of finding answers about their MIA parents.  The bad news is that when things are finally revealed it feels about as original and scary as a bad TV movie of the week.  A tall tale where the setup is scarier than the delivery, some questions are better left unanswered.
More to come?  You bet!  Stay with WhySoBlu.com for more thoughts on this year's Screamfest 2021.  And it's not to late to head over to www.screamfestla.com to see what lethal outing lies ahead – stay scared!