October 16th, 2021 by Jason Coleman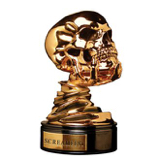 We're keeping the blood flowing and the gore going as we continue to check out the wicked wares of the Los Angeles based SCREAMFEST HORROR FILM FESTIVAL 2021 (go to www.screamfestla.com for more details!) taking place October 12th – 21st at the TCL Chinese 6 Theatres at the Hollywood and Highland Center.  We have many more flicks to see but for now, it's time for a little critic skinny.  Below are encapsulated reviews for two features and a whopping fifteen shorts so let's get started with…"More Film Reviews."
FEATURES
KRATT
Walking a fine between fun and foul in the realm of horror, Estonia import KRATT is a wonderfully wild ride all around.  A sort of Grimm's Fairy Tales with gore, the tale of bored kids who unleash a demonic soul never ceases to up the ante on all of the above.  We get quirky kids (the stoic neighborhood tots feel very Addams Family like!), a sassy granny, and plenty of gore galore (pizza with questionable toppings, anyone?!).  In a world of safe cinema, it's nice to see a flick that bucks the status quo – and succeeds.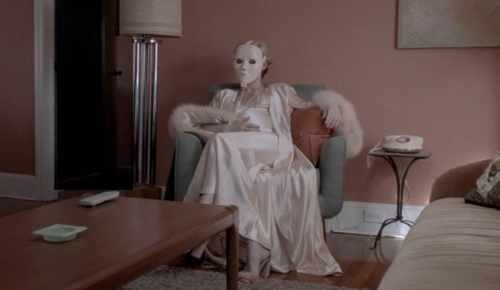 Father of Flies
A film with a "throw at the wall to see what sticks" philosophy to it's scary storytelling, I'd be hard pressed to pinpoint what is supposed to illicit the most fear within Father of Flies.  The base is a story of a family breaking up (not exactly bone chilling!), but attempts at fright within seem more fear forced.  There's the new woman who wears a V for Vendetta white mask and stares into space.  But there's also the creepy neighbor whose hair is as wild as her stories. And finally there are creepy entities roaming around the house with wild abandoned for all to see.  Sadly even with a clever attempt at a twist ending none of the above prove worthy of dread and as a result Father of Flies never quite earns its wicked wings.
SHORTS
"Poor Glenna" – With it's genre feet firmly planted in the delicious influences of Frank Henenlotter (Basket Case, anyone?!) and Roger Corman (seeing The Little Shop of Horrors here is fitting!), this fun and wicked terror tale of a mom helping her otherworldly son marks the arrival of a writer/director who could literally be the next master of B-movies – Jean-Paul DiSciscio I'm officially a fan!
"A Real Killjoy" – With the drollness of Steven Wright blended with the zany bits of Shaun of the Dead, writer/director/actor Tara Erickson delivers big time as Sam Jones (go Flash Gordon!) a sassy gal with two problems – zombies and dating.  Only complaint would be this one is TOO short, but I've heard sequel chatter… (More brains?)
"The Mad Shagger" – Despite an uber-cheesy title (though quite apt!) there is much going on beneath the surface on this one requiring a feature length explanation.  (Aka someone give that shagger some movie making moolah STAT!)
"Movin Day" – Take head new couples – secrets can be killer.  Short and sinfully sweet!
"#Nofilter" – Super chilling and gruesome short about an app that enhances your looks…with consequences.
"Survivors" – To remove a helmet after a fallout of some kind of disaster or not – question answered!
"ORMUR" -Terrific hand-drawn terror tale about a man who kills and steals another man's piece of meat.  Dark, to the point and frightfully full circle – karma's a bitch.
"Alma Mater" – Bone-chilling outing on par with Candyman style lore that sees a man haunted by a mysterious teacher in his father's past.  (This one screams feature film version!)
"The Dead Collectors" – Amusing outing following two working stiffs whose job it is to clean up after the dead – hilarity does ensue.
"TECH SAVVY" – Fun short that turns super dark about a mom who gets a little overzealous when she finds her computer will do her bidding in real life.
"Imaginary Portrait" – Dark and very creepy short about a girl who has to deal with an abusive father and grandfather – this one lingers long.
"Good Head" – A short most assuredly for the movie geeks with an effects guy wreaking havoc on a megastar via a mold of his head and voodoo.  A tad long but has many fun moments and a ton of obscure movie references (Over the Top alert!) with the best of the bunch performance-wise being Addie Weyrich's ass-kicking assistant.
"99 PROBLEMS" – Good initial premise (and style) about being able to change events in the future that sadly never pays off.
"Mitowolksyphon" – A ho-hum one-note wonder about a young man whose parents die under mysterious circumstances.
"Dreamboard Nightmare" – Mildly entertaining romp that sees a dopey couple kidnap a rich woman – think Ruthless People with less comedy.
So many scares, so little time!  Keep it right here for continued Screamfest 2021 coverage and again head over to www.screamfestla.com for more info – Halloween time is a good time indeed.