October 11th, 2021 by Jason Coleman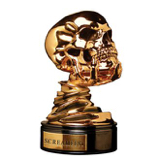 You can't keep a killer film fest down!  Proud to announce that not only is the legendary Los Angeles-based SCREAMFEST HORROR FILM FESTIVAL  back with a chainsaw roaring vengeance but will also be screening at a theater near you!  That's correct fright fans, Screamfest 2021 (go to www.screamfestla.com for more details!) taking place October 12th – 21st will once again be unspooling at the TCL Chinese 6 Theatres in LA at the Hollywood and Highland Center and they have got one bloody good show in store.  Fistfuls of features, sizzling slews of insidious shorts and cool retro screenings to boot make Screamfest 2021 a must-attend event. Of course, WhySoBlu.com will keep the bloody carnage coverage flowing for this Halloween season complete with reviews and best-of lists to keep all fans both alive and undead fully informed.  (Zombies need to know this stuff too!)  But we start off our haunted journey as always with a gander at the most salacious surface stuff that catches the eye upon arrival.  From cool castings to movies with messed-up descriptions, here is an initial glance at all things Screamfest 2021 – it's…'What To See'!
FEATURES
Opening Night
"The Retaliators" – Anyone familiar with the genre knows that when heavy metal musicians enter the horror film foray to take note.  This one enlists the likes of Five Finger Death Punch, Tommy Lee, Papa Roach, The Hu, Ice Nine Kills, Escape The Fate, and more to add to its story of a pastor going into dark places to find answers to his daughter's murder.  (Bet the soundtrack is gonna be sick!)  Rock on.
Coolest Casting
"Aileen Wuornos: American Boogeywoman" – Yes, we've seen some tasty depictions of famed serial killer Aileen Wuornos – from Nick Broomfield's doc to Charlize Theron's Oscar-nominated turn.  But this one has a secret weapon in the form of Cobra Kai alum Peyton List as the lead gal with bloodlust grit.  Truly a badass match made in hell.
Kick Ass Connection
"#Blue_Whale" – Love the connection of horror and social media sported in this Russian import, but the truly killer connection is the involvement from famed filmmaker Timur Bekmambetov as Producer/Executive Producer that all but gives this one a "one to (day) watch" quality.
Icon Alert
"The Changed" – Aliens taking over minds is an age old tale that never gets old, but having a neighbor be the source of such played by infamous genre favorite Tony Todd screams "take over my brain for 77 minutes!"
Multiple Terror Tales Time
"Isolation" – Being a lover of all things anthology this one had me at nine tales.
Best Messed Up Premise
"KRATT" – The description on this one gets more bizarre the longer you read.  Children go to Grandma's house.  She tells them about a magical creature.  They build one.  Then they need to buy a soul from the devil.  Sick guys – I'm in.
Badass Heroine Heads-Up
"Wicked Games" – Being a lover of all things female ass kicking, especially when said violence is a surprise twist like in You're Next and Ready or Not, Wicked Games sports a female lead described as having a "hard-boiled history."  Make John Woo proud girl.
Notable Fest Freebee
"The Lost Boys" – While this retro screening of the late, great Joel Schumacher's famed vampire outing does have a ticket price there are also prizes, photos ops AND a free complimentary beer for guests 21 and over.   Sleep all day and party all night indeed!
Tastiest Throwback
"Evil Dead II & Army of Darkness Double Feature With Bruce Campbell" – Does this one really need a description?  Bruce.  Campbell.  In.  Person.
SHORTS TO SEE
"Carmentis" – An Australian import about a grief-stricken miner fighting both AI and the elements – solid sci-fi to see.
"Deep Tissue" – A harmless massage?  We'll see.
"Final Pickup" – Hopefully the horrors here finally halt stranger ride-sharing.
"Mad Machine" – Had me at "Not-too-distant future."  (Plus that helmet is badass!)
"A Real Killjoy" – Stick clever triple filmmaking actor/comedian threat Tara Erickson (acting, writing, and directing here!) into an apocalyptic zombie setting and I'm so there!
So many cinematic scares so little time!  (Aka that's all for now!)  Stay tuned throughout the fest for more cool coverage of this year's Screamfest Horror Film Festival 2021.  And get your skeletal butts over www.screamfestla.com and check out ALL the amazing movie wares hanging in the attic for this year's festivities – happy horror fun fright film fans!