April 2nd, 2021 by Aaron Neuwirth
It's a shame I'm not more well-versed in the films of Mike Leigh. I've seen many of them, but not all. And yet, each time I catch up with one of his films, I continue to believe he's one of the best modern dramatists who continually delivers well-written, terrifically made original films. Now I've caught up with Secrets & Lies for the film time, and it's another standout. This new Criterion Collection release delivers a fantastic presentation of the film, complete with new interviews and more. It's a good thing, too, as the Oscar-nominated film is easily another 90s standout.
–
Film:
Set in London, a black optometrist, Hortense (Marianne Jean-Baptiste), decides to search for her birth mother, following her adopted parents' deaths. This leads her to Cynthia (Brenda Blethyn), a lonely white factory worker, who finds herself in a state of shock upon meeting her long-lost daughter. At the same time, we learn more about Cynthia's family, including her brother, Maurice (Timothy Spall), a photographer who lives the suburban life with his wife, Monica (Phyllis Logan). Cynthia also has an illegitimate daughter, Roxanne (Claire Rushbrook), who has a tense relationship with her mother. Really, almost no one seems to get along, but an inevitable meetup between everyone is going to shake things up even further.
At 142 minutes, Secrets & Lies doesn't miss a beat making every scene count, let alone interesting to watch. It's an exciting drama, despite the level of emotions on display, with some scenarios playing out with more effective tension than can be found in many thrillers. The way Leigh can balance human drama with multilayered performances that reckon with social elements related to class and race goes a long way in allowing the film to create its own identity. Not hurting is the subtle levels of humor and sweetness to go along with the arguments and cruelty that factor in.
Known for giving his actors a long time to prepare their characters and creating scenarios that can be heavily improvised (in the development process), several stand moments emerge thanks to the dedication to craft from all involved. Blethyn and Jean-Baptiste, both rightfully nominated for Academy Awards, share a 7-minute, uninterrupted take where the two deal with understanding who they are and what kind of relationship they are going to have.
Spall, meanwhile, delivers a wonderful performance as a man doing his best to keep the tension between his various family members at bay while performing well enough at his business and providing other affecting scenes relying on his terrific presence. This is the kind of film where all of the actors have to delve into what a performance can be when the simplicity of the setups of various scenes are balanced against the complexities of human nature and emotion. As a result, even while balancing the plot's melodrama, there's so much for an audience looking for a good drama to take in.
Dick Pope's cinematography is able to keep at a distance required while framing these faces in all the right ways to capture the everyday nature of these people who can be happy in one moment and sad in the next. Andrew Dickson's score similarly does what's needed at points while staying out of the way when necessary. Moments, particularly toward the end, rely on balancing the focus of multiple characters, and it is in the assembly of these scenes where the film can shine brightly.
Secrets & Lies wasn't so much a surprise as far as how great my first-time watch was, but a reminder of just how strong and involving these weighty British films can be. Leigh is right there with filmmakers like Ken Loach or Steve McQueen as far as the directors who really push for excitement in their stories yet making them devastatingly human in their execution. With this film, in particular, it's an engrossing piece of filmmaking, with another set of terrific performances, which is par for the course for Leigh. And yes, the secrets and lies do take their toll, so it's fortunate to have such a great relief for how this all plays out.
Video: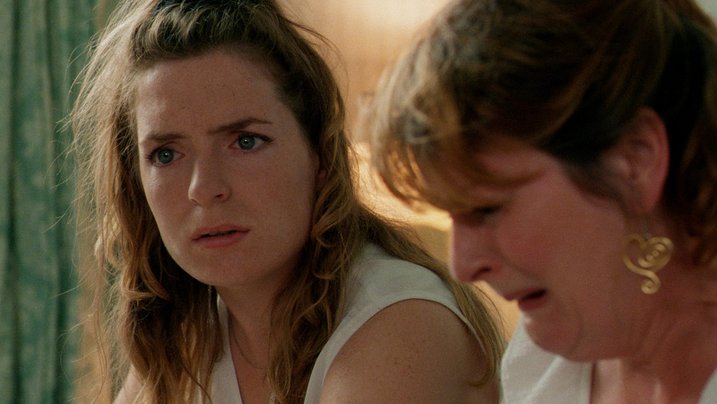 Encoding: MPEG -4 AVC
Resolution: 1080p
Aspect Ratio: 1.85:1
Details: This 2K digital restoration was undertaken by MK2. A new digital transfer was created on an ARRISCAN film scanner from the 35mm original camera negative and color-graded by director of photography Dick Pope and director Mike Leigh.
Clarity/Detail: This is a wonderful transfer that maintains the theatrical quality of its original release, given the level of grain that is never distracting but certainly a mark of authenticity. The film is fairly contained in scope, so we get a good look at small homes, buildings, and more, with plenty of great emphasis on these rooms' little details.
Depth: This film's staging makes for a good understanding of character placement, with no sense of flatness in watching these people move around the various environments.
Black Levels: The darker rooms and some details like the ways shadows bounce off the walls allow a show of a steady black level that is inky as one would expect for a film of this age—no sign of crushing either.
Color Reproduction: While not flashy, the film isn't muted either. Character costume choices play well to what is seen on screen, as the varied fabrics and such pop in their moments. Despite being a drama, there is a good amount of brightness to be found throughout.
Flesh Tones: The detail level seen in the actual characters is impressive.
Noise/Artifacts: The film looks nice and clean.
Audio:
Audio Format(s): English DTS-HD Master Audio 2.0
Subtitles: English SDH
Details: The original 2.0 surround soundtrack was remastered from the original 35mm LTRT magnetic tracks using Avid's Pro Tools and iZotope RX.
Dynamics: This is a film driven by dialogue, and as such, we hear all of it as needed throughout while taking in the soundscape of the city, the suburbs, and other environmental elements. It's all presented cleanly.
Low-Frequency Extension: N/A
Surround Sound Presentation: Strong enough separation, given the many characters, but this 2.0 track only spreads so far.
Dialogue Reproduction: Everyone is heard loud and clear.
Extras:
The extras are a little light in numbers, but two key participants are included – Leigh and Jean-Baptiste. The perspectives you want are rightfully present here in these few but substantial featurettes.
Features Include:
Mike Leigh (HD) – Two interviews with writer/director Mike Leigh from past and present.

2020 (HD, 30:05) – This newly recorded interview features Leigh and composer/friend Gary Yershon discussing the film, its themes, and more. It's an engaging interview, including some modern references and thoughts on how others seem to view it (one particular moment addresses a rumor that's even presented as fact on Wikipedia).
1996 (HD, 1:29:22) – This long archival audio interview features Leigh speaking with film critics Michel Ciment in 1996, focusing on everything about the development of the film and what Leigh hoped to accomplish.

Marianne Jean-Baptiste (HD, 27:43) – This newly recorded interview features critic Corrina Antrobus speaking with Jean-Baptiste about her involvement with the film and what it felt like to be the first Black-British performer nominated for an Oscar.
Trailer (HD, 1:53)
PLUS – An essay by film programmer and critic Ashley Clark.
Summary:
Secrets & Lies is a terrific drama and rightfully hailed as Leigh's mid-career masterwork. All of the elements of what makes his films so successful are right here on display, and the results are a great watch. Criterion's Blu-ray presentation doesn't fail to impress. The video and audio transfers are both excellent. The extras, while minimal, provide plenty to enjoy. Fans of quality dramas and British films have plenty to take in with this release.
Order Your Copy Here:

Paid Advertising Link