October 21st, 2019 by Brandon Peters
Stephen King's masterful werewolf novelette comes alive! On December 17, 2019, SCREAM FACTORY is thrilled to present Stephen King's SILVER BULLET Collector's Edition Blu-ray. Directed by Daniel Battias (Homeland, The Wire), SILVER BULLET is Stephen King's thrilling adaptation of his novelette, CYCLE OF THE WEREWOLF. Featuring music by Jay Chattaway, the film stars Gary Busey (Lethal Weapon), Everett McGill (Twin Peaks), and Corey Haim (The Lost Boys). A must-have for movie collectors and horror fantasy enthusiasts, this definitive collector's edition contains insightful bonus content, including new audio commentary and interviews, special features, and more.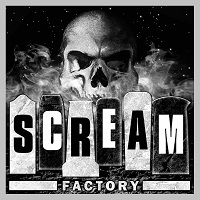 SCREAM FACTORY™ PRESENTS
STEPHEN KING'S
SILVER BULLET COLLECTOR'S EDITION
Starring Gary Busey, Everett McGill, and Corey Haim
HIGHLY ANTICIPATED HORROR CULT CLASSIC ARRIVES ON BLU-RAY™ DECEMBER 17, 2019
FROM SCREAM FACTORY™
Pre-order for Stephen King's SILVER BULLET Collector's Edition Blu-ray is available now. Avid fans, please take note on special offer: order from ShoutFactory.com, and get an exclusive 18″ X 24″ rolled poster featuring our brand new artwork, while supplies last!
A peaceful town is suddenly terrorized by a maniacal killer. The townsfolk think a madman is on the loose, but a wheelchair-bound 13-year-old (Corey Haim) knows the truth … a werewolf is on the hunt. With the help of his Uncle Red (Gary Busey), young Marty Coslaw sets out to stop the half-man/half-beast before he sinks his teeth into another innocent victim. Now, time is ticking … and the full moon is about to rise.
DINO DE LAURENTIIS Presents "STEPHEN KING'S SILVER BULLET" GARY BUSEY EVERETT McGILL COREY HAIM
Music By JAY CHATTAWAY
Based On The Novelette "CYCLE OF THE WEREWOLF" By STEPHEN KING Screenplay By STEPHEN KING
Produced By MARTHA SCHUMACHER Directed By DANIEL ATTIAS
A PARAMOUNT Picture
Stephen Kings' SILVER BULLET Collector's Edition
Special Features:
NEW Audio Commentary with producer Martha De Laurentiis
NEW Cutting to the Bone – an interview with editor Daniel Loewenthal
NEW A Little Private Justice – an interview with actor Kent Broadhurst
The Wolf Within – an interview with actor Everett McGill
Full Moon Fever – The Effects of SILVER BULLET – an interview with special effects artists Matthew Mungle and Michael McCracken
Audio Commentary with director Daniel Attias
Isolated Score Selections and audio interview with composer Jay Chattaway
Theatrical Trailer
TV Spot
Radio Spot
Still Gallery
1080p High-Definition Widescreen (2.35:1)/English DTS-HD Master Audio Mono/English Subtitles/1985/Color/Approximate Feature Running Time +/- 94 Minutes