September 16th, 2020 by Adam Toroni-Byrne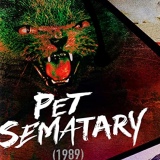 Pet Sematary is a Stephen King gem.  The book itself is as creepy as can be and this 1989 adaptation really does a lot to catch the atmosphere of the macabre.  The version included in the Stephen King 5-Film Collection is the same disc bundled with the excellent 4K Blu-ray 30th Anniversary Edition of Pet Sematary. Read more on the film and the disc stats below and be sure to click the paid link at the end to get your copy of the 5-Film collection!

Film
Lewis and Rachel Creed (Dale Midkiff and Denise Crosby) have just moved their little family to a small town in Maine. Lewis is an ER doctor hoping to take on a smaller workload in a small college town. The family have just arrived at their quaint farmhouse on a busy country road.  Upon arrival the family meets Jud Crandell (Fred Gwynne) a kindly old fellow who catches the Creeds' song Gage (Miko Hughes) as he is attempting to cross the busy street.  Taken by the kindly gesture the Creeds befriend Jud and learn about the pet cemetery not far from the family home.
When daughter Ellie's (Blaze Berdahi) cat Church is turned into roadkill Lewis and Jud go to secretly bury him. While on their way Jud tells Lewis about a special place beyond the cemetery that can actually bring the good cat back to life.  Not really sure of his choice, Lewis obliges Jud with a few doubts.  When Church reappears "magically", Ellie is ecstatic until Church begins to be violent and evil towards her.  Of course, Jud has only given up some details as to what "powers" that special place beyond the cemetery actually has.
Pet Sematary is similar to The Dead Zone in some ways.  The film tries to bring something supernatural down to earth.  There are other parts of the story left unspoiled here, but they all coincide some sort of way to make a really creepy movie happen.  There are several moments of terror involving reanimated dead people and animals and some very good performances.  Miko Hughes was but a little tyke with the film was released and he has some of the best moments of the film.  Fred Gwynne gives one of his best latter-day performances as well as the well-meaning but also not-so-good Jud.
Video
Encoding: MPEG-4 AVC
Resolution: 1080p
Aspect Ratio: 1.78:1
Clarity/Detail: Struck from 2019's 4K restoration, this edition of Pet Sematary is only bested by it's UHD HDR counterpart. The image retains a nice grain structure that brings details into a better place throughout. The look of the image is never flat and the actual cemetery in the film is one great place to start to spot much detail in this wonderful 1080p transfer.
Depth: While not as 3D pop as the 4K disc, the film still gains a lot from the new master. Textures are a big deal with this newer transfer and the depth of field on a lot of shots brings forth new things you may have missed if you've seen the 2012 Blu-ray release.
Black Levels: Black levels often look as if they're from a newer film. The overall darkness aspect is a major plus with the transfer as there is no murkiness in any scenes. Near perfect!
Color Reproduction: For the most part, Pet Sematary has a fairly muted color palette. Save for a few scenes involving warmer colors or fire, the overall look of the film is cold. That means that you'll see far more blues and grays than anything.  This seems to be the overall aesthetic and look is similar on the 4K Disc too, but obviously, better.
Flesh Tones: Flesh tones look natural and just as they should
Noise/Artifacts: None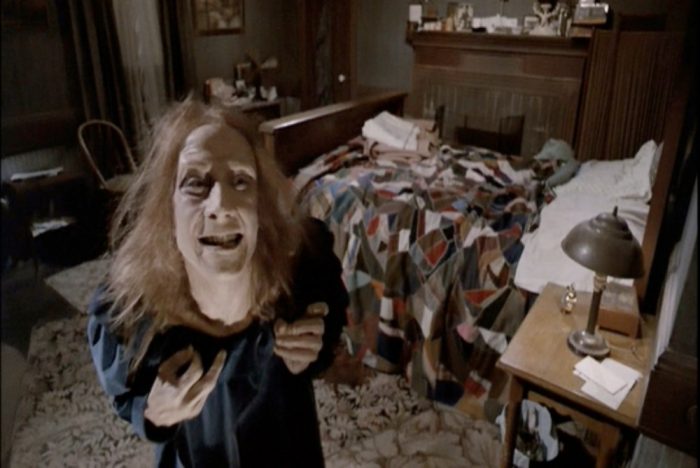 Audio
Format(s): English DTS-HD MA English 5.1, German, Spanish, French, Italian, Japanese, Portuguese and Spanish (España) Dolby Digital 2.0 (Stereo OR Mono)
Subtitles: English, French, German, Spanish, Italian, Japanese, Portuguese, Danish, Dutch, Norwegian, Swedish
Dynamics: This is the same track from previous releases. The mix is front heavy with surrounds used for ambience and music more than anything else.  Dialogue is right there front and center and the rest is all as it should sound too.
Low Frequency Extension: Bass is used mostly in bigger scenes involving big rigs and that busy country road. There are a few instances of music or sound effects that might send your sub into work mode, but this isn't a demo disc for that.
Surround Sound Presentation: Quiet outdoor ambience, road noise, and chatter will pop up in surrounds from time to time, but the film is most definitely a front heavy mix.
Dialogue Reproduction: Dialogue sits right in the center channel and sounds great overall!

Extras
Pet Sematary gives the 5-Film Collection its first set of strong extras! They are:
Audio Commentary by Mary Lambert
Pet Sematary: Fear and Remembrance (7:14) – a feature of the cast and crew of the remake remembering the original
Pet Sematary: Revisitation (9:38) – Mary Lambert on Stephen King, her work on the film, the new restoration and more.
Galleries – Storyboards, Behind the Scenes Photos and Marketing materials.
Vintage Featurettes: Stephen King Territory (13:10), The Characters (12:52), Filming the Horror (10:29) – All from previous home editions of Pet Sematary. All in standard definition.
Summary
When I saw that there were plans to re-boot Pet Sematary, I gave my typical collective groan.  It was another movie based on a book that already had been done the right way.  Mary Lambert gives the film a slightly off kilter feel.  The music is creepy, the set direction is stellar, and the pacing is wonderful too.  There really aren't too many missteps with this film save for maybe the lead Creeds and their soap opera-esque performances. Small gripe aside this is a solid mid-grade King film.  There are just enough moments to make new viewers jump and fans of the film will have plenty of scenes they love and remember fondly.
**This is a paid Amazon link**