May 27th, 2021 by Aaron Neuwirth
This year marks the 10th anniversary of Super 8, J.J. Abrams' nostalgic, kid-focused sci-fi film, which is packed to the gills with homages to producer Steven Spielberg, who happened to serve as producer. The film was a decent success for its time and at the very least served as a chance for Elle Fanning to breakout earlier in her career and for Abrams to show much he loves the 80s Amblin era. Now the film has made its way to a 4K re-release, and even for a moderately budgeted feature, the gloss of a Bad Robot/Amblin production ideally means getting a superb picture and sound to go with the film. So, how the film has held up, and what does this new release has to offer?
–
Film:
Plot-wise, despite the cryptic marketing campaign that was standard for the mystery box-loving Abrams, it's all pretty straightforward. In a small town in 1979 Ohio, while some kids are making a movie, a train crashes, unleashing some kind of monster. The kids take it upon themselves to try and figure out what's going on, while the government releases people of their own to deal with the situation. You can read more about it in my original review (when I was more positive on the film), along with Why So Blu's Gerard Iribe's original review for the Blu-ray.
I feel like I'm always trying to be nice to Super 8, despite its clear shortcomings. Watching it now, there's plenty to still admire in the production alone. The big train crash is a fantastic set-piece, full of the appropriate amount of destruction that blends excitement, thrills, and fun appropriately. Plus, it's just one of many moments where the Bad Robot production team once again shows just how adept they are at delivering a loud sound mix, while Larry Fong's cinematography offers plenty of good moments as well. Other set pieces may lack the same iconic aspects, but mixing big-budget effects with the more grounded perspective of young teens dealing with various emotions works very well at its best.
The monster movie angle is a bit of a mixed bag. On the one hand, Abrams using Jaws as the model of how to hide the monster in various ways before revealing it works pretty well. That said, his production company became way too invested in their (pretty great) Cloverfield design, as it followed them to Star Trek and here. This one ends up being nothing special (despite the motion capture performance by Bruce Greenwood – good work, Bruce).
One also has to consider how effective the film is in calling out to Close Encounters of the Third Kind. As correctly pointed out by Why So Blu's Brandon Peters, it is hard to get wrapped up in the wonder these small-town residents have at various moments when there's a rampaging monster causing a lot of death and destruction. It's one thing to be scared of the unknown; it's another to be very aware of the lives taken, yet still be in awe of certain sights for the sake of trying to capture a feeling similar to one of the greatest sci-fi films of all time.
Fortunately, the film does benefit from one of Abrams' greatest strengths as a filmmaker – casting. Fanning, Joel Courtney, Gabriel Basso, Riley Griffiths, Ryan Lee, and Zach Mills all work together well as believable kids, a pre-cursor to (the admittedly better) Stranger Things kids. Kyle Chandler also works overtime to sell his father/police chief role, which is enough for you to believe it's not more than just a sketch of a person (grieving widower/father). Several other character actors fit right in, as well, for a film that relies more on spectacle but wants you to believe these people matter.
So, what else holds this film back? Well, it's a typical problem that has been a hang-up for many Abrams projects. While a great idea man, and one who knows how to get things started, his strengths are not in his conclusions. Whether it's TV shows, movies, or multi-episode sagas of blockbuster franchises, Abrams has shown he's not the guy who's going to finish things off in a satisfying manner. With Super 8, by placing the perspective on a particular character, we have to spend a third act dealing with less interesting, more predictable stuff before the film decides Michael Giacchino's pretty great score is enough to fill in the gaps when it comes to writing a stronger conclusion.
Keeping all of this in mind, there's an enjoyable, original sci-fi adventure film in here. It's not on the level of Spielberg, but Super 8 fits in with some of the more average efforts from Joe Dante, Tobe Hooper, John Landis, and Robert Zemeckis – other beard disciples (who are all still better filmmakers) who delivered Amblin-style fun during the 80s. The film ultimately doesn't have much to say beyond some familiar ideas about grief, forgiveness, and moving forward, but it works as a nifty adventure with A-level visuals and plenty of lens flares, naturally.
Video: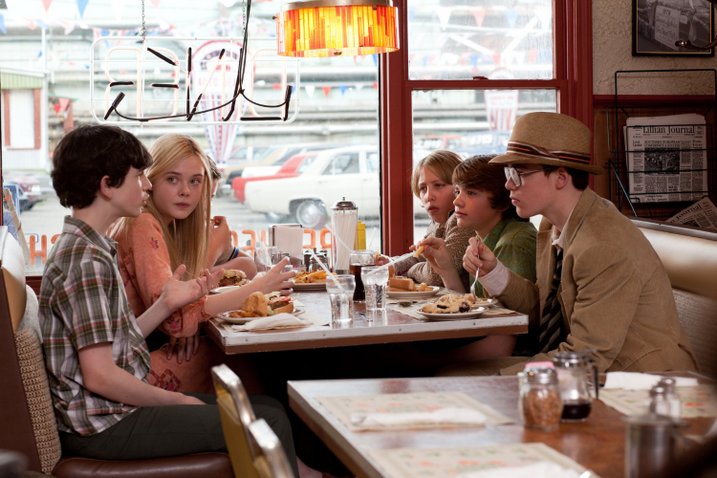 Encoding: HEVC / H.265
Resolution: 4K (2160p)
Aspect Ratio: 2.39:1
Layers: BD-100
Clarity/Detail: As this is as close as Abrams will get to going all arthouse, Super 8 was a hybrid production, utilizing 16mm, 35mm, various cameras, and some digital inserts to realize his retro vision. The result is strong without being as spectacular as one kind of hopes for a production such as this (though justifying a half a star away from being perfect isn't exactly a curse). Make no mistake, this film looks great, but the upgrade from the Blu-ray only offers the standard expectations of brighter highlights, contrasted images, and other elements that look sharper. On a detail level, you're not going to miss anything. The 70s look of the town, clothes and other aspects come through nice and clear. The HDR10 and Dolby Vision certainly do a lot more to help this release, and with a dependency on natural lighting in many instances, there's certainly a lot to admire overall.
Depth: Many great moments abound, especially when framing the monsters against the human perspective, getting a great sense of not only depth but an understanding of these kids existing in this monster/grown-up world. We're not talking about an E.T. level of perspective distance, but planting them into the action plays well with the dimensionality.
Black Levels: The film tries to mix a warm tone with some steely blue-ish moments, leading to a lot of shadow play and well-designed nighttime sequences. There's minimal crushing given all the extended scenes in the dark, but it rarely hurts the film. The use of shadow and dark scenes now have an improved look compared to the Blu-ray.
Color Reproduction: The color palette is relatively muted. What we see still works pretty well, as there are many large spaces to fill with things such as cars and other objects to fill out the world. The colors pop when necessary.
Flesh Tones: While the film comes off a bit more digitally processed than it needs to for a movie shot the way it was, enough is going on to show plenty of detail in the various characters. As the kids get dirty, in particular, you get moments that shine when it comes to seeing them covered in grit.
Noise/Artifacts: While not the most impressive disc Paramount has to offer (yet it's still very good), there's nothing in sight as far as artifacts or other issues.
Audio:
Audio Format(s): English 7.1 Dolby TrueHD, French, Spanish, German, Italian, Japanese, and Portuguese 5.1 Dolby Digital, English Audio Description Track
Subtitles: English SDH, Francais, Español, German, Italian, Japanese, Dutch
Dynamics: Instead of providing a new Dolby Atmos track, Paramount has brought over the original Dolby TrueHD 7.1 soundtrack, which is not a problem at all. This was a reference-grade mix then, and that has not changed.
Height: Thanks to the level of scale involved in mounting this production, there's plenty to like in hearing chaos breakout in this small town turned upside down. The way the monster enters into and out of the film makes for a nice way to track how the soundtrack shifts and bounces around.
Low-Frequency Extension: The train crash scene will tell you all you need to know about how much the sub-woofer has a chance to shine. The rumble is strong with this one.
Surround Sound Presentation: All the speakers have a chance to shine here.  As the film builds its mood, there is still plenty for the viewer to take in, with the gradual build-up of the monster's presence playing well on the center and side channels and all the results of the adventure playing well to them and the rear as well.
Dialogue Reproduction: Dialogue is loud, clear, and crisp throughout.
Extras:
The new cover art and matching slipcover is nice enough, though the choice to have the title and yellow ribbon essentially block half the original art is…a choice (the steelbook wins in this case). There are no new extras. Instead, all of the original special features have been ported over from the Blu-ray onto the UHD disc. Curiously, there's no Blu-ray included in the package. All of that said, this is a robust collection of special features, covering almost all aspects of the production.
Features Include:
Audio Commentary with director/writer J.J. Abrams, producer Bryan Burk, and cinematographer Larry Fong – J.J. Abrams and his pals always deliver a strong commentary, featuring plenty of stories about the production, and a good sense of humor to go with it all.
The Dream Behind Super 8 (HD, 16:28) – The origins of the film's conception.
The Search for New Faces (HD, 17:46) – A look at the casting process.
Meet Joel Courtney (HD, 14:35) – Learning about the film's ostensible lead.
Rediscovery Steel Town (HD, 18:24) – Figuring out how to best bring the film's town to life.
The Visitor Lives (HD, 12:22) – A look at the mystery of the film.
Scoring Super 8 (HD, 5:29) – Michael Giacchino has a chance to shine.
Do You Believe in Magic? (HD, 4:29) – Larry Fong's time to shine.
The 8mm Revolution (HD, 8:15) – The filmmakers discuss the history of 8mm films.
Deconstructing the Train Crash (HD) – Getting into the process of making this massive sequence.
14 Deleted Scenes (HD, 12:47)
Digital HD Copy of the Film
Summary:
Super 8 has a lot more good than bad going for it. As I enjoy the film, that shouldn't be faint praise, and I appreciate seeing Abrams do more than operate within an established franchise. That said, he's so devoted to copying Spielberg that he misses out on delivering more authentic pathos to go along with the retro wonder of it all. As far as this 4K goes, it's a solid package for those buying it for the first time. As an upgrade, major fans of the film and completists would likely get the most out of it. With the same audio track and extras, it's all about the video component, which is quite strong, but not a gamechanger. Regardless, Super 8 is a solid feature and at least keeps viewers entertained.
Order Your Copy Here:

Paid Advertising Link